Alpine SPR-M700W - 17,8 cm 2-Way Coaxial Speaker
Brand: Alpine

Product Code: SPR-M700W

Need any more information?
Ask a question
---
1 Year Warranty

Easy Returns
---
Alpine SPR-M700W
Superb Marine Sound and Powerful Bass
The superb audio performance and outstanding durability of Alpine's new Marine product line is based on over 30 years experience in the car audio industry. If there's a need for bigger speakers Alpine's SPR-M700 17,8 cm 2-Way Marine Coaxials are the perfect choice. The SPR-M700 Marine Speaker Systems conform with all required marine specifications and deliver state of the art sound performance on the waves.
SPR-M700 – Big Music Players Aboard Ready to enhance the ultimate boating experience! The Alpine SPR-M700 17,8 cm speaker is part of Alpine's innovative marine line-up – specifically designed for boats. The SPR-M700 is a 2-way coaxial speaker that comes with excellent power handling and great sound. The perfect tool preparing every boat for the ultimate musical kick on the waves!

The SPR-M700 Type-R speaker is equipped with a 2,5 cm titanium dome tweeter that swivels to direct the high frequencies toward the listener, while its 17,8 cm woofer fills the outdoor environment with deep and powerful bass. With Centrex 813-coated grilles and high-strength, non-resonant, high-temperature ABS frames these marine speakers provide for hard wearing durability and UV protection against yellowing. To offer high quality frequency response performance and to ensure excellent resistance against moisture, oil, heat, and chemicals the SPR-M700 are Santoprene™ surrounded. All Alpine Marine Speakers offer excellent protection from outdoor environment conditions. Silver or White? Two available colours – silver and white – enable to aesthetically integrate the speakers into a traditional white cruiser or sailing boat as well as into a modern stylish yacht or sportboat.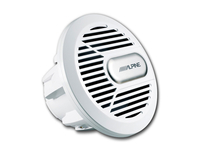 SPR-M700W (white) SPR-M700 (silver) Built strong for long durability These speakers are built to last – due to their durable construction using the latest marine-rated materials. Go Open Air Both the subwoofer and coaxial speakers are engineered to work optimally in an infinite baffle configuration, so best sound performance can be achieved, without the need for an enclosure. Marine – Ready Ready for the big splash: Due to their ATSM proven Salt/Fog and UV Marine specification and their NEMA rated water resistance on level 5 all Alpine Marine Speakers exceedingly resist the challenges of the marine environment.
Choice of Two Models For maximum installation flexibility in any boat Alpine's 2-Way Coaxial Marine Speakers are available in two sizes: the 16,5 cm direct factory replacement SPS-M600 and the 17,8 cm sound upgrade SPR-M700. Perfect Amp-Speaker Matching All Marine Speakers are engineered to work with the PDX Marine Amplifiers for highest system building capability. To ensure the best possible sound quality, their audio characteristics match perfectly.

Designed for Clean Installation with Maximum Water Resistance Hidden-screw grille design and supplied waterproof rubber mounting gasket allow for clean and leak-free installation. All parts – including the speaker connections – are saltwater corrosion resistant. SPS-M600 is also equipped with magnetic shielding to avoid interference from other marine electronic devices, which allows its installation anywhere on the boat. Tweeters in Special Marine-Design The SPR-M700's titanium dome and the SPS-M600's PEI balanced tweeters are designed for maximum high range sound projection in the open marine environment.

For optimum sound focus the SPR-M700 tweeter also swivels. Built-in protection keeps them playing volume stable. Both tweeters are fully saltwater corrosion resistant. High-Strength Frames All models have high-strength polypropylene frames resisting UV-light and corrosion while keeping the motor structure aligned for maximum output. Moreover they are tough enough to handle higher levels of vibration on the boat.
Alpine SPR-M700W Features

Crossover Network
Crossover Type: Built-in 12dB/6dB Crossover Network w/ Tweeter Protection
Woofer
Frame: High Temp ABS Frame
Cone Material: Poly-Mica Woofer Cone
Grill Cover Type: Ultra UV (Centrix® 813) Resistant Grill
Tweeter
Magnet Material: Neodymium Magnet
Application Type / Design Detail: Internal / Swivel Tweeter
Tweeter Type: 1'' Titanium Dome Tweeter
Alpine SPR-M700W Specifications

General
Sensitivity: 90dB / W(1m)
Impedance: 4 ?
Frequency Response: 45Hz - 22kHz
Dimensions
Woofer Mounting Depth: 3-31/32''
Woofer Mounting Depth: 93.1mm
Woofer Mounting Diameter: 6-13/32''
Woofer Mounting Diameter: 162.6mm
Woofer Diameter: 7-23/32''
Woofer Diameter: 195.9mm
Power Handling
Power Handling Capacity (Peak): 150 Watts
Power Handling Capacity (RMS): 50 Watts
CEA-2031 Power Rating: 50 Watts
Alpine SPR-M700W
Alpine SPR-M700W Compatibility Chart

Car Model
Year
Radio Description
Notes
All Vehicles
1.
1. Refer to the installation section for fitting instructions.

If you are unsure about the suitability of this product please contact us via the ask a question link at the top of this page or telephone us and we will gladly assist you.
Car information and entertainment systems can be complex networks, so we always recommends that you have your installation carried out by a qualified installer. If you wish Car Communications to carry out the installation at an address of your choice anywhere in the UK please select from addons above before adding to cart. During the checkout you will be asked your preferred date(s) and time for the installation.

Our products are professionally installed at your home or workplace anywhere in the UK by our own network of accredited engineers.