Alpine SWR-1542D - 15" 38cm Type R Subwoofer Dual 4Ohm
Brand: Alpine

Product Code: SWR-1542D

Need any more information?
Ask a question
---
1 Year Warranty

Easy Returns
---
Alpine SWR-1542D
Built from select materials and high-end components, designed for precision and efficiency, and protected by Thermal Management features – the Type-R subwoofers provide the kind of real power and massive bass only hinted at by other speakers.
HAMR Engineering

HAMR Engineering is a group of Alpine's latest and most sophisticated speaker technologies for enormous power, tight bass, cooler operation and amazing durability. Through the use of highly advanced materials and patented (and some patent pending) design features, these subwoofers boast exceptional power handling, superb sound quality and long life.
High Amplitude Multi Roll Surround (patent pending)
| | |
| --- | --- |
| | Most designs sacrifice cone area for a wide surround, or sound quality for a tall surround. Our High-Amplitude Multi Roll surround avoids this compromise AND achieves superb linearity, giving the best of both worlds – increased cone area for greater SPL and further linear excursion for optimum sound quality. |
Kevlar® Reinforced Pulp Cone
| | |
| --- | --- |
| | Reinforcing the pulp cone with Kevlar provides an ultra lightweight parabolic cone that maintains its shape even during vigorous movement. Since the cone is significantly stronger with faster response, the result is highly detailed, accurate sound reproduction and body-shaking bass. |
Encapsulated Push Terminals
| | |
| --- | --- |
| | With all wires conveniently located on one side, the Type-R subwoofers can be installed quickly, easily and neatly. Jumpers are configurable for either parallel or series, and the push terminals allow for heavy gauge speaker wire. |
All New Type-R Design
| | |
| --- | --- |
| | Significantly redesigned and upgraded, the Type-R subwoofers have an amazing 40% more power handling capacity over last year's models, and take advantage of key technologies and design features of the high-end Type-X line for the highest possible sound quallity and performance. |
Thermal Management Technology
| | |
| --- | --- |
| | Cooling is a crucial element in subwoofer design. Since overheating in the voice coil can severely damage the woofer cone, Type-R subs use a variety of sohpisticated techniques to ensure that airflow is effectively controlled – pulling in fresh, cool air and maintaining maximum contact with all thermally conductive parts for optimum heat dissipation. |
HAMR Engineered Airflow Cooling System
| | |
| --- | --- |
| | This meticulously designed system uses various techniques and technologies, many patent pending, to force air across hot components for maximum cooling effectiveness. The diagram above shows how airflow management pushes hot air out and cooler air in. |
HAMR Engineered Thermal Management
Along with its sophisticated cooling techniques, the Type-R subwoofers use special materials to minimise heat, such as a high temperature-resistant four-layer brass voice coil winding and a high-strength BSP bobbin. The diagram above shows where heat is transferred for cooler operation.
Features
Peak Power 2000W
RMS Power 750W
Frequency Response: 20Hz - 400Hz
High Excursion 1-1/4" Santoprene Edge
Kevlar Reinforced Pulp Cone
Dual Progressive Nomex Spiders with Edge Control
Integrated Tinsel Lead Spider Design
Custom Cast Aluminium Frame with Integrated Heat Transfer Plate
Extended Length Dual-Flared Vented Pole Design
High-Strength Brass Voice Coil Bobbin
Heavy-Duty 10cm2 Push Terminals
Computer Optimized Magnetic Circuit
Designed and Engineered in the USA
Dimension Drawing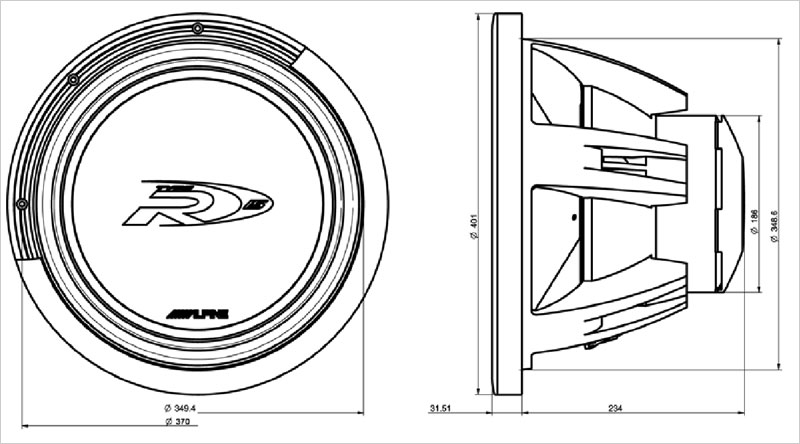 Alpine SWR-1542D
Alpine SWR-1542D Compatibility Chart

Car Model
Year
Radio Description
Notes
All Vehicles
If you are unsure about the suitability of this product please contact us via the ask a question link at the top of this page or telephone us and we will gladly assist you.
Car information and entertainment systems can be complex networks, so we always recommends that you have your installation carried out by a qualified installer. If you wish Car Communications to carry out the installation at an address of your choice anywhere in the UK please select from addons above before adding to cart. During the checkout you will be asked your preferred date(s) and time for the installation.

Our products are professionally installed at your home or workplace anywhere in the UK by our own network of accredited engineers.