Alpine SWR-M100
Boost Your Bass Aboard
The superb audio performance and outstanding durability of Alpine's new Marine product line is based on over 30 years experience in the car audio industry. The Alpine SWR-M100 25 cm Marine Subwoofer perfectly rounds up the Alpine Marine System delivering a wide and powerful bass experience everywhere on the boat…and beyond!
SWR-M100 – Great Punch for Marine Sound No comprehensive sound system would be complete without some bloodcurdling bass assistance! Alpine's SWR-M100 25 cm Marine Subwoofer takes listeners on a journey deep into bass. No matter where it is installed on board you will achieve a sound system packed with punch from Alpine's Marine ready Subwoofer!
300W RMS/ 900W Peak
4 ? Impedance
High Excursion for deep, high output bass
Infinite Baffle Design for widest application
Custom high-strength polypropylene frame
High AMplitude Multi-Roll (HAMR) Surround (Pat. Pend)
CRC Motor Structure (Patented)
Thermal Management System
Integrated Insert & Spade Terminals
Hidden Screw Mounting & Grille Design
Waterproof Rubber Mounting Gasket Included
Silver or White? Two available colours - silver and white - enable to aesthetically integrate the woofers into a traditional white cruiser or sailing boat as well as into a modern stylish yacht or sportboat.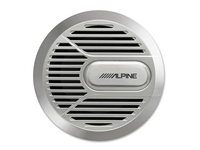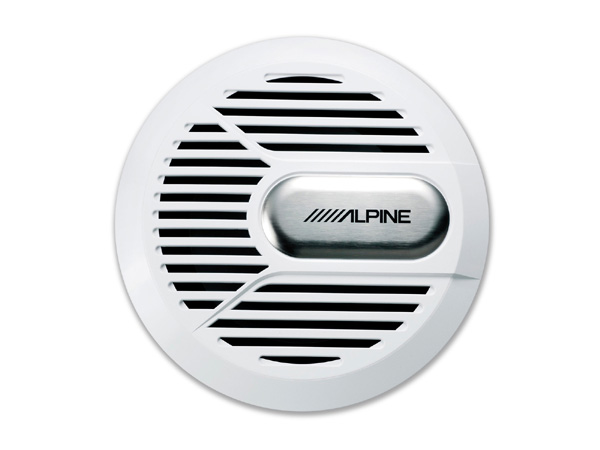 High-Excursion Woofer The SWR-M100 uses a high-excursion woofer design based on Alpine's Type-R car subwoofer that provides huge bass from modest input power. This 25 cm subwoofer puts out 900W peak power for a strong and solid bass performance that will even drown wind noise at high speeds. Marine – Ready Ready for the big splash: Due to their ATSM proven Salt/Fog and UV Marine specification and their NEMA rated water resistance on level 5 all Alpine Marine Speakers exceedingly resist the challenges of the marine environment.
Powerful, Durable Subwoofer The Marine Subwoofer resists adverse conditions that would otherwise degrade sound performance and provides high outdoor sound pressure levels. It comes aboard as an easy-to install free-air application, equipped with high quality that even extends to the gold-plated and 2-way spade/insert terminals. Ready for a splashy, sunny cruise Due to their ATSM proven Salt/Fog and UV Marine specification and their NEMA rated water resistance on level 5 all Alpine Marine Speakers exceedingly resist the challenges of the marine environment. Perfect Amp-Speaker Matching All three Marine Speakers are engineered to work with the PDX Marine Amplifiers for optimum system building capability. Their perfectly aligned audio characteristics provide the highest possible sound quality. Designed for Clean Installation with Maximum Water Resistance Hidden-screw grille design and supplied waterproof rubber mounting gasket allow for clean and leak-free installation. All parts – including the speaker connections – are saltwater corrosion resistant. The SWR-M100 is also equipped with magnetic shielding to avoid interference from other marine electronic devices, which allows its installation anywhere on the boat. High-Strength Frames All models have high-strength polypropylene frames resisting UV-light and corrosion while keeping the motor structure aligned for maximum output. Moreover they are tough enough to handle higher levels of vibration on the boat.
Alpine SWR-M100 Features

Gasket
Design: Rubber Mounting Gasket
Tinsel Leads
Design: 16ga. Stranded Leads, Insulated
Terminals
Design: 2-Way, Insert & Quick-Connect Terminals
Layout: One Side
Frame
Design: Custom High Strength 5-Leg
Material: Injection Molded Polypropylene
Motor Structure
Configuration: Airflow Management System
Pole Geometry: Compound Radius Curve
Voice Coil
Design: 4-Layer Single Voice Coil
Material: High Temp. Copper Wire on TIL Former
Spider
Design: Progressive
Material: Nomex®
Surround
Design: High Amplitude Multi-Roll
Material: Injection Molded Sanoprene®
Diaphram
Design: 2-Piece Structural Parabolic
Material: Molded Polypropylene
Alpine SWR-M100 Specifications

Dimensions
Added Volume: 0.055 cu. ft. (Reverse Mount, Magnet Out)
Displacement: 0.083ft cu. ft. (Front Mount)
Mounting Diameter: 229 mm (9-1/32'')
Mounting Depth: 144.72 mm (5-11/16'')
Power Handling
Peak Power Handling: 900 Watts
RMS Power Handling: 300 Watts
CEA-2006 Power Rating: 300 Watts
Alpine SWR-M100
Alpine SWR-M100 Compatibility Chart

Car Model
Year
Radio Description
Notes
All Vehicles
1.
If you are unsure about the suitability of this product please contact us via the ask a question link at the top of this page or telephone us and we will gladly assist you.
Car information and entertainment systems can be complex networks, so we always recommends that you have your installation carried out by a qualified installer. If you wish Car Communications to carry out the installation at an address of your choice anywhere in the UK please select from addons above before adding to cart. During the checkout you will be asked your preferred date(s) and time for the installation.

Our products are professionally installed at your home or workplace anywhere in the UK by our own network of accredited engineers.
Related Products
Alpine SWR-M100W Boost Your Bass Aboard The superb audio performance and outstanding dura..
Alpine SPR-M700W Superb Marine Sound and Powerful Bass The superb audio performance and o..
Alpine SPS-M600W Great Sound on the Waves The superb audio performance and outstanding du..