Alpine X903D-EX Upgrade Media Box Enable Apple Car Play Android Auto
Brand: Alpine

Product Code: X903D-EX

Need any more information?
Ask a question
---
1 Year Warranty

Easy Returns
Recommended Add Ons
This rear-view camera system provides parking safety with cutting-edge camera technology and full touch-screen operation.
It automatically activates when reversing and also mutes the audio so you can hear the parking sensor signals.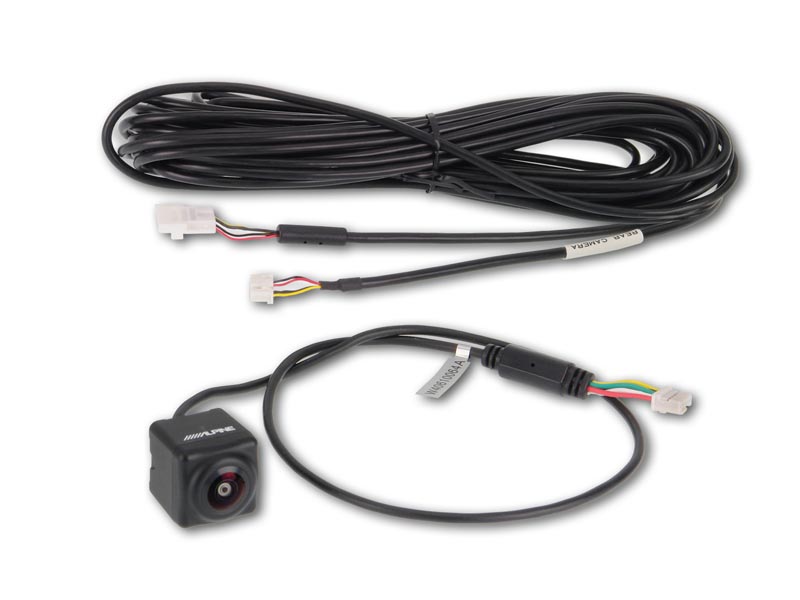 Optional Installation Package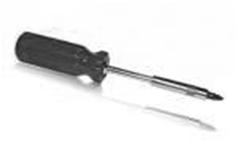 You are being offered an installation at an additional cost. If you select the installation option then this product will be professionally Installed at your home or workplace anywhere in the UK by our own network of accredited engineers. You will be contacted by a member of our installation booking team after you have placed an order.
---
Upgrade Media-Box for 1st Generation Alpine Style system: enables Apple CarPlay and Android Auto
If you purchased a 1st generation Alpine Style system (X901D-xxx / X701D-xxx) and want to enjoy the benefits of Apple CarPlay and Android Auto in your vehicle, we got a solution for you.
Instead of replacing the whole system, Alpine offers to only exchange the media box to get all new features of the 3rd generation Alpine Style systems.
Next to Apple CarPlay and Android Auto compatibility, you get TomTom maps for 48 countries with 3 years are-of-charge updates, as well as a Glonass & GPS compatible navigation antenna. The 3rd generation features a much faster navigation CPU and larger system memory for smooth system operation. You can now also zoom in and out of the navigation map using finger pinch gestures.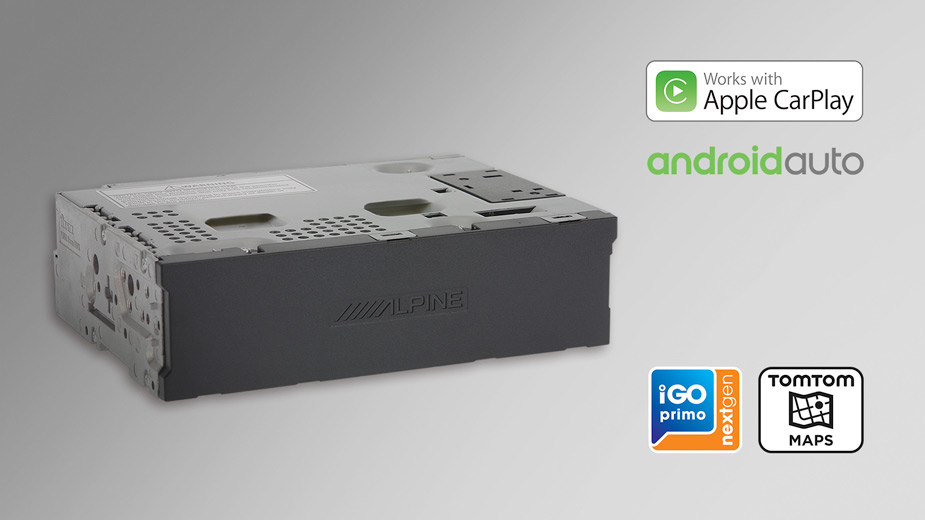 2nd Generation Media-Box with TomTom maps, compatible with Apple CarPlay and Android Auto
This media-box includes Apple CarPlay and Android Auto certified hardware to enables these important connectivity features in your vehicle. The new media box has the same measurements and connectors, so exchanging the box is fast and easy.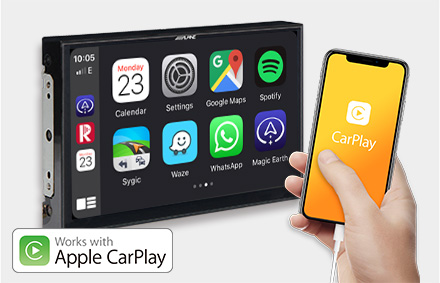 Works with Apple CarPlay
The innovative X903D-EX with Apple CarPlay compatibility brings you a smarter way to use your iPhone on the road. Apple CarPlay gives iPhone users an incredibly intuitive way to make calls, use maps, listen to music and access messages with just a word or a touch. You can even enjoy Spotify, internet radio or podcasts while on the road for a truly connected experience. Simply connect your CarPlay enabled iPhone to the USB port of your Alpine and you are ready to go.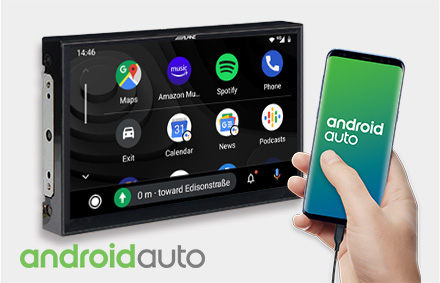 Works with Android Auto
Android Auto was designed with safety in mind. With a simple and intuitive interface, integrated steering wheel controls, and powerful new voice actions, it's designed to minimize distraction so you can stay focused on the road. Android Auto automatically brings you useful information, and organizes it into simple cards that appear just when they're needed. Both Apple CarPlay and Android Auto can access the navigation antenna of the X903D-EX for improved accuracy when using the navi apps.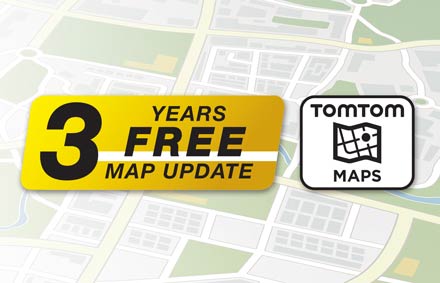 TomTom Maps with 3 Years Free-of-charge updates
A navigation system is only as good as its map database: the X903D-EX includes TomTom maps for an awesome map coverage of 48 European countries. Within 3 years after the first navigation fix, you can go to alpine.naviextras.com to download map updates free of charge for your Alpine unit – you can even do so without any limitation on how often you update. After 3 years have passed, you can download regional map packages or the full European map update based on your needs for very reasonable cost.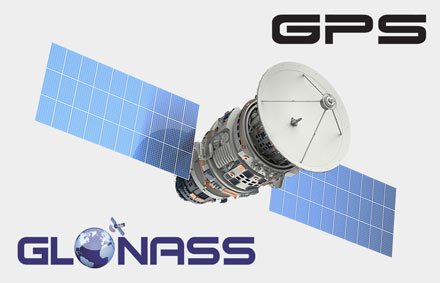 GPS and Glonass Compatible
More satellites equal higher navigation accuracy and a faster positioning fix. This Alpine product is compatible with GPS satellite signals and can also receive positioning data from Glonass satellites. This brings big advantages especially in an urban environment with many tall buildings and when driving next to high mountains. When using navigation with Apple CarPlay and Android Auto you can also benefit from this new improved compatibility.
FEATURES
Tuner
Memory Presets: Preset Stations (FM: 24 / MW: 6 / LW: 6)
Memory: Auto Memory
Seek Mode: Local / DX Selection
RDS
RDS Functions: PI, PS, AF, TA, TP, PTY, NEWS, RADIO TEXT
DAB Tuner
DAB+ Tuner Built-in
DAB+/DMB Supported
DAB+ Slideshow Service
DLS (Dynamic Label Service)
DAB Service Following
RDS Fallback (where available)
Service Preset: 18 Preset Memory
Auto Ensemble/Service Memory
Service Search Function
PTY Search Function
Alphabet Search Function
Antenna Power Supply Selection
BLUETOOTH®
Built-in BLUETOOTH® Module
Wide Band Speech Technology
HFP (Hands-Free Profile) Compatible
Streaming Music: A2DP (Advanced Audio Distribution Profile) Compatible
Streaming Music Control: AVRCP (Audio / Video Remote Control Profile) Ver.1.5 Compatible
Advanced BLUETOOTH® Technology
Connection: SSP (Simple Secure Pairing) Supported
Individual Profile Connection Hands Free Phone and Music Streaming
Phone Book: Phone Book Synchronization
Speed Dial: 4 Preset Memory (per phone)
Multiple Phone Number Registration: 5 Phone Numbers can be stored for one name
Device Name Display
Auto Answer
Call History Display: Outgoing Calls / Incoming Calls / Missed Calls
Redial Function
Speech Volume Level Adjustment: Possible for Outgoing and Incoming Volume
DTMF (Touch-Tone) Function
Signal Strength Indicator
Battery Level Indicator
Menu Language Selection: 24 Languages
Firmware Updatable
Microphone Included
Made for iPod® / iPhone®
Compatibility for iPod/iPhone: compatible with all models except 1st and 2nd generation iPhone
Connection: KCU-471i Required (Sold separately)
Music Playback
Available Selections: Playlist / Artist / Album /Song / Podcast / Genre / Composer / Audiobook
Alphabet Search
Artwork Display
Direct Up / Down: Playlist / Artist / Album / Genre / Composer
M.I.X. (Shuffle) Play: Song, Albums, All
Repeat
Battery Charging
Connectivity
Works with Apple CarPlay (requires CarPlay enabled iPhone)
Works with Android Auto (Requires Android Auto enabled smartphone)
Navigation Function
Map Coverage: 48 Countries (Western and Eastern Europe)
Menu Language: 29 Languages
Voice Guidance Language: 29 Languages for Voice Guidance, 15 Languages for Text-to-Speech (TTS)
Advanced Address Search
Post Code Search
Free Form Search
Partial Name Search
Advanced POI Functions
Smart Routes: Smart Routes using historic traffic patterns
Advanced Route Planning
Eco Route Search
7 Alternative Route Recommendation
Advanced TMC Mode
Map Display Mode: 2D Heading Up, 2D North Up, 3D
3D City Mode: 3D Building/Icon Display
Elevation Map Display: 3D maps with elevation mode
3D Motorway Junction View: Junction View with Sign Post
Drive Lane Suggestion
Tunnel Mode
Highway Mode
Voice Guidance Mixing
Text-to-Speech
Direct Phone Call from POI data
3 Positioning Sensors: GPS, Gyroscope, Vehicle Speed Pulse
USB Media Connection
USB Connection: USB Extension Cable Included
Music Playback: FLAC/MP3/WMA/AAC compatible
Video Playback: MP4 compatible
File / Folder Name Search
Tag Info Search
Folder Up / Down
M.I.X. Random Play
Repeat
Sound Tuning
Bass Engine SQ
Bass Engine™ Pro
Subwoofer Level Adjustment
Subwoofer Phase Select
2 V High Voltage PreOut
Equalizer: Flat, Pops, Rock, News, Jazz, Electrical Dance, Hip Hop, Easy Listening, Country, Classical
Dual HD EQ (9-band Parametric Equalizer front/rear)
6 Channel Digital Time Correction
Digital Crossover Setting
Customized Sound Setting by Car Type
MediaXpander HD
Application Volume Level Setting
Sound Setting Data Download
Easy, Step-by-Step Sound Customization
Alpine TuneIt App ready
General
Power Output: 4 x 50 W High Power Amplifier
Advanced Power IC
50/50 Split Screen: Left / Right Position Changeable
Control Type: Touch, Drag, Flick
My Favorites Function
Automatic Setting Change for 2 Users
High Grade Audiophile Design
3 PreOuts (2 V, Front / Rear / Subwoofer)
AUX-In: 1 A/V AUX Input (3.5mm micro jack)
Steering Wheel Remote Control Function
Vehicle Display Interface Ready (UART connection)
Remote Control Ready
Navigation Guidance Mix
Camera Connection & Built-in Controls for Multi-View Cameras
Camera Guide Line Adjustment
Rearview Camera Display Automatic Boot-up
Simple Mode & Info Mode Display Selection
Visual EQ
Live Contrast Adjustment
Menu Language: 24 Languages (for AV / Bluetooth), 29 Languages (Navigation Menu and Voice Guidance)
Clock
Auto Dimmer
Anti-theft security code
Firmware Updatable
Power Antenna Lead
Remote Turn-On
HDMI Input (Alpine Special HDMI connector required)
Engine Start-Stop unaffected
Ready for optional DVD Player
Map & Database
Online Map Update via alpine.naviextras.com
Featuring TomTom Maps
3 Years free of charge map update (multiple updates possible)
SPECIFICATIONS
Max Power Output Ratings
Max Power Output: 4 x 50 W
FM Tuner
Tuning Range: 87.5 - 108.0 MHz
Mono Usable Sensitivity: 8.1 dBf (0.7 µV / 75 ohms)
50dB Quieting Sensitivity: 12 dBf (1.1 µV / 75 ohms)
Alternate Channel Selectivity: 80 dB
Signal-to-Noise Ratio: 65 dB
Stereo Separation: 35 dB
Capture Ratio: 2 dB
MW Tuner
Tuning Range: 531 - 1,602 kHz
Usable Sensitivity (IEC Standard): 25.1 µV / 28 dBf
LW Tuner
Tuning Range: 153 - 281 kHz
Usable Sensitivity (IEC Standard): 31.6 µV / 30 dBf
USB
USB Requirements: USB 2.0
Max. Power Consumption: 1,500 mA (CDP Support)
USB Class: Mass Storage Class, Play From Device
File System: FAT 16/32
MP3 Decoding: MPEG-1/2 AUDIO Layer-3
WMA Decoding: Windows Media™ Audio
AAC Decoding: ACC-LC format ′′.m4a′′ file
FLAC Decoding
Number of Channels: 2-Channel (Stereo)
Frequency Response: 5 - 20k Hz ±1 dB *Frequency Response may differ depending on the encoder software/bit rate
Total Harmonic Distortion (at 1kHz): 0.008%
DynamicRange(at 1kHz): 95 dB
Signal-to-Noise Ratio: 100 dB
Channel Separation (at 1kHz): 85 dB
GPS / Glonass
GPS / Glonass compatible navigation antenna included
BLUETOOTH®
BLUETOOTH® Version: Bluetooth V2.1+EDR
Output Power: +4 dBm Max. (Power class 2)
HFP: HFP (Hands Free Profile)
OPP (Object Push Profile)
PBAP (Phone Book Access Profile)
HSP (Head Set Profile)
A2DP: A2DP (Advanced Audio Distribution Profile)
AVRCP: AVRCP (Audio/Video Remote Control Profile)
SPP (Serial Port Profile)
Sound Tuning
Subwoofer Level Adjustment: 0 to +15
Subwoofer Phase Setting: 0° or 180°
BASS ENGINE SQ: 5Mode, Level 0 to +6
HighPassFilter: 20 / 25 / 31.5 / 40 / 50 / 63 / 80 / 100 / 125 / 160 / 200 Hz
HighPassFilter (Slope): Off / -6 / -12 / -18 / -24 dB/oct.
HighPassFilter (Gain): -12 to 0 dB
LowPassFilter: 20 / 25 / 31.5 / 40 / 50 / 63 / 80 / 100 / 125 / 160 / 200 Hz
LowPassFilter (Slope): Off / -6 / -12 / -18 / -24 dB/oct.
LowPassFilter (Gain): -12 to 0 dB
Time Correction: 0.0 - 9.9ms (0.1ms step)
Dual HD EQ Front + Rear
Parametric Equalizer (Band 1): 20 - 100 Hz
Parametric Equalizer (Band 2): 63 - 315 Hz
Parametric Equalizer (Band 3): 125 - 500 Hz
Parametric Equalizer (Band 4): 250 - 1k Hz
Parametric Equalizer (Band 5): 500 - 2k Hz
Parametric Equalizer (Band 6): 1k - 4k Hz
Parametric Equalizer (Band 7): 2k - 7.2k Hz
Parametric Equalizer (Band 8): 5.8k - 12k Hz
Parametric Equalizer (Band 9): 9k - 20k Hz
Parametric Equalizer (Gain): -14 to +14
Application Volume Level Setting: -14 to +14
HDMI Section
Input Format 720p/480p/VGA
Output Format 480p
General
Power Requirement: 14.4 V. DC (11-16V allowable)
Pre Output Voltage (Before Clipping): 2 V / 10k ohms
Maximum Mounting Angle: 30°
Dimensions
Chassis Size (W x H x D) mm: 178 x 50 x 164 mm
Compatibilty List
| | |
| --- | --- |
| Generation Alpine Style system | Requires |
| X901D-G6 | X903D-EX + KIT-EX-VAG |
| X901D-G7 | X903D-EX + KIT-EX-VAG |
| X901D-OC3 | X903D-EX + KIT-EX-VAG |
| X901D-DU | X903D-EX + KIT-EX-901 |
| X901D-F | X903D-EX + KIT-EX-901 |
| X701D-F | X903D-EX + KIT-EX-901 |
Not compatible with other products
We recommend you have your installation carried out by a qualified installer. If you wish Car Communications to carry out the installation at an address of your choice anywhere in the UK please select from

addons

above before adding to cart. During the checkout you will be asked your preferred date(s) and time for the installation.
Product Class
Product Type
Car Stereo