Nissan Almera, Altima, Frontier, Juke, Navara Parrot Bluetooth Car Kit MKi9200 + SOT-918
Brand: Parrot

Product Code: MKi9200+SOT-918/K86161

Need any more information?
Ask a question
---
Recommended Add Ons
| | |
| --- | --- |
| | If you select the optional installation then this product will be professionally installed at your home or workplace anywhere in the UK by our own network of accredited engineers. Your installer will ask and advise as to the best place to situate the car kit in your vehicle. Parrot products are all designed so that there is no need to cut any cables. |
| | |
| --- | --- |
| | Enjoy the peace of mind that comes with a professional, risk-free installation service, by placing your trust in a certified installer. Car Communications are a certified national installer. |
---
Parrot MKi9200 Digital music | Bluetooth® hands free car kit



Package Contains:
Parrot MKi9200 Bluetooth Car Kit
Autoleads SOT-918 Parrot Lead
The SOT-918 lead is designed to interface between the hands free kit and the radio. The ISO lead supplied with the standard Parrot sales package will not plug directly into the car stereo. This optional adapter lead is included as it is required for integrating the Parrot car kit with the OEM car stereo speakers. This is a vehicle specific part and will only work with the cars listed in the compatibility table. No vehicle cables need to be cut when using this genuine part.
The Parrot MKi9200 is a Bluetooth hands-free system with a 2.4-inch high-resolution TFT colour screen. A wireless remote control can be positioned on the steering wheel or dashboard and allows the driver to control all the functions of the MKi9200. In addition to conventional telephony functions - pick up, hang up, dual calls - the Parrot MKi9200 boasts cutting-edge telephony functions: automatic phonebook synchronisation, training-free multi-speaker voice recognition, speech synthesis of the names in the phonebook, contact management (up to 2 000 per phone), call records, and so on. Its colour screen displays the phonebook, caller ID and photo, phone information and user settings. The menus and phonebook are also audible for easier, more intuitive use.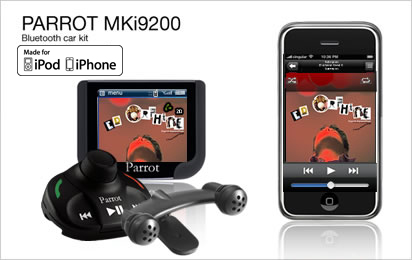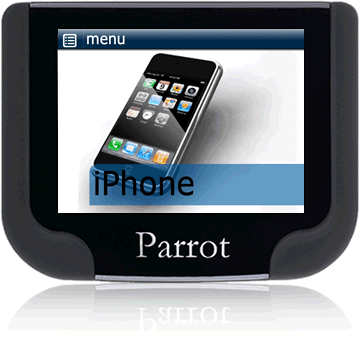 Parrot MKi9200 Bluetooth music car kit
Full Integration
During a telephone call the stereo will mute any audio (music, radio, CD etc) and route the conversation through the front speakers of the car. Music played through the car kit is delivered through all the car speakers. This is possible by using a special lead which is car specific and included as part of this fitted package.
Listen to your digital music in the car
The Parrot MKi9200 is also gifted for music. Supplied with a specific cable, it is compatible with all music sources, such as iPods, iPhones, USB flash drives, Bluetooth stereo (A2DP) phones, MP3 players and any other analogue players. The Parrot MKi9200 also features an SDHC-compatible SD card reader on the side of the screen. The MKi9200 displays the full playlist along with the name of the artist, the title and even the corresponding album cover in colour when available on the iPod, iPhone or USB flash drive. Music is delivered through all the car's speakers*, giving the driver and passengers exceptional sound quality and the breathtaking Virtual SuperBass and Sound Spatializer effects.
Double microphone for crystal-clear sound
To ensure optimal audio quality when on the phone, the Parrot MKi9200 combines double microphone technology with new signal processing software (DSP-3) that eliminates background and surrounding noise, including noise from inside the car. For maximum listening quality, conversations are reproduced over the vehicle's speakers.
Key Features of the Parrot MKi9200
TFT colour screen displays standard mobile phone information: incoming calls, recent calls, missed calls, voice mail, phonebook, etc
Play digital music from iPods, iPhone, USB, Bluetooth A2DP phones, MP3 players and see playlist and artist info on the TFT screen
Wireless button allows users to scroll through TFT menus and control the music and hands-free
Dimensions of the screen:
82 x 32 x 14 mm
3.20 x 1.25 x 0.55 inch
Audio:
External double microphone, direction is adjustable
Full Duplex
DSP-3: Echo cancellation, advanced noise reduction
Dispatch voice and music on car's speakers
Music:
Multiple connectors: iPods (from fifth generation),
USB, SD card, SD-HC card and Line-In
Play music from any Bluetooth Stereo (A2DP) compatibles devices
Virtual Super Bass
Sound Spatializer
Digital Class-D 20W amplifier
Phonebook:
Automatic phonebook synchronization
User-independent voice recognition
Text To Speech: vocal synthesis of the phonebook
Number of contacts: up to 8,000 in total;
up to 2000 per paired phone
Whats Included in the Package
1 Color TFT 2.4" screen
1 Six buttons Remote Control Keypad
1 External Dual Microphone
1 Parrot Universal Radio Mute box with iPod/iPhone & USB Cables
1 Steering Wheel Mounting Kit for Remote Control
1 Dashboard Mounting Kit for Screen
1 Screen Cable
1 Mute Cable with ISO Connectors
1 Set of Accessories
1 User Guide
Installation at your home or work address - optional please select if required
Our price listed above is inclusive of stereo speaker intergration lead. Mobile installation at your home or work address is optional.
Addons available for Parrot MKi9200
Parrot UNIKA is an installable interface that connects your vehicle's steering wheel controls to any hands-free system in the Parrot MKi series, putting all the features of your Parrot hands-free system within easy reach, whatever the circumstances
Parrot MKi9200 Bluetooth Car Kit + SOT-918/KRAM 86161
Nissan Compatibility Chart

Car Model
Year
Radio Description
Notes
Almera
Jan - 2007 >
Most Common (See Below) / VDA not useable on Bluetooth head units
1
Altima
Sep - 2006 >
Frontier
Sep - 2007
Non-Amplified
Juke
Sep - 2009 >
Navara
Jan - 2007 >
Most Common (See Below) / VDA not useable on Bluetooth head units
1
NP300
Mar - 2008 >
Most Common (See Below)
1
Pathfinder
Mar - 2007 >
Most Common (See Below) / VDA not useable on Bluetooth head units
1
Qashqai
Jan - 2007 >
Most Common (See Below) / VDA not useable on Bluetooth head units
1
Quest
Mar - 2005 >
Rogue
Mar - 2008 >
Sentra
Sep - 2006 >
Titan
Aug - 2007
Versa
Sep - 2006 >
Xterra
Aug - 2007
X-Trail
Jan - 2007 >
Most Common (See Below) / VDA not useable on Bluetooth head units
1
Note:1
Radio Model
SOT Lead

BA010 (PN-2646F)
N/A
BP6350
SOT-063
06-063B
BP9345
SOT-075
06-075B
BP9649
SOT-075
06-075B
CH340
SOT-096
06-096B
CH907
SOT-075
06-075B
CK106
SOT-096
06-096B
CK926
SOT-063
06-063B
CK936
SOT-063
06-063B
CNA48
SOT-096
06-096B
CN688
N/A
N/A
CR09B
SOT-959
06-096B/BOSE
CT00A
SOT-075
06-075B
CT020
SOT-075
06-075B
CT058
SOT-075
06-075B
CT098
SOT-075
06-075B
CT138
SOT-075
06-075B
CT158
N/A
N/A
CY01B
SOT-075
06-075B
CY02A
SOT-075
06-075B
CY03A
SOT-096
06-096B
CY05D
SOT-075
06-075B
CY06A
SOT-096
06-096B
CY10D
SOT-075
06-075B
CY11C
SOT-918
06-918B
CY12B
SOT-096
06-096B
CY14C
SOT-918
06-918B
CY14D
SOT-918
06-918B
CY17C
SOT-918
06-918B
CY18C
SOT-918
06-918B
CY22E
SOT-918
06-918B
| | |
| --- | --- |
| | If you select the optional installation then this product will be professionally installed at your home or workplace anywhere in the UK by our own network of accredited engineers. Your installer will ask and advise as to the best place to situate the car kit in your vehicle. Parrot products are all designed so that there is no need to cut any cables. |
| | |
| --- | --- |
| | Enjoy the peace of mind that comes with a professional, risk-free installation service, by placing your trust in a certified installer. Car Communications are a certified installer. |