BlackVue DR490L-2CH Dashcam Front & Rear Witness Camera
Brand: BlackVue

Product Code: DR490L-2CH

Need any more information?
Ask a question
---
1 Year Warranty

Easy Returns
Recommended Add Ons
SD Memory card is optional extra, please select.
To find out of the size of the memory card that is included in this package, please look in the description.
Optional Installation Package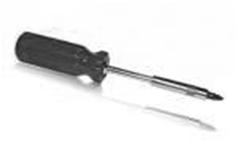 You are being offered an installation at an additional cost. If you select the installation option then this product will be professionally Installed at your home or workplace anywhere in the UK by our own network of accredited engineers. You will be contacted by a member of our installation booking team after you have placed an order.
---
BlackVue DR490L-2CH Dashcam
The Blackvue DR490L-2CH is a simple but powerful Full HD front facing and back dash camera. Equipped with a Full HD camera with Sony STARVIS image sensor. The accedent witness camera come with an optional GPS to record the location along with the video.

The DR490L-2CH with its clear Full HD high quality image, 130 ° Wide-angle lenson the front provides precise details of any incident witout distortion. This reflects the original purpose of the dashcam, present in the case of an accident that may take place in the future.

The Blackvue all black design fits into your vehicle perfectly, with its high quality 3.5" touch screen.

The Blackvue DR490L-2CH Dashcam provides various recording modes. These modes allow the user to select a recording mode , according to the circumstance so that proper images can be captured during both driving or parking.

Features

Full HD 1080p @30fps for both front and rear cameras. The DR490L-2CH records fluid flowing videos of the front and rear of your car at a 130° angle of view. With Night Vision, video clarity at night is much improved giving you reliable evidance if needed. The LCD touchscreen and simple user interface make navigating the menus.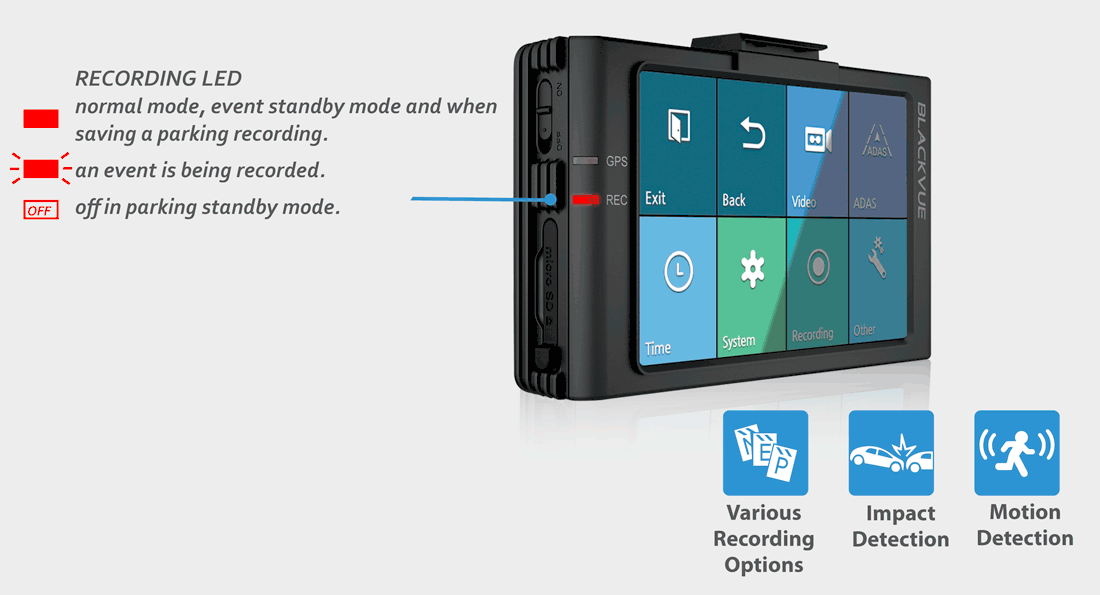 Bulit-In Impact & Motion Detection
While driving, your BlackVue detects impacts and sudden changes in speed. While parked, it also detects movements around the vehicle*. Videos files are marked accordingly so that you can easily find relevant ones in the video list menu or the BlackVue Viewer for Windows and Mac OS.
(*) The dashcam must be hardwired to the vehicle's battery using the professional installation cable in order to use Parking Mode.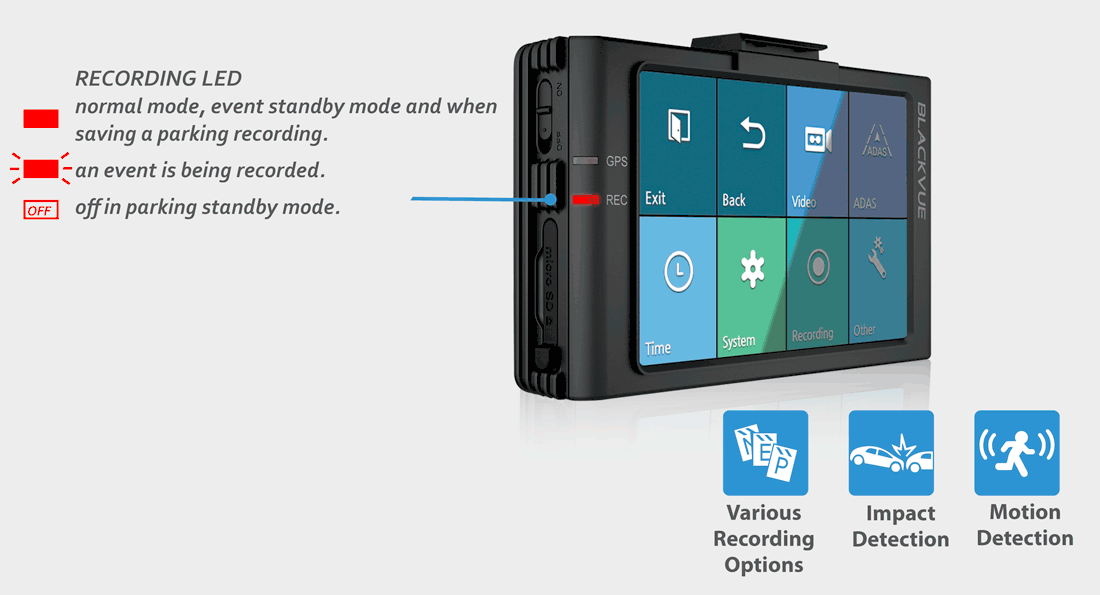 BlackVue Viewer (Windows/MAC)
EASILY MANAGE YOUR VIDEO FILES. The BlackVue Viewer is free to download and use. It lets you easily change your BlackVue configuration settings. Displays videos chronologically and by type (Normal/Event/Parking) to quickly identify and archive important footage.
Loop Recording and Format Free Technology

Loop Recording: The DR490L-2CH records over the oldest video files first when the microSD card is full, in a seamless loop.
Format-Free Technology: Your BlackVue saves and organizes files on the microSD card in a highly efficient way. It reduces the need for formatting the card and prevents file corruption even after multiple write cycles.

External GPS (Optional)

The external GPS reciver (approx - 1m/39inches) adds geolocation and speed data to your videos.
Advance Driver Assistance Systems (ADAS)

The DR490L-2CH incorporates Lane Departure Warning System (LDWS). When active, your dashcam will detect and emit a sound alert when the vehicle is close to or crossing a line on the road. You can calibrate LDWS and set it to activate only above a certain speed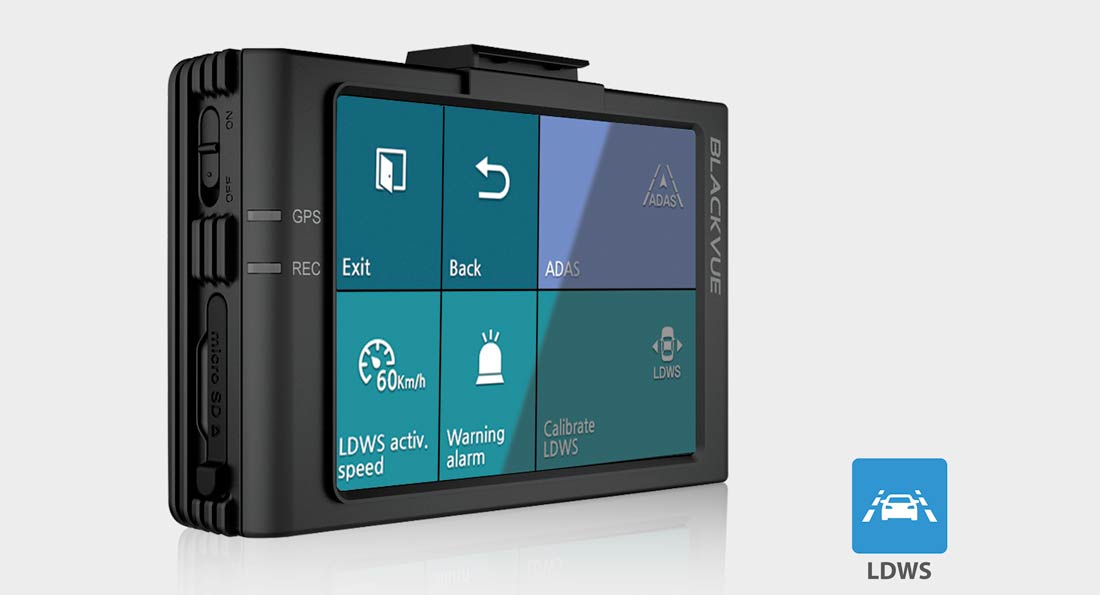 Recording Modes
The BlackVue DR490L has 3 main recording modes- Normal, Event and Parking. These will automatically switch depending on what is happening around the vehicle.
Normal- This is what the camera will default to when normal driving. This will start as soon as the vehicle is on and will continue in this mode until something happens.

Event- When the G-Sensor detects a significant change, a file will be created that lasts 60s.

Parking- After a period of no movement the camera ill go into parking mode and will only record a video file when movement or an impact is detected. (Both Hard-wire and cigarette power cables are included)

Technical Specs
3.5" Touchscreen
HD/Video Resolution – 1080p 1920 x 1080
Video Frame Rate – 30fps
Codec – H.264
File Format – MP4
Video Playback – PC/Mac Software or on screen
Viewing Angle – Diagonal 130°
Sensor – Sony Starvis Sensor
Internal Mic (Sound Recorded) – Yes, can be muted
Memory Card Included – Yes, 16GB Micro SD Card Class 10
Memory Capacity – 128GB SD Card Class 10
WiFi – No
Software – BlackVue Viewer
Software Compatibility – Windows/Mac
Lane Departure Warning System (LDWS) – Yes
G-Sensor – Yes
Parking Mode – requires hardwire cable
Speed Stamp – only visible via software or app
Auto Event Recording
Auto start/stop rec
Date/Time Stamp
Overwrite Recording
Manual Recording
One Touch Formatting
Tone Alerts
Night-vision
Operating Temperatures – -10° ~ 60°C
Waterproof – No
Plug n Play device, no special installation required.
Product Class
Product Type
Dash Camera