BlackVue DR590-1CH FHD Dashcam - 1080p

Need any more information?
Ask a question
---
1 Year Warranty

Easy Returns
Recommended Add Ons
---
Clear Full HD videos under any light with Sony STARVIS™ sensor
The BlackVue DR590-1CH is a high performance forward-facing Full HD dashcam with an ultra-wide 139° viewing angle and excellent low-light performance. The DR590-1CH boasts Full HD 1080p resolution and fluid 60 frames per second (fps) video quality to catch all the action, even at high speeds - absolutely essential for identifying important details such as number plates. By including uprated 60fps recording, the image is sharp and motion blur greatly reduced in comparison with conventional 30fps dashcam models. The DR590-1CH is equipped with Sony's premium STARVIS image sensor, providing outstanding performance in low-light conditions. Additionally, a Night Vision feature further enhances details in dark environments, where it matters most. Video footage can also be viewed on any windows PC or Apple Mac computer using the supplied BlackVue Viewer application. The DR590-1CH utilises proprietary video file management techniques to simplify daily use. With Loop Recording, the oldest files are overwritten first when the microSD card is full, while Adaptive Format-Free Technology reduces the need for formatting the microSD card and prevents file corruption even after multiple write cycles. Lastly the DR590-1CH's compact form factor, stealth styling and discreet mounting position behind the rear view mirror, mean it's barely noticeable from outside of the vehicle. The BlackVue DR590-1CH supports upto 256GBGB of internal memory (MicroSD).
Performance and Functionality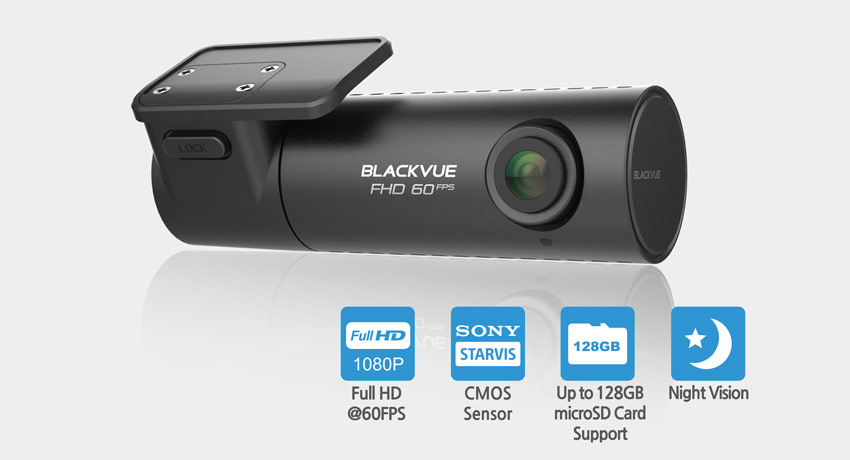 DR590-1CH records Full HD 1080p 60FPS videos at a 139-degree wide view angle. With the Sony STARVIS™ imaging sensor, you get awesome image clarity day and night.
Set Up (easily) And Forget
BlackVue dashcams are very easy to install. Attach the front unit to the windshield behind the rear view mirror with the provided double-sided tape. This way, the dashcam is invisible to the driver's eye. Simply plug the power cords into the cigarette lighter / accessory power socket of your vehicle and it will automatically start recording as you turn ignition on (no need to push any button). Once set, you can forget about it, knowing it will reliably record your drive.
Manage Videos Easily with the BlackVue App and Viewer
The BlackVue Viewer(WINDOWS/MAC) is free to download and use. It lets you easily change your BlackVue configuration settings and review recorded videos. It displays videos chronologically and by type (Normal/Event/Parking) to let you quickly identify and archive important footage. You can also export video segments, remove audio or export screen captures.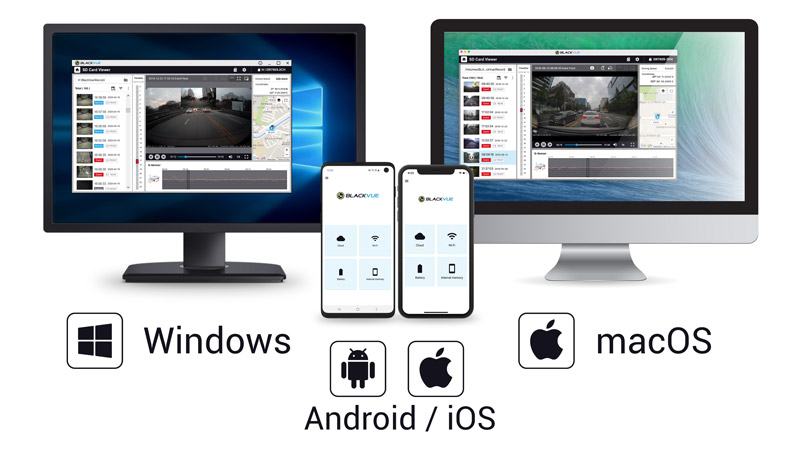 Secure Memory Management
Loop Recording: The DR590-1CH records over the oldest video files first when the microSD card is full, in a seamless loop.
Adaptive Format-Free Technology: your BlackVue saves and organizes files on the microSD card in a highly efficient way. It reduces the need for formatting the card and prevents file corruption even after multiple write cycles.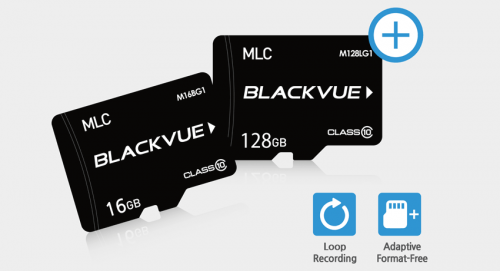 High Frame Rate For Extra Fluidity
The advantage of 60FPS video capture
The DR590-1CH records super fluid videos at a high frame rate of 60 frames per second. keeping all details sharp even in fast action. With 60fps, motion blur is much reduced compared to 30fps. That means your BlackVue can better capture details–like license plates–even in fast-moving objects.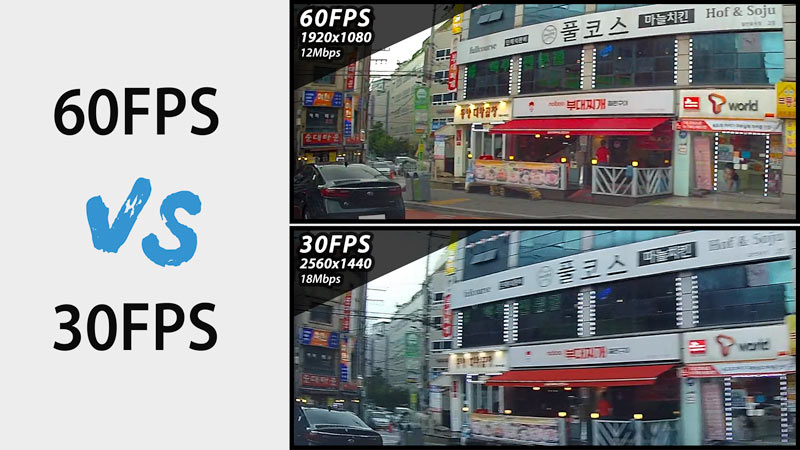 Intelligent Parking Mode Support
The DR590-1CH is compatible with Parking Mode. In Parking Mode, your dashcam monitors your vehicle while you are away, recording videos when it detects movement or impact. You will need a Power Magic Pro or Power Magic Battery Pack to enable this feature. Find more info about Parking Mode here (link opens in new tab).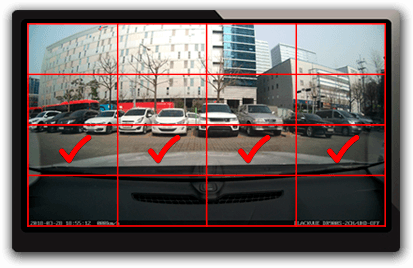 Motion & Impact Detection Parking Mode detects both:
Motions recorded by the image sensor (marked "P" in the file list).
Impacts detected by the accelerometer/G-sensor (marked "E" in the file list).
Choose detection regions to reduce the risk of triggering unwanted motion recordings due to trees swaying in the wind, far-away moving objects, etc.
Note: Only available on DR900x & DR750x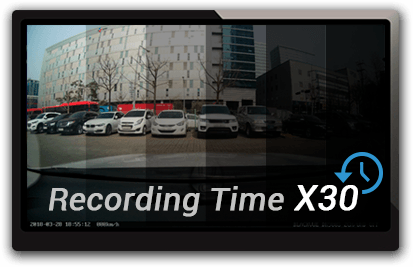 Continuously records at 1FPS (one frame per second). Videos are played back at 30FPS.
1-minute Time lapse Parking Mode video = 30 minutes real time coverage.
Cover a period of more than 27 hours on a 16GB microSD card at the highest (Extreme) quality setting.
When an impact is detected, the dashcam creates a buffered Event video.
Parking Mode Event Voice Notifications:
Upon exiting Parking Mode, your BlackVue tells you if Events were recorded when you were away from your car, so you can check right away the Event videos on the BlackVue App.
Scheduled Reboot:
Schedule a daily automatic reboot (optional—at night by default) to minimize potential errors. Reboots happen only if the dashcam is in Parking Mode and not writing data to the microSD card.
Super Stealthy:
Completely turn off all LED indicators in Parking Mode. Only the recording LED indicator facing the interior of the vehicle will blink when motion or impact is detected.
Parking Mode Kits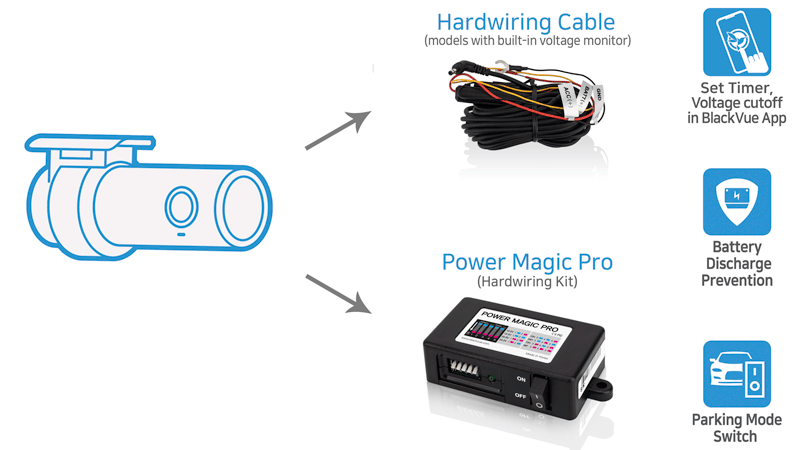 Parking Mode Batteries
Package
Front Camera
microSD Card
Power cord
External GPS (Optional)
microSD Card adapter
Quick start guide
Cable clips (5EA)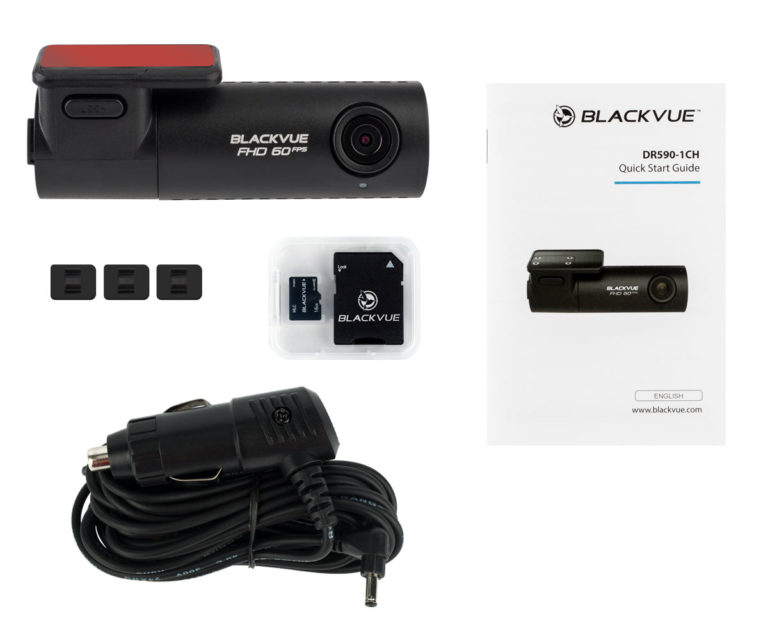 Specification:
Model Name
DR590-1CH
Channel
1 Channel
Highlights
Full HD, 60fps, External GPS, Sony Sensor
Product Dimensions
W 111.8 mm (4.40″) x H 34 mm (1.34″) / 61 g (2.15 oz)
Memory Support
microSD card up to 256GB
Recording Modes
– Normal,
– Event (Impact Detection / Speed Limit),
– Parking Mode (Motion+Impact Detection)
Parking Mode
YES (with accessory)
Parking Mode Event Voice Notifications
YES
Imaging Sensor
Sony STARVIS™ CMOS Sensor (Approx. 2.1MP)
Viewing Angle
Diagonal 139°, Horizontal 116°, Vertical 61°
Resolution Frame Rate
-Full HD (1920×1080) @60fps
-Full HD (1920×1080) @30fps
-HD (1280×720) @30fps
Video Codec
H.264 (AVC)
Image Quality and Bitrate Front/Rear
Highest (Extreme): 25 Mbps
Highest: 12 Mbps
High: 10 Mbps
Normal: 8 Mbps
Format Free
YES (Adaptive)
Scheduled Reboot
YES
Video File Extension
MP4
Wi-Fi
Built-in (802.11 b.g.n)
Cloud Compatible
NO
GPS
External (optional)
Microphone
Built-in
Speaker
Built-in
Impact Sensor
3-Axis Acceleration Sensor
LED Indicators
Recording LED, GPS LED, Security LED
Button
Button: Mic ON/OFF / Format microSD
Operation Temperature
-20℃ – 70℃ (-4°F – 158°F)
Storage Temperature
-20℃ – 80℃ (-4°F – 176°F)
High Temp Cut Off
Approx. 80℃ (176°F)
Backup Battery
Built-in supercapacitor
Input Power
DC 12V – 24V (DC Plug: (-)—C—(+) (Ø3.5 x Ø1.35), MAX 1A/12V)
Power Consumption Hour
Avg. 160mA (FHD@60fps, 2.04W at 12V, when there is no external GPS receiver)
Avg. 180mA (FHD@60fps, 2.28W at 12V, when an external GPS receiver is connected)
Certifications
FCC, CE, RoHS
Software
BlackVue Viewer
* Windows 7 or higher and Mac Yosemite OS X (10.10) or higher
Application
BlackVue Application (Android 5.0 or higher, iOS 9.0 or higher)
Others
Adaptive Format-Free File Management System
If you are unsure about the suitability of this product please contact us via the ask us about this item link at the top of this page or telephone us and we will gladly assist you.
Plug n Play device, no special installation required.
Camera Spec
Advance Features
GPS, Dual Camera