Bury Take&Talk System 8 Cradle for Samsung Galaxy S6 edge
Brand: Bury

Product Code: Samsung Galaxy S6 Edge

Need any more information?
Ask a question
---
1 Year Warranty

Easy Returns
---
Bury Take and Talk Uni System 8 Cradle for Samsung Galaxy S6 Edge




The Bury system 8 was the first car kit to feature interchangeable cradles and boasts a large range of cradles compatible with over 280 mobile phones from all the leading handset manufacturers.

All Bury System 8 Take&Talk cradles power and charge the phone and provide all the features you would expect of a genuine car kit including radio muting and audio Integration (vehicle and installation level permitting). This Take and Talk cradle must be used in conjunction with a Bury System 8 car kit base unit.

Using the Cradle

The Bury universal car kit gives you the convenience to interchange the cradle for your handset simply and easily, at the touch of a button and without the need for an engineer.




The system 8 Take&Talk cradles are perfect when you have more than one mobile phone or multiple users of a vehicle while also enabling you to upgrade your handset by simply changing the cradle at the fraction of the cost of installing another hands-free car kit.
UNI Take&Talk
Most popular and top-selling connecting unit
Connects in place of your existing Take&Talk system 8 cradle
Mobile phone specific cradle with charging function
Phone is inserted and removed rapidly and easily
Connection for external GSM antenna,for a superior reception performance
Key Features
Interchangeable Cradle
Can be replaced in the future without tools
Securely holds the mobile and charges it
Thief-proof: cradle together with mobile phone detachable
Download Take and Talk Cradle datasheet

If you are unsure about the suitability of this product with your car please submit an enquiry form by clicking 'ask us about this item' found at the top of this page
Ericsson
This cradle is compatible with Samsung Galaxy S6 Edge
Note: all Take and Talk cradles must be used in conjunction with a Bury System 8 car kit base unit.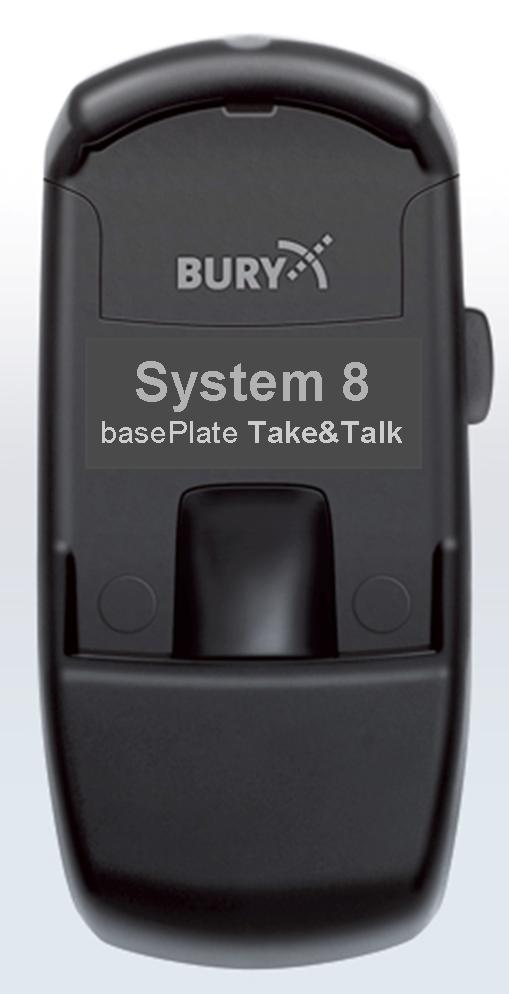 Simply unclip your old cradle by pressing the release button on the side of the base plate and then clip your new cradle by sliding up then dropping down as illustrated below in diagram A & B. Now insert the mobile phone in the cradle.

Please ensure you enable Bluetooth on your mobile phone. To pair search for a Bluetooth device called "T&T..." pass key is usually 1234
Product Class
Product Type
Phone Cradle