BlackVue DR650S-1CH In-car Full HD Dash Cam
Brand: BlackVue

Product Code: DR650S-1CH

Need any more information?
Ask a question
---
1 Year Warranty

Easy Returns
Recommended Add Ons
SD Memory card is optional extra, please select.
To find out of the size of the memory card that is included in this package, please look in the description.
Power Magic PRO is a battery discharge prevention device designed for Blackvue Car Cameras. It prevents discharging of car battery with the help of a switch, timer and voltage setting.
When you turn off your vehicle your Blackvue will enter "Parking Mode" after 10 minutes and will then immediately start recording when any motion is detected or if your vehicle is moved or knocked.
This system will automatically cut off the power to Blackvue when the vehicle voltage drops below the threshold voltage setting.
It also acts as a countdown timer where you can set the preferable duration to have the Blackvue operate when parked. Another reason why Blackvue Vehicle Drive Recorders are the best choice!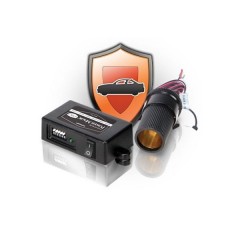 Optional Installation Package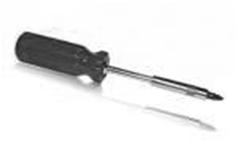 You are being offered an installation at an additional cost. If you select the installation option then this product will be professionally Installed at your home or workplace anywhere in the UK by our own network of accredited engineers. You will be contacted by a member of our installation booking team after you have placed an order.
---
Following on from the huge success of the DR650GW-1CH, the similarly titled DR650S-1CH delivers the same high-quality that we've come to expect from BlackVue along with a few new features and improvements. With wifi enabling you to connect the camera to your smartphone, GPS to track your speed and location and an internal g-sensor to monitor your movement, the DR650S-1CH is a feature packed, high quality camera.
The front facing camera records at full HD 1080p and the rear camera is HD 720p with three recording options (normal, event and parking mode). When in parking mode, which the camera will switch to automatically if it identifies that you've been stationary for a short while, the camera will monitor activity around your vehicle and capture footage of any movement that it detects.
The smart wifi feature enables you to access and transfer video easily to your smartphone or tablet device without having to remove the micro SD card. The BlackVue app for Android, iPhone and Windows 8 allows you to connect to the camera to play live footage or recorded videos or to make adjustments to the cameras menu settings.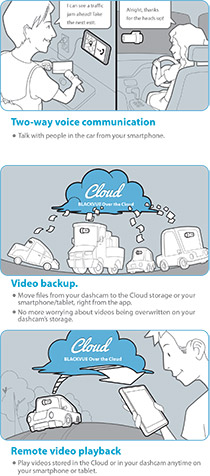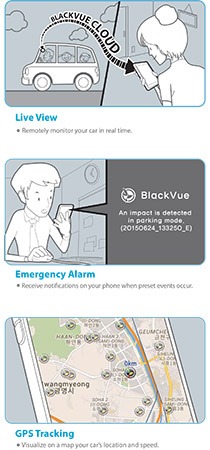 To enable a large amount of footage to be held at any one time, the BlackVue DR650S-2CH supports memory cards up to 64GB in size.
Note: For the camera to be used in parking mode the camera requires a continuous electrical feed while the ignition is turned off and so is required to be hardwired to your vehicles electrics. Add the BlackVue Power Magic if required.
A note about DAB radios: We've been notified by the manufacturer that in some cases the camera may interfere with DAB radios causing radio quality issues. They are aware of this and are looking into it.
In The Box
1 x BlackVue DR650S-1CH dashcam with integrated GPS receiver
1 x Rear camera connection coaxial cable
1 x Windscreen mount (front)
1 x Windscreen mount (rear)
1 x 12/24v power connector on 4m lead
1 x 16GB MicroSD card with adaptor
1 x MicroSD to USB key ring adaptor
1 x Cable tidy kit
BlackVue DR650S-1CH
BlackVue DR650S-1CH Compatibility Chart

Car Model
Year
Radio Description
Notes
All vehicles
If you are unsure about the suitability of this product please contact us via the ask us about this item link at the top of this page or telephone us and we will gladly assist you.
Plug n Play device, no special installation required.
Product Class
Product Type
Dash Camera