Alpine X903D-DU 9" Touch Screen Navigation for Fiat Ducato III, Citroën Jumper II and Peugeot Boxer II
Brand: Alpine

Product Code: X903D-DU

Need any more information?
Ask a question
---
1 Year Warranty

Easy Returns
Recommended Add Ons
This rear-view camera system provides parking safety with cutting-edge camera technology and full touch-screen operation.
It automatically activates when reversing and also mutes the audio so you can hear the parking sensor signals.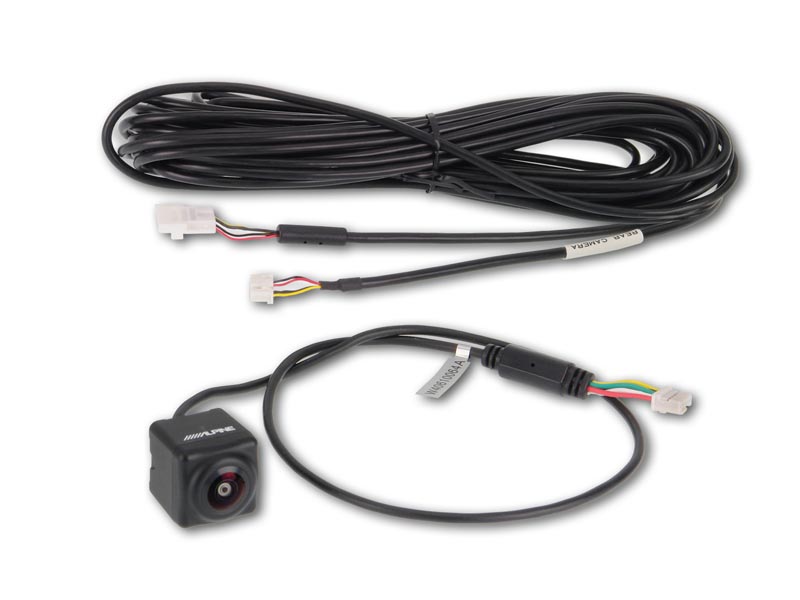 | | |
| --- | --- |
| | Internal windscreen DAB Antenna. Glass Mount DAB Aerial with adhesive and block Housing. Works best in a good to average digital signal strength area. The aerial is unsuitable for use on thermic metallic and heated windows. We recommend for optimum performance you purchase one of our external DAB aerials. |
Optional Installation Package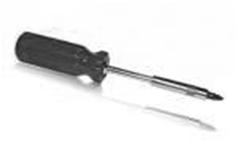 You are being offered an installation at an additional cost. If you select the installation option then this product will be professionally Installed at your home or workplace anywhere in the UK by our own network of accredited engineers. You will be contacted by a member of our installation booking team after you have placed an order.
---
9" Touch Screen Navigation for Fiat Ducato III, Citroën Jumper II and Peugeot Boxer II with TomTom maps, compatible with Apple CarPlay and Android Auto
Alpine introduces the 3rd generation motorhome Alpine Style system for the Fiat Ducato III, Citroën Jumper II and Peugeot Boxer II. The X903D-DU features a huge 9-inch touch-screen, that is installed off-set from the dashboard to be perfectly reachable from the driver's seat. This makes it very easy to see and control navigation maps and other functions.
The 3rd generation includes new rotary encoders for easy volume control and radio station search, as well as a direct camera access button. We also improved the wiring harness to make installation easier and much faster.
The X903D-DU features the iGo Primo NextGen navigation system with TomTom maps pre-installed for 48 countries with 3 years free-of-charge map updates. You can now chose from 3 different motorhome profiles (sizes: S / M / L) or manually input the measurements and weight of your motorhome. This means only suitable routes for your specific motorhome will be proposed. You can also easily install additional camper databases for your camping needs. The X903D-DU also includes Apple CarPlay and Android Auto compatibility.
Premium Navigation exclusively designed for Fiat Ducato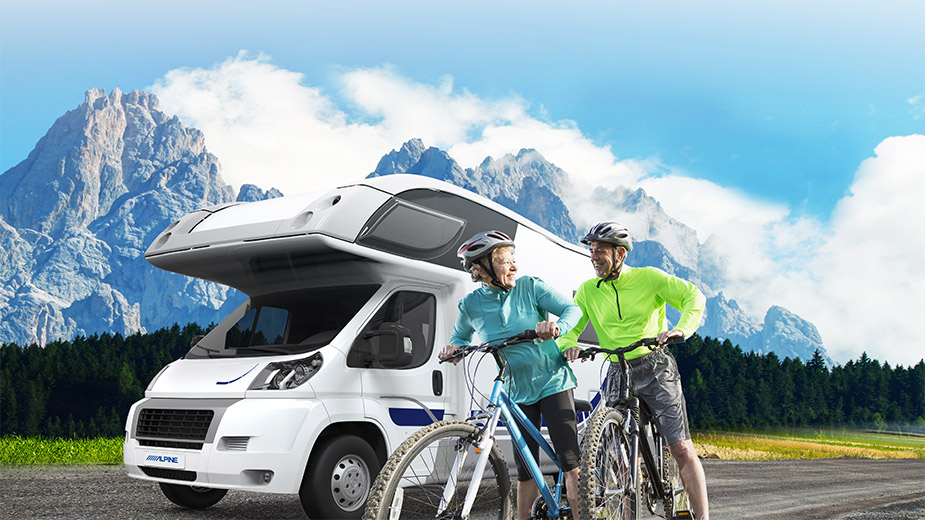 Designed for Fiat Ducato III and Related Caravans
The X903D-DU is exclusively designed for the Fiat Ducato III (Type 250/251 model year 2006 and newer including 2011 and 2014 facelifts), Citroën Jumper II and the Peugeot Boxer II. It is compatible with vehicles with 1DIN radio or radio preparation. Motorhomes with a 2DIN radio or navigation (VP1 or VP2) require an additional Alpine installation bracket (KIT-903DU-OEM).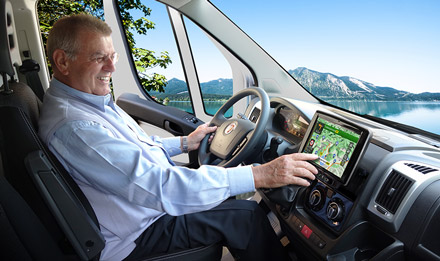 Easy to Reach from the Driver's Seat
Accessibility is an important factor especially on long trips when you often change radio stations or change navigation settings. The Alpine Style system is designed in an offset configuration from the dash – bringing it closer to the driver to be easily reached without leaning forward.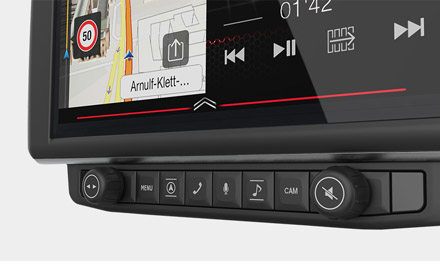 New Design with Rotary Encoders
The new control panel below the 9-inch touch-screen display includes rotary encoders for easy volume adjustment and radio station search especially while driving. We also included a direct camera activation button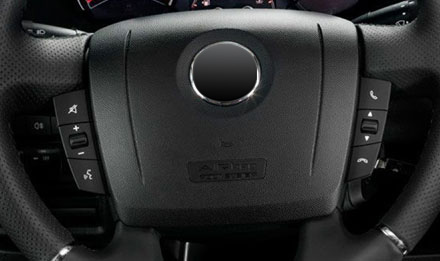 Steering wheel remote buttons
If your Ducato is equipped with control buttons on the steering wheel, you can use them with the X903D-DU as well. The Alpine Style system is fully connected to the vehicle electronics and accepts all steering controls such as volume control, telephone, voice control and audio mute.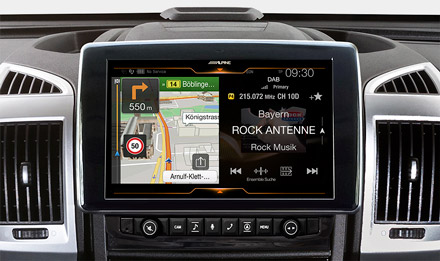 One Look Display
Alpine's innovative "One Look" split-screen technology allows you to view the navigation map and audio playback information at one glance. This eliminates the need to switch between different applications.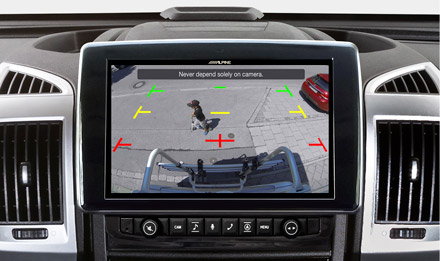 Upgrade to an HDR Camera System
The rear-view camera (if equipped) activates automatically when reversing. However, you may want to manually activate the camera on the highway to check on the bicycles attached to the back of your mobile-home or to ensure that you passed a truck fully after take-over to securely return to your driving lane. Alpine makes it very simple with a direct camera access hard key in the control panel.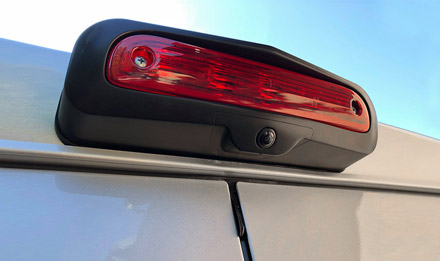 Brake Light Camera Mount for Fiat Ducato
The KIT-R1DUC camera mount uses the third brake light position of your Ducato III, Jumper II or Boxer II to easily install your Alpine HDR rear view camera. You do not even have to drill any hole in your motorhome wall to route the cable.
Camera Housing
The KIT-R1MHU allows a very clean and versatile installation of the Alpine multi-view camera for your motorhome. The mount is completely universal and can be adjusted to achieve the right angle for your camera application. By using UV and weather resistant plastic we can ensure a long lifespan and professional look, that integrates seamlessly with your motorhome. The waterproof seals ensure that no rainwater is entering your motorhome cabin. This KIT-R1MHU camera housing can be used in situations where a Brake light camera housing cannot be used.
Perfect Camper Navigation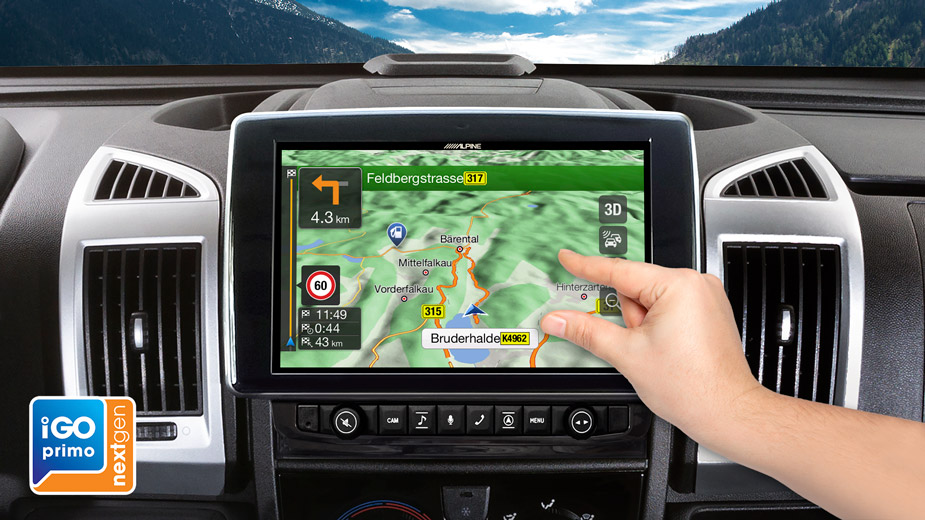 Motorhome Navigation: Arrive Relaxed and in Style
Your Alpine System comes wit pre-installed map data for 48 European countries. You can easily purchase additional countries and regions online to upgrade your database (incl. USA, Canada and many more). It features the latest iGo Primo nextgen navigation software and is compatible with both GPS and Glonass for highest location accuracy. The TomTom navigation maps provide free-of-charge updates for 3 years and you can now zoom the map using finger pinch gestures.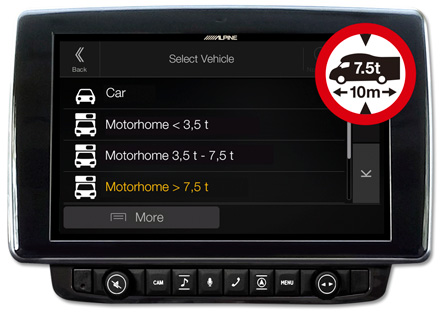 Vehicle Profile Options
You can choose between 3 different motorhome profiles (S / M / L)* or create your own profile by manually entering vehicle length, height, width and weight. The Alpine system will take the measures and weight of your vehicle into account and propose only routes suitable for your vehicle.
*This feature will become available in spring of 2020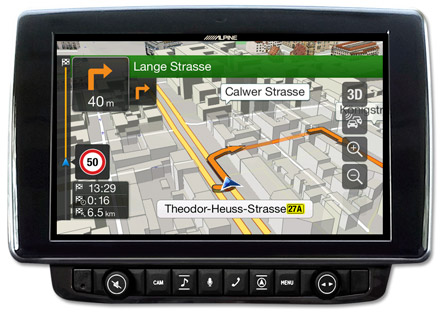 3D Maps & Speed information
View maps in 3D with detailed buildings and landmarks. This feature helps you to better orientate yourself in large cities. Speed restriction display and speed camera warnings (not available for all EU countries) give you further driving assistance.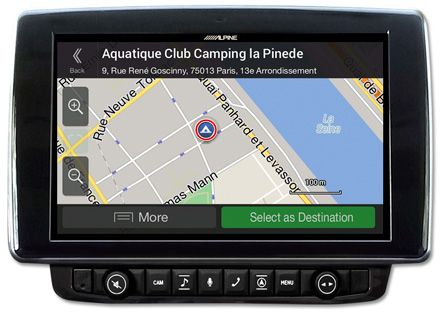 POI Search & Camping Site Data
Your X903D-DU comes with hundreds of thousands of POIs and camping sites pre-installed. You can also easily import your own POIs in .kml format.
Lane Guidance / TMC Route Guidance
Lane Guidance lets the driver know which is the best lane to be in, while Dynamic TMC Route Guidance provides live traffic information for avoiding traffic jams and recalculates the route if necessary.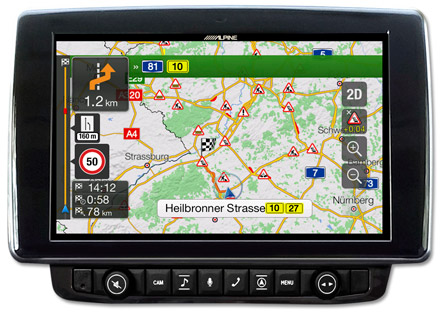 Plan Your Route
Thanks to TMC you are able to get live traffic updates – this is even very convenient before you start driving. Zoom out to see the full route you are about to drive and check the road conditions. Accidents, traffic jams and any kind of traffic problems are displayed with warning icons on the map, and roads with slow or stopped traffic are displayed in different colours.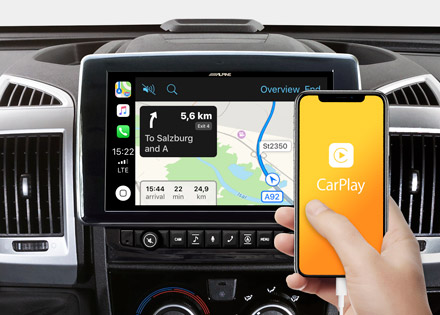 Online Navigation
The X903D-DU is compatible with both Apple CarPlay and Android Auto. This allows you to use many different navigation apps (such as Google maps, Waze, Sygic, Apple maps, etc) on your 9-inch Alpine display.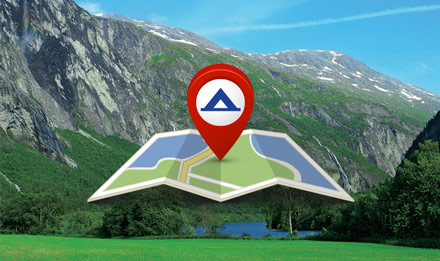 Destinations by GEO Coordinates
Many camping sites or sightseeing spots are away from major roads without any clear street address. By selecting destinations through GEO coordinates, you can reach any kind of destination even if there is no listed street nearby.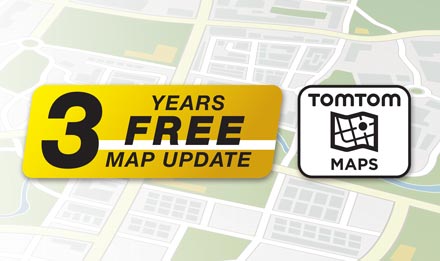 TomTom Maps with 3 Years Free-of-charge updates
The X903D-DU includes TomTom maps for an awesome map coverage of 48 European countries. Within 3 years after the first navigation fix, you can go to alpine.naviextras.com to download map updates free of charge for your Alpine unit – you can even do so without any limitation on how often you update.
Entertainment on the Road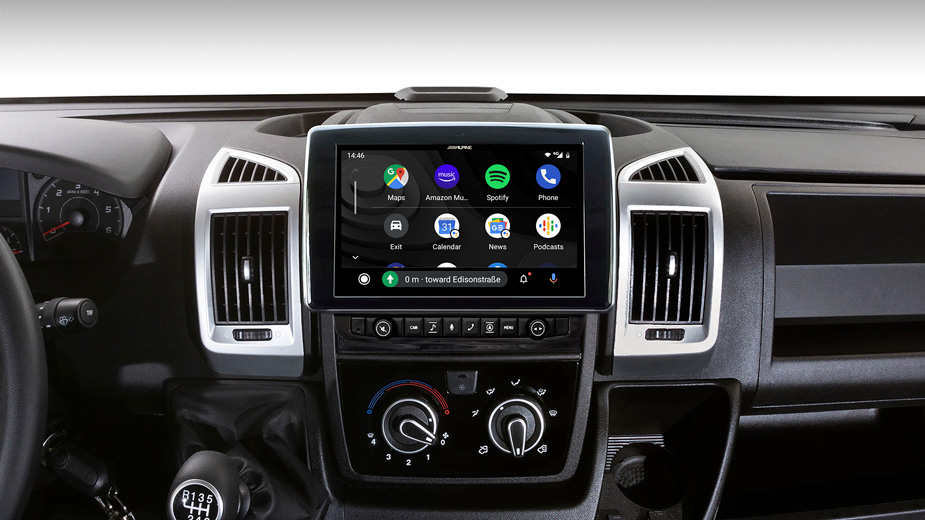 Infotainment – Entertainment on the Road
With an Alpine motorhome system you can enjoy movies, DAB+ digital radio, TV programs and music. This makes the journey to your destination as relaxed and entertaining as possible and you will not miss out on your favourite TV shows or performers. An important new function is the Power Saving Mode: when switching off your Alpine system from the living or sleeping area with your remote control, energy consumption is reduced to a minimum and will not drain your motorhome's battery.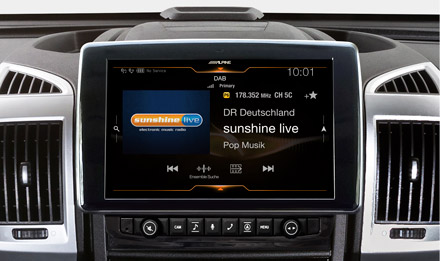 DAB/DAB+ Digital Radio
The built-in DAB/DAB+ tuner uses the most advanced digital technology to deliver radio reception with outstanding, noise-free sound quality. DAB also offers many other advantages over traditional FM radio: choose from a much wider range of radio stations and after the initial station scan easily select your desired channels from an alphabetic or genre list of available stations.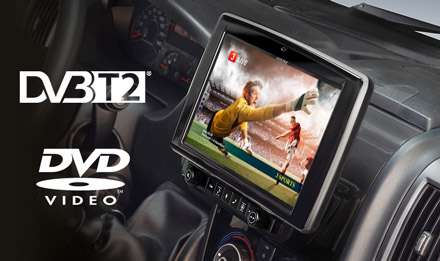 Upgrade to DVB-T Digital TV
Alpine offers a DVB-T digital TV (TUE-T220DV) tuner and antenna solutions that can be connected to the X903D-DU. You can also connect the Alpine external DVD player (DVE-5300) to enjoy DVDs and CDs in your motorhome.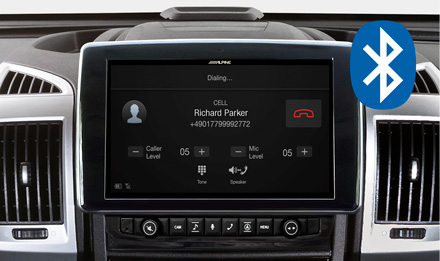 Built-in Bluetooth® Technology
The built-in Bluetooth module allows wireless connection of a mobile phone for hands-free communication. A very intuitive user interface makes operation extremely easy. Bluetooth also enables audio streaming from the phone: audio content or even internet radio can be wirelessly enjoyed on the Alpine system.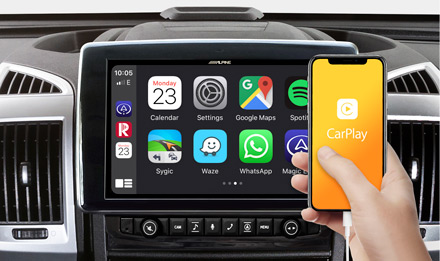 Connect Your Smartphone
The X903D-DU is compatible with Apple CarPlay and Android Auto. This gives smartphone users an incredibly intuitive way to make calls, use navigation, listen to music and access messages with just a word or a touch. You can even enjoy Spotify, internet radio or podcasts while on the road for a truly connected experience.
Optional Multiview Camera
Rear View [Back]
Rear View displays what is directly behind the car. Use this when reserving into a parking space, for example.
Panorama View [Panorama]
Panorama View displays a wide view behind the car. Use this when you want to view a wider than normal area behind the car.
Corner View [Corner]
Corner View splits the screen so you have a clearer view of both left and right behind the car. There's also a picture-in-picture function that shows the regular rear view in a small screen.
Ground View [Top]
Top View is convenient for precise reversing, for example to hook up a trailer. There's also a picture-in-picture function that shows the regular rear view in a small screen.
FEATURES
Tuner
Memory Presets: FM: 24 / MW: 6 / LW: 6)
Seek Mode: Local / DX Selection
RDS
RDS Functions: PI, PS, AF, TA, TP, PTY, NEWS, RADIO TEXT
DAB Tuner
DAB+ Tuner Built-in
DAB+/DMB Supported
DAB+ Slideshow Service
DAB Service Following
RDS Fallback (where available)
Service Preset: 18 Preset Memory
BLUETOOTH
Built-in BLUETOOTH® Module
HFP (Hands-Free Profile) Compatible
Streaming Music: A2DP (Advanced Audio Distribution Profile) Compatible
Streaming Music Control: AVRCP (Audio / Video Remote Control Profile) Ver.1.5 Compatible
Advanced BLUETOOTH® Technology
Connection: SSP (Simple Secure Pairing) Supported
Menu Language Selection: 24 Languages
Microphone integrated
Navigation
Map Coverage: 48 Countries (Western and Eastern Europe)
Menu Language: 29 Languages
Voice Guidance Language: 29 Languages for Voice Guidance, 15 Languages for Text-to-Speech (TTS)
Advanced Address Search
Post Code Search
Advanced POI Functions
7 Alternative Route Recommendation
Advanced TMC Mode
3D maps with elevation mode
3D Motorway Junction View
Text-to-Speech
3 Positioning Sensors: GPS, Gyroscope, Vehicle Speed Pulse
USB Media Connection
USB Connection
Music and Video Playback: FLAC/ MP3/ WMA/ AAC/ AVI/ MP4/ MKV
Sound Tuning
Bass Engine™ Pro
Subwoofer Level Adjustment
2V PreOuts
Equalizer: 10 selections
9-Band Parametric Equalizer
6 Channel Digital Time Correction
Digital Crossover Setting
General
Power Output: 4 x 50 W High Power Amplifier
Display: 9′′ Capacitive WVGA High Resolution Display
My Favourites Function
3 PreOuts (2 V, Front / Rear / Subwoofer) KTX-PRE1 Required (Sold separately)
AUX-In: 1 A/V AUX Input (RCA)
Steering Wheel Remote Control Function
Remote Control Ready
Navigation Guidance Mix
Camera Connection & Built-in Controls for Multi-View Cameras
Camera Guide Line Adjustment
Menu Languages: 24 Languages (for AV / Bluetooth), 29 Languages (Navigation Menu and Voice Guidance)
Anti-theft security code
HDMI Input (Alpine Special HDMI connector required)
Engine Start-Stop unaffected
Ready for optional DVD Player DVE-5300
Map & Database
Online Map Update via alpine.naviextras.com
Featuring TomTom Maps
3 Years free of charge map update (multiple updates possible)
Installation
Includes installation brackets, wiring harness and SWRC interface for complete installation.
SPECIFICATIONS
Screen
Screen Size: 9 inch Capacitive WVGA
LCD Type: Transparent Type TN LCD
Number of Picture Elements: 1,152,000 pixels (800 x 3 x 480)
Max Power Output Ratings
Max Power Output: 4 x 50 W
FM Tuner
Tuning Range: 87.5 - 108.0 MHz
Alternate Channel Selectivity: 80 dB
Signal-to-Noise Ratio: 65 dB
MW Tuner
Tuning Range: 531 - 1,602 kHz
LW Tuner
Tuning Range: 153 - 281 kHz
USB
USB Requirements: USB 2.0
Max. Power Consumption: 1,500 mA (CDP Support)
USB Class: Mass Storage Class, Play From Device
File System: FAT 16/32
MP3 Decoding: MPEG-1/2 AUDIO Layer-3
WMA Decoding: Windows Media™ Audio
AAC Decoding: ACC-LC format ′′.m4a′′ file
Flac Decoding
USB Video playback (AVI/MP4/MKV file with H.264 Video and MP3/AAC Audio)
Number of Channels: 2-Channel (Stereo)
BLUETOOTH®
BLUETOOTH® Version: Bluetooth V3.0+EDR
Output Power: +4 dBm Max. (Power class 2)
HFP: HFP (Hands Free Profile)
PBAP (Phone Book Access Profile)
HSP (Head Set Profile)
A2DP: A2DP (Advanced Audio Distribution Profile)
HDMI Section
Input Format 720p/480p/VGA
Output Format 480p
General
Power Requirement: 14.4 V. DC (11-16V allowable)
Pre Output Voltage (Before Clipping): 2 V / 10k ohms
Maximum Mounting Angle: 30°
Dimensions
X903D-DU: Fits for Fiat Ducato III (250), CITROËN Jumper II (250) and Peugeot Boxer II (250)
Chassis Size (W x H x D) mm: 178 x 50 x 164 mm
The Caravan and Camper Software considers following restrictions and limitations by calculating the route and also gives warnings whilst driving without calculated route in 40 countries*:
General through traffic restrictions for trucks (i.e. environmental zones)
Through traffic restrictions for all categories of dangerous goods
(i.e. explosives, flammables)
Turn and U-Turn restrictions for trucks
Restrictions for trailers
Limitations of length
Limitations of width
Limitations of height
Limitations of weight
Height and width limitations of tunnels and bridge pass throughs
Maximum allowed weight of bridges
Andorra, Austria, Belgium, Bulgaria, Croatia, Czech Republic, Denmark, Estonia, Finland, France, Germany, Gibraltar, Greece, Hungary, Iceland, Ireland, Italy, Kazakhstan, Kosovo, Latvia, Liechtenstein, Lithuania, Luxembourg, Monaco, Netherlands, Norway, Poland, Portugal, Romania, Russia, San Marino, Serbia, Slovakia, Slovenia, Spain, Sweden, Switzerland, Turkey, Ukraine, United Kingdom
NOTE 1: Not for vehicles with Columbus headunit
We recommend you have your installation carried out by a qualified installer. If you wish Car Communications to carry out the installation at an address of your choice anywhere in the UK please select from

addons

above before adding to cart. During the checkout you will be asked your preferred date(s) and time for the installation.
Product Class
Product Type
Car Stereo & Navigation