BlackVue DR650S-2CH Truck Full HD high Specification Dual-Camera Dashcam
Brand: BlackVue

Product Code: DR650S-2CH Truck

Need any more information?
Ask a question
---
1 Year Warranty

Easy Returns
Recommended Add Ons
SD Memory card is optional extra, please select.
To find out of the size of the memory card that is included in this package, please look in the description.
Optional Installation Package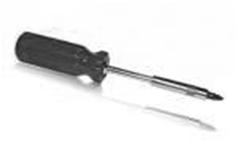 You are being offered an installation at an additional cost. If you select the installation option then this product will be professionally Installed at your home or workplace anywhere in the UK by our own network of accredited engineers. You will be contacted by a member of our installation booking team after you have placed an order.
---
One of the market leaders of dash cameras for commercial vehicles like company trucks and vans. The high quality camera comes with a rear camera which has been deisnged to recoded high qulity videos and be very sturdy due to its metal frame.
The camera set is perfect to keep an eye on the road ahead and behind, also the camera can be set up to record the cargo loading and unloadings with the rear camera.
Rear camera
A compleat waterproof camera with a metal frame, built in luminosty sensors will detect ambient brightness, activating automatically the 6 IR lights to identify objects and vehicles enven in darkness.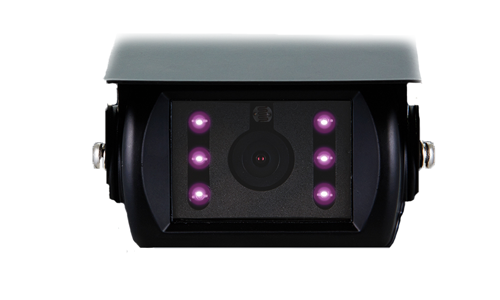 Coaxial Cable
Wired connections vs wireless, it is always better to fit dash cameras with an wire connection as the singnal can't be disturbed, the cable used for this camera is fully waterproof and comes with the leanth of 15m, a 20m cable is also avalible for long trucks (see the options above).
Wifi and GPS
The built in Wifi allows you to connect to the dash camera via the BlackVue app, you can view or transfer the video recordings without the need of removing the SD card (16GB). Also enjoy the free add on service of the BlackVue cloud. The built in GPS lets you collect more accurate data, you can view where the veicle was when the incident happened or check where the vehicle was at a certain time.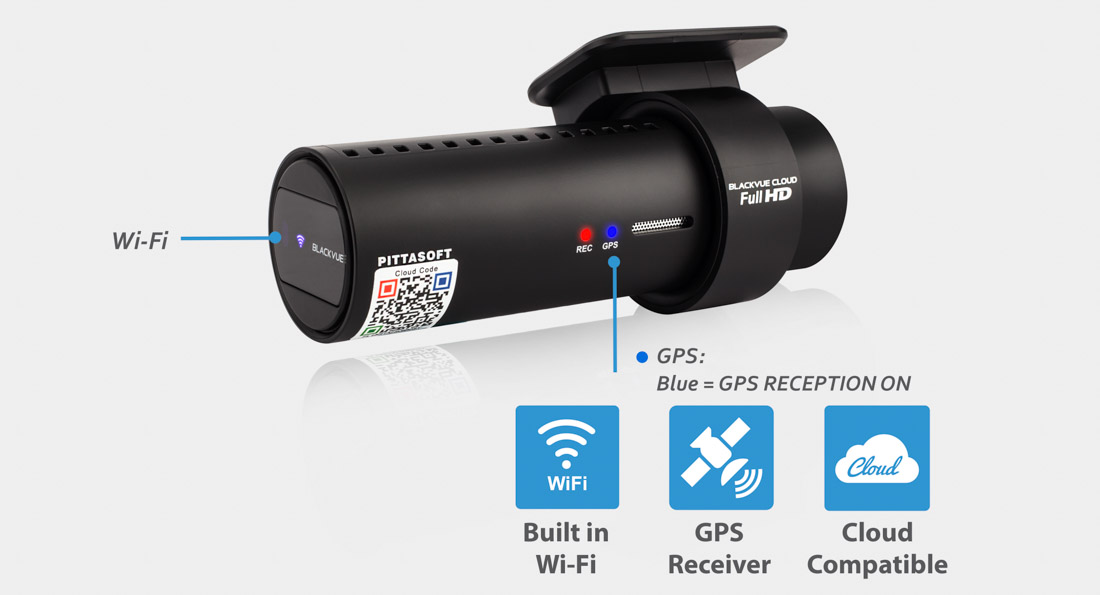 Impact & Motion Detection
Built-in impact and motion detection enable your BlackVue to switch between 3 different recording modes (Normal/Event/Parking) automatically depending on the circumstances.
Videos files are marked accordingly so that you can easily find relevant ones with the BlackVue Viewer.
Loop recording: Your BlackVue automatically writes over the oldest files when the memory is full.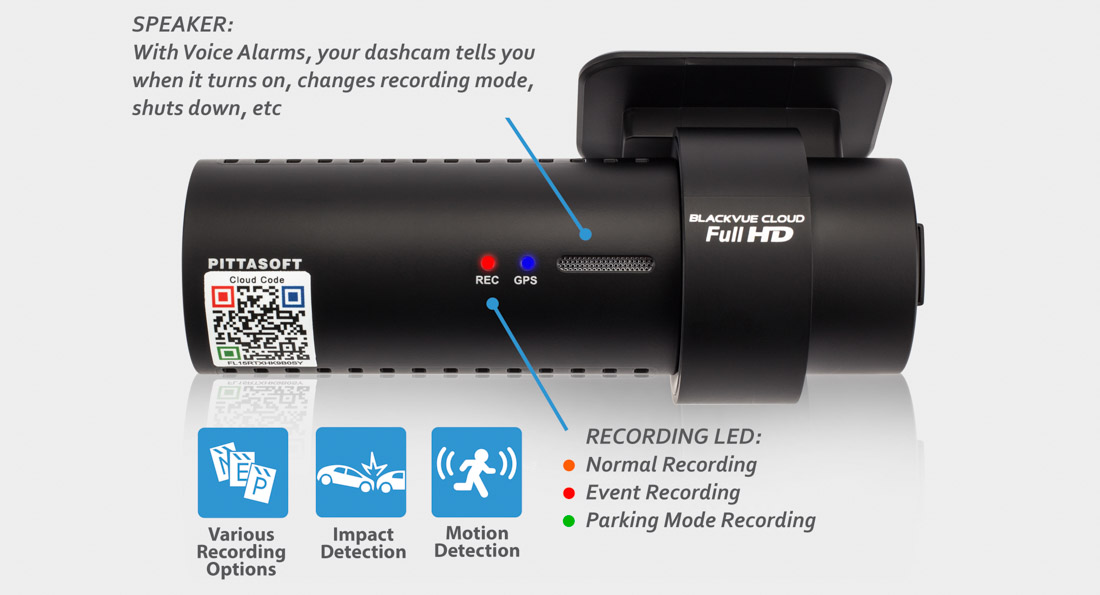 BlackVue App
Both the BlackVue App and Viewer are free to download and use.
They let you easily change your BlackVue configuration settings and browse through your videos in an intuitive way.
With the BlackVue App, connect to your BlackVue in Wi-Fi to access files and check realtime Live View for easy setup of your dashcam.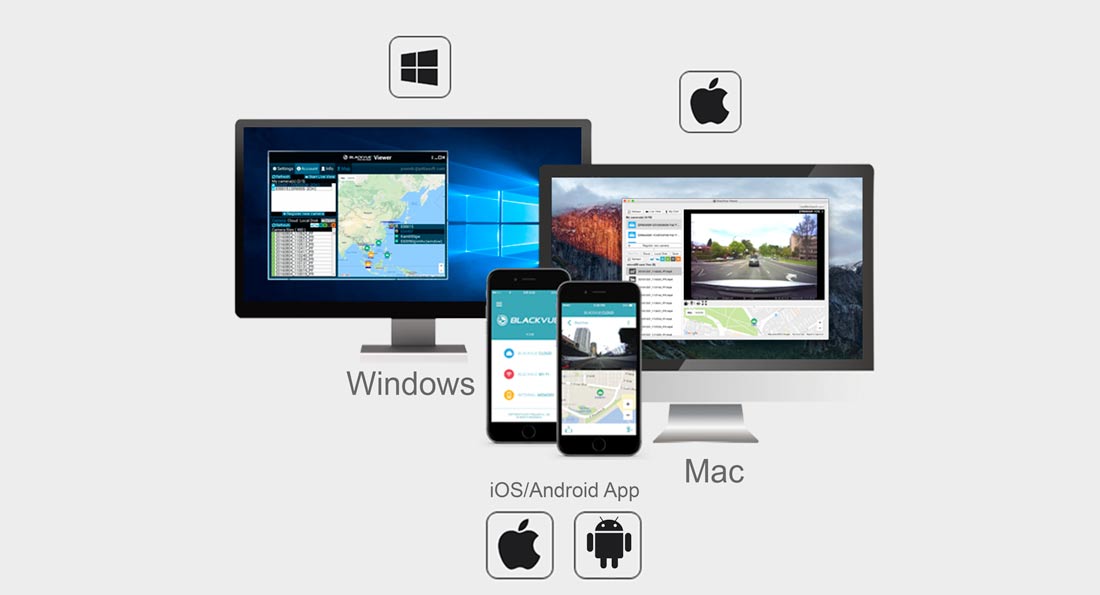 Parking Mode Monitoring
With Power Magic Pro or Power Magic Battery Pack.
Rest easy, knowing that your car is being monitored while you are away.
BlackVue automatically switches to Parking Mode to monitor your parked vehicle, but only writes to the memory card when something happens (motion or impact detected), which has two benefits:
Less chance for important files to be overwritten during long Parking Mode sessions.
Extended memory card lifespan in the long run.
Additionally, the DR650S Series features Voice Notifications in case of Parking Mode Event recordings. Upon switching from Parking to Normal Mode, your BlackVue will alert you if an Event was recorded while your vehicle was parked. This way, you can check the recordings right away and back up important files to your phone or the Cloud if necessary. It might also alert you of possible damage to your vehicle that you did not notice at first.
Whats in the Box
Front Camera
Interior IR Camera
Power Cord
Double-sided Tape for the Mounting Bracket
microSD Card
microSD Card Reader
Rear Camera Connection Cable
Cable Clips(8EA)
Quick Start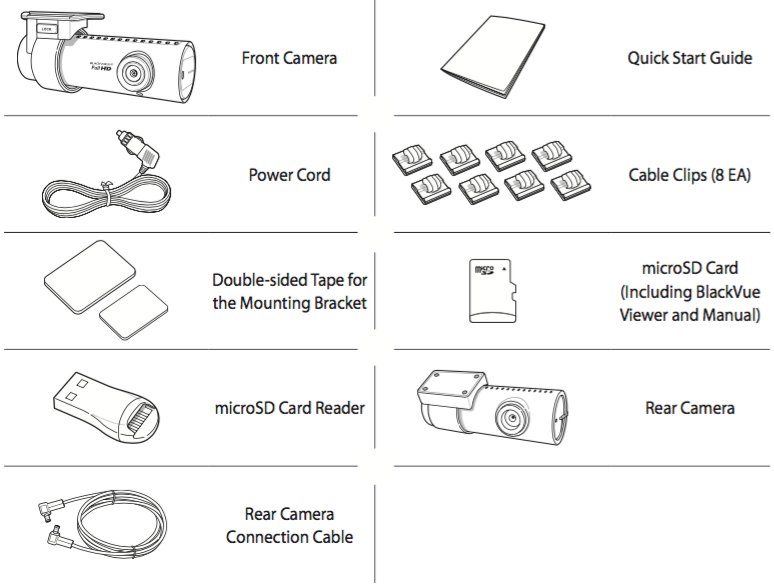 Techical Specs
Color / Size / Weight
Front: Black / Width 118.5mm x Height 36mm / 96g
Rear: Black / Width 70.0mm x Height 44.4mm / 180g
Memory
microSD Card - 16GB supplied with this kit (16GB / 32GB / 64GB/ 128GB)
Recording Modes
Normal Recording, Event Recording (Impact Detection), and Parking mode Recording (Motion+Impact Detection)
For parking mode recording, a Parking Mode Battery Pack (Power Magic Battery Pack) or a Parking Mode Hardwiring Kit (Power Magic Pro) is required.
Camera
Front: CMOS Sensor (Approx. 2.1 M Pixel)
Rear: CMOS Sensor (Approx. 1 M Pixel)
Viewing Angle
Front: Opposite Angle 129°, Horizontal 103°, Vertical 77°
Rear: Opposite Angle 129°, Horizontal 108°, Vertical 57°
Resolution / Frame Rate
Front: Full HD (1920×1080) @ 30 fps
Rear: HD (1280×720) @ 30 fps
* Resolution/frame rate can be changed.
* Frame rate is di erent during Parking mode and Wi-Fi streaming.
Image Quality
Highest, High, Normal
Video Compression Mode
MP4
Wi-Fi
Built-in (802.11b/g/n(2.4~2.4835GHz))
GPS
Built-in
Microphone
Built-in
Speaker
Built-in
Voice Guidance
LED Indicators
Front: Recording LED, GPS LED,Wi-Fi LED,Front Security LED
Sensor
3-Axis Acceleration Sensor
Illumination Sensor and Light of Rear Camera
850 nano, 6 Infrared(IR) Lights
Button
Wi-Fi / Format Button
* Self-format Function: Press it for 10 seconds to format the microSD card.
Voice recording proximity sensor
* Touch the button or it recognizes when a hand approaches to within about 2 cm.
Backup Battery
Built-in super capacitor
Input Power
DC 12 V ? 24 V
(DC Plug: (Ø3.5 x Ø1.35), MAX 1 A/12 V)
Power Consumption
Average 4.6 W
? Actual power consumption may vary depending on GPS, Wi-Fi and IR usage
Operation Temperature
-20°C ~ 60°C (-4°F ? 140°F )
Storage Temperature
-20°C ~ 70°C (-4°F ? 158°F )
Certifications
Front: KC, FCC, CE, RoHS, Telec, WEEE
Rear: KC, FCC, CE, RoHS, WEEE
Software
BlackVue Viewer
? Windows XP or higher (Windows 8 supported) and Mac Leopard OS X(10.5) or higher
Application
BlackVue Application (Android 4.4.2 or higher, iOS 6.0 or higher, and iOS 8.0 or higher)
Proximity sensor (on side of front camera) function
Audio Recording ON/OFF
Event Parking Mode recordings voice notification upon ignition
Yes.
Video Recording Time
1 / 2 / 3 Minutes
Warranty
1 year manufacturer's warranty
Compatible with Trucks and Commercial Vehicles.

If you are unsure about the suitability of this product please contact us via the ask us about this item link at the top of this page or telephone us and we will gladly assist you.
Camera systems can be complex networks, so we always recommends that you have your installation carried out by a qualified installer. If you wish Car Communications to carry out the installation at an address of your choice anywhere in the UK please select from addons above before adding to cart. During the checkout you will be asked your preferred date(s) and time for the installation.
Our products are professionally installed at your home or workplace anywhere in the UK by our own network of accredited engineers.
Product Class
Product Type
Dash Camera