THINKWARE Accident Dash Camera H50 (optional GPS antenna)

Need any more information?
Ask a question
---
1 Year Warranty

Easy Returns
Recommended Add Ons
---
THINKWARE Accident Dash Camera H50
Capture the Crucial Moments in HD

With a 720p HD camera, the THINKWARE Dash Cam H50 is able to record bright and clear videos that capture the crucial details of any incidents. Recording at 30 frames per second without dropping a single frame, you can rely on the H50 to capture every moment of your commute in high definition – be it an incident or an unexpected hit-and-run. This kit is supplied with a 8GB micro SD card.
Everything is Sharp and Clear
The 2M pixel high-resolution CMOS Image sensor significantly improves the video quality even at night. With THINKWARE Dash Cam H50, everything is crystal clear and sharp.
120° Wide Angle View
The THINKWARE Dash Cam H50 has a 120° wide viewing angle for visibility, capturing a wider view of the roads efficiently.
Processor with Optimized Performance
The Cortex-A5 CPU is one of the smallest and most mature processors in the market, delivering high-end features and multiprocessing capability for energy-efficient performance. It ensures that the H50 can carry out its main tasks and functions stably without interruption.
Comprehensive Driving Information with GPS
With an external GPS, the THINKWARE Dash Cam H50 can record the vehicle's driving speed and precisely pinpoints its location and routes on the map.
The GPS helps you to accurately assess the details surrounding an by providing you with the vehicle speed at the time of the collision, and the severity of impact. The video recording feature not only store driving footages, you can also use them to track your holiday travel routes with family and friends.
Monitoring Impact to Vehicle

The Active Impact Monitoring System utilizes a 3-axis G-Sensor to continuously monitor any impact to the vehicle, ensuring that all incidents are recorded.
Convenient Video Access

With the THINKWARE PC Viewer, you can access the recorded videos with time, speed, and location data on your Windows PC. You may also use the application to configure the device, as well as access firmware upgrades.
Continuous Recording Mode
This mode is activated automatically when you start the engine. Recorded videos are saved in one-minute segments with an auto-looping mechanism.
Incident Recording Mode
The built-in G-Sensor detects impact to your car, automatically recording the 10 seconds prior to and after the impact, ensuring that you have the evidence that you need.
Parking Surveillance Mode
The H50 supports a parking surveillance mode that monitors your vehicle when the ignition is off. A combination of motion detection and impact monitoring is used to protect your car from hit-and-run incidents.
Manual Recording
Similar to a video camera, you can use the Manual Recording Mode to capture events that occurs in front of you even if your vehicle is not involved. You can also use this feature to capture special moments, such as a falling meteor or a herd of bison crossing the road.
Easy-to-use Interface

Anyone can activate and control the THINKWARE Dash Cam H50 easily with a few simple buttons and cable connection ports.
Even if you are a first time user, you will not face any problem with the installation and understanding the controls.

Stable Mounting

A compact 3M tape adhesive mount eliminates vibration, windshield glare, and replaces the bulky suction cup that often blocks the driver's view of the road.

Thermal Self-Protection Prevents Overheating

With the built-in thermal sensor, the H50 protects itself and the data recorded against intense heat by automatically turning off in extreme conditions to prevent overheating.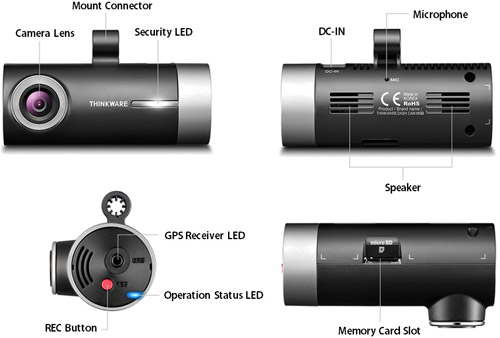 Optional GPS Antenna
This camera is has a optional GPS antenna which will enable the camera to record your location when you are driving, if you would like to purchase this, use the drop down 'Optional GPS Antenna' at the top of the page.
General Specification:
Dimension

76mm x 30.5mm x 38.4mm
3.0 x 1.2 x 1.51 inches

Weight
Detailed Specifications:
Camera: 2.0 Megapixel CMOS secsor
Resolution: HD (1280 x 720)
Memory Capicity: 8GB /16GB /32GB Micro SD Memory Card
Recording Modes: Continuous Recording Mode, Incident Recording Mode, Manual recording Mode
Sensor: 3-Axis Accelerometer G-Sensor (3D,3G)
Power Input Voltage: DC 12/24V / Power Consumption: 2.1W (Max)
ETC: Front Security LED / Operation Status LED
Whats Include:
Main Dash cam unit
Mount with 3M Tape
Car Charger
Adhesive Cable Holder
8GB micro SD memory card with adaptor
USB micro SD card reader
Quick start guide
warranty card
THINKWARE Accident Dash Camera - H50
THINKWARE Accident Dash Camera - H50 Compatibility Chart

Car Model
Year
Radio Description
Notes
All vehicles
If you are unsure about the suitability of this product please contact us via the ask us about this item link at the top of this page or telephone us and we will gladly assist you.
Plug n Play device, no special installation required - The wire will just need to be plugged into the cigar socket (wire showing)
No wire showing - if you would like to fit the camera so there are no lose or visible wires then you will have to purchase the hard wiring loom, which you can purchase by selecting it in the drop down 'Optional Hard Look Wiring' which is located at the top of the page.
Installation - If you would like to fit the camera with the hard wiring loom then we recommend you have your installation carried out by a qualified installer. If you wish Car Communications to carry out the installation at an address of your choice anywhere in the UK please select from addons above before adding to cart. During the checkout you will be asked your preferred date(s) and time for the installation.
Product Class
Product Type
Dash Camera
Related Products
Ventura Pro SC5800 DVR NEW Ventura SC5800DVR. 5" widescreen LCD with built-in DVR and Tyre P..