Quartix Vehicle Tracking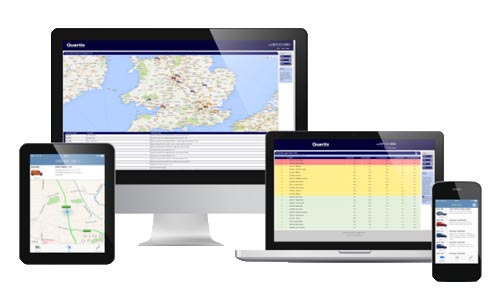 Quartix has been developing industry-leading telematics technology since early 2001. We have a network of over 200 dedicated engineers meaning that the Quartix system is available throughout the UK. As the approved supplier to 7,000+ commercial fleets nationwide.
One of the key reasons organisations opt for us as their telematics partner; is our ability to offer flexible, rental options at very competitive rates and our ability to offer such lends itself to Quartix being one of, it not the, financially strongest providers in the telematics market. Not only have Quartix reported capital growth in every year since inception, but in 2013 they were rated in the top 2 percentile of companies least likely to cease trading by Dun & Bradstreet.
Using the Quartix vehicle tracking system you can track your vehicles in real-time, anytime, using any internet-connected device. There is no need for proprietary software or maps ? everything is accessed over the web.
The Quartix system uses GPS satellites to locate your vehicles, and GSM technology to ensure that their positions, routes and logs are constantly updated.
Google Maps, backed by Satellite, Street View and Traffic Integration, is used to pinpoint your vehicles. The system gives you instant access to 12 months? worth of history for each vehicles. Older data is archived for easy retrieval.
There are no products to list in this category.

Universal item display is off, Enable Universal below