Connects2 Steering Wheel/Stalk Interface For Renault - CTSRN007.2

Need any more information?
Ask a question
---
1 Year Warranty

Easy Returns
---
Connects2 Steering Wheel/Stalk Control Interface - CTSRN007.2

A steering wheel/stalk control adaptor enables you to utilise the original factory remote audio buttons (whether built onto steering wheel or fitted on a stalk next to the steering wheel) with an aftermarket Stereo.

Connects2 Steering Wheel Control Interfaces allow plug and play installation of an after-market head unit into a vehicle whilst maintaining use of the steering wheel controls. Each interface is compatible with a range of patch leads which you will need to select from the add-ons section above. This patch leads connects an ALPINE, BECKER, BLAPUNKT, CLARION, JVC, KENWOOD, PANASONIC, PIONEER, SONY, BEAT, ZENEC and Parrot (Classic and Smart) stereos.
FREE Multi Lead if required.

Features
Allows you to upgrade to an aftermarket head unit whilst maintaining use of your factory steering wheel controls
Safety: Allows you to keep your hands on the steering wheel and eyes on the road
Plug and play, no cutting of wires required
Maintains the original features of the vehicle such as date, time and temperature display
Choose the relevant head unit connection lead according to the make of aftermarket head unit you wish to fit
Note: You may also require other accessories to fit your car stereo eg. fascia adapter or an aerial adaptor. You will not require an ISO stereo lead as it can be substituted for this steering wheel adapter. We stock the full range of stereo fitting parts, just ask if you need help.
*A stereo patch lead is required to install this adaptor, Please select your stereo patch lead above.

*If you purchase this stalk adaptor you will not need to purchase a seperate stereo wiring harness adaptor.
If you are unsure about the lead you require please feel free to contact us via ask a question button above and we will be happy to help you select the correct part(s) for your car stereo. We stock a full range of car stereo fitting accessories i.e. facia panels, single-DIN double-DON kits, wiring harnesses, aerial adaptors and stalk adaptors; just ask if you need help.
Make
Model
Varitions
Radio
Year From
Year To
Notes
Renault
Clio
(01-05-2009 - 01-12-2012)
(01-11-2012 - 01-08-2016)
(01-09-2016 > )


R-Link 2


2009
See Note Below
Renault
Laguna
(01-11-2010 - 01-02-2012)
BT0/1 (Hatch) KT0/1 (Estate) (01-10-2007 - 01-06-2009)
BT0/1 (Hatch) KT0/1 (Estate) (01-07-2009 - 01-10-2010)


2008
See Note Below
Renault
Megane
BZ0 Hatch, KZ0/1 Estate (01-11-2008 - 01-02-2012)


2008
2012
See Note Below
Renault
Scenic
(01-12-2016 > )
JZ0/1 (01-05-2009 - 01-01-2012)
JZ0/1 (01-01-2012 - 01-03-2013)
JZ0/1 (01-04-2013 - 01-12-2016)


2009
See Note Below
Renault
Trafic

2010
2013
See Note Below
Renault
Wind
E4M_ (01-05-2010 - 01-02-2012)


2010
See Note Below
Connector Type Mini ISO

CAN BUS Yes
Phone Button Support Supports phone buttons with compatible bluetooth head units
Refer to the fitting instructions supplied with the product.
You may require radio

removal keys

which you can purchase from our fitting accessories section.

If you are unsure at anytime please contact us via the ask a question link at the top of this page or telephone us and we will gladly assist you.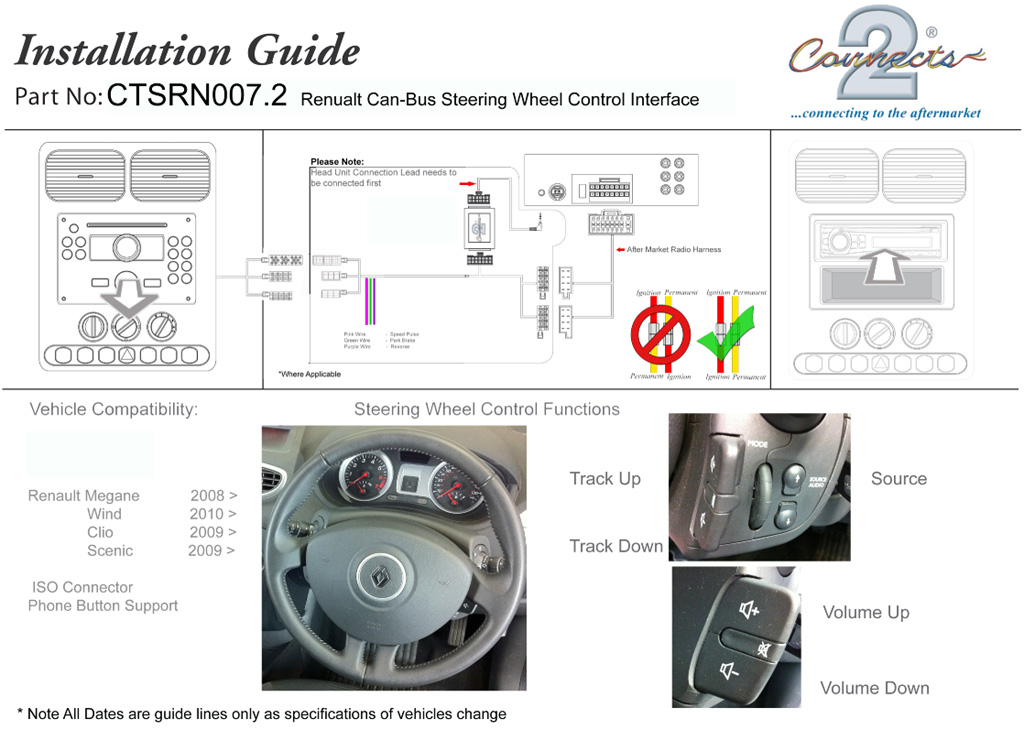 Product Class
Product Type
Steering Control Adaptor