Dension Gateway 500S GW53MO2 - Porsche iPod iPhone USB Aux Adapter
Brand: Dension

Product Code: Dension-GW53MO2

Need any more information?
Ask a question
---
1 Year Warranty

iPod and USB music adapter

iPod, iPhone, USB music playback all-in-one interface.

Easy Returns
Recommended Add Ons
---
Dension Gateway 500S iPod iPhone USB Aux Adapter



Want to listen to hours (days) of uninterrupted music? Have a smartphone and want to use it in the car to listen to music? Already have a handsfree kit? We the solution for you. Easy to use menu browsing. All information is displayed on the screen or cluster display. Connect whatever music source you want to.

Gateway 500S is Dension's premium interface and is designed to work with cars utilizing the fiber optic MOST™ system. Since there is no Bluetooth functionality in this version the feature set is a bit less, thus enabling a lower price.

Features
Easy to use interface with menu browsing and music information on your car display (including cluster) regardless of the music source
iPhone 5 support through the 'Lightning to USB' cable (not included in the package)
USB music playback
The sound of phone music, videos, navigation, podcasts etc. come through the car speakers
Phone battery charging on the go
iPhone, Android, Blackberry and Windows Phone compatible
Aux-in available
External device control through the original sound system controls
Retain the factory look of the car but add new features
Single-FOT (lower price) and Dual-FOT (enables CD-Changer retention) versions are both available.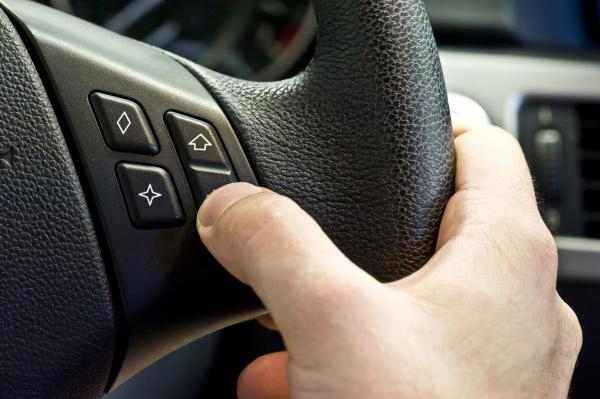 Package Contents
Hardware
Optical harness
Power cable
Connector Port
Installation and user guide
Optional Accessories
USB Sync & Charge Cable with Lightning Connector (IPLC1GW)
iPhone control via iPod dock cable (IPDC1GW)
3G cradle (IP44CR9)
iPhone 5 cradle for Gateway (IP5LCRU)
DAB+G (DABACC1)
How it Works?
The Gateway 500S works by emulating the CD-Changer in the vehicle and enables you to use the original radio controls.

It utilizes the MOST™ (Media Oriented Systems Transport) system, a high-speed multimedia network technology optimized by the automotive industry. The serial MOST bus uses a ring topology and synchronous data communication to transport audio, video, voice and data signals via plastic optical fiber (POF) (MOST25, MOST150) or electrical conductor (MOST50, MOST150) physical layers. MOST technology is used in almost every car brand worldwide, including Audi, BMW, Jaguar, Land Rover, Mercedes-Benz, Porsche, Toyota, Volkswagen and Volvo. SMSC and MOST are registered trademarks of Standard Microsystems Corporation ("SMSC"), now owned by Microchip Technology.

The Gateway 500S connects to the MOST™ ring as a CD-Changer therefore if you do have a CD-Changer already installed in your MOST™ equipped automobile and would like to use it after the installation of the Gateway 500S please choose the "Dual FOT" version of the device. If you do not have a CD-Changer or you do not want to use it any more the "Single FOT" version is just the right choice.
Dension GW53MO2 Installation
We strongly recommend having your device installed by a qualified car electronics technician. Dension does not warrant any installation work or assume liability for any damage caused due to negligence, improper installation or operation. Please find an installer in your region by clicking here.

The Dension Gateway 500S connects to the optical system of the car. While this does not alter the electrical system of the vehicle, the connection is not different to connecting other aftermarket accessories like phone kits, or other entertainment electronics.
The installation of a Dension product does not require the modification of any electrical component of a vehicle.
The installation of a Dension product does not require cutting cables, soldering, or any irreversible action to the wiring of the vehicle. (Except 12 Volts connection in some specific installation cases.)
Dension products can typically be removed without any trace (e.g. in case the vehicle is sold), except from the mechanical installation of the cradle option (if used and installed certain ways).
Dension also serves several car manufacturers as an OEM partner with products offering very similar features based on similar technology as the consumer products of Dension.
Make
Model
Varitions
Radio
Year From
Year To
Notes
Porsche
911
996 (01-08-2002 - 01-11-2004)


CDR23
CDR24
PCM 2 CD
PCM 2.1 DVD
PCM1


2002
2004
See note(s) below
Porsche
911
997 (01-09-2004 - 01-10-2009)
997 (01-10-2008 - 01-03-2013)


CDR23
CDR24
PCM 2 CD
PCM 2.1 DVD
PCM1


2004
2011
See note(s) below
Porsche
Boxster
987 (01-11-2004 - 01-02-2009)
987-2 (01-03-2009 - 01-02-2012)


CDR23
CDR24
PCM 2 CD
PCM 2.1 DVD
PCM1


2004
2010
See note(s) below
Porsche
Cayenne
955 (01-04-2003 - 01-12-2006)
957 (01-12-2006 - 01-04-2010)


CDR23
CDR24
PCM 2 CD
PCM 2.1 DVD
PCM1


2003
2010
See note(s) below
Porsche
Cayman
987C (01-11-2005 - 01-02-2009)
987C-2 (01-03-2009 - 01-02-2013)


CDR23
CDR24
PCM 2 CD
PCM 2.1 DVD
PCM1


2005
2010
See note(s) below
NOTE 1. If the head unit based on MOST system
NOTE 2. For BTA1500 use the head unit must have a phone button
Smartphone Compatibility (music playback only) - Android devices can be connected via USB if 'Mass Storage Mode' is available
Supported iPod/iPhone devices via 30PIN dock cable (IPDC1GW not included in the package)
Supported iPod/iPhone devices via "Lightning to USB cable" (PC7-561 not included in the package)
Supported USB Devices
USB: Flash Memory and Hard Disk Drive (USB ver. 1.1 and higher)
File System: FAT16 or FAT32
Storage capacity: up to 320GB music content
Supports the Following Audio Formats
MP3
MPEG1 Layer 3 : 32; 44,1; 48 kHz (32 - 320kbps);
MPEG2 Layer 3 : 16; 22,05; 24 kHz (8 - 160kbps);
MPEG2.5 Layer 3 : 8; 11.025; 12 kHz (8 -160 kbps) from 96 kb/s to 320 kb/s;
MP3 Variable Bit Rate (VBR) (up to 320kb/s).
WMA 4 - 44.1 kHz at sample rates up to 320 kb/s. Except for DRM protected files.
WAV (16 bit, uncompressed PCM)
If you are unsure about the suitability of this product please contact us via the ask a question link at the top of this page or telephone us and we will gladly assist you.
Car information and entertainment systems can be complex networks, so we always recommends that you have your installation carried out by a qualified installer. If you wish Car Communications to carry out the installation at an address of your choice anywhere in the UK please select from addons above before adding to cart.

Our products are professionally installed at your home or workplace anywhere in the UK by our own network of accredited engineers. The installation will vary slightly depending on which optional items you have also purchased. But in each case you will have a dock cable to connect your iPod. Your installer will ask and advise as to the best place to situate this in your vehicle. The Gateway itself is small and will be installed securely out of sight behind the dash. Dension products are all designed so that there is no need to cut cables.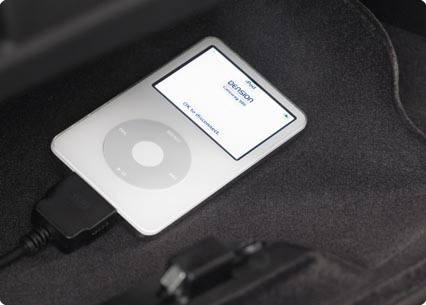 iPod dock cable and USB fitted in glovebox
| | |
| --- | --- |
| | Download Gateway 500S User Manual |
| | Download Gateway 500S Installation Manual |
| | Dension Knowledge Base |
| | Dension Downloads |
Music Adapters
Music Adapter Features
iPod/iPhone, Other Smart Phones, AUX, USB
Product Class
Product Type
Music Adapter