Kenwood DMX8020DABS Car Audio Entertainment System
Brand: Kenwood

Product Code: DMX8020DABS

Need any more information?
Ask a question
---
1 Year Warranty

Easy Returns
Recommended Add Ons
With this kit you are able to add a reversing camera to help you maneuver through tight spaces while you're reversing and also parking.
| | |
| --- | --- |
| | Internal windscreen DAB Antenna. Glass Mount DAB Aerial with adhesive and block Housing. Works best in a good to average digital signal strength area. The aerial is unsuitable for use on thermic metallic and heated windows. We recommend for optimum performance you purchase one of our external DAB aerials. |
Optional Installation Package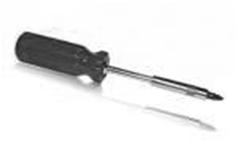 You are being offered an installation at an additional cost. If you select the installation option then this product will be professionally Installed at your home or workplace anywhere in the UK by our own network of accredited engineers. You will be contacted by a member of our installation booking team after you have placed an order.
---
Kenwood DMX8020DABS In-Car Digital Media AV Receiver
Audio and Video connectivity on the move with Wireless Apple Carplay and Android Auto
Operate your favourite Apple and Android applications with the DMX8020DABS's large 7 inch touch panel. Apple Carplay and Android Auto connectivity allows you to control your compatible applications directly from the large touch screen head unit of the DMX8020DABS. Stream your music content via Spotify or navigate to your destination using Waze navigation app or Google Maps, which features live traffic updates and speed camera alerts. Connect your Android smartphone Wirelessly or via USB to mirror its display on the DMX8020DABS large 7 inch screen. The Kenwood DMX8020DABS is a true in car multimedia system. Play your stored media, both audio and video, from USB storage devices (See file compatibility below) or stream directly from your smartphone via Bluetooth or USB cable. Take advantage of the DAB+ digital radio and listen to the crisp clear digital radio broadcast during your journey.

Connect an optional rear view camera and view its feed through the screen, along with guidelines that help you reverse safely.
We can also provide a nationwide installation service to give you that guaranteed peace of mind that your system will operate as intended. Purchase of optional camera / installation service required, see recommended add-ons section above.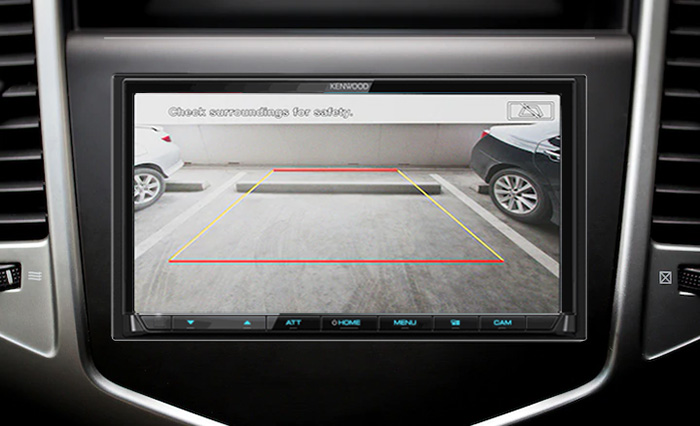 Key Features
7.0" WVGA with Capacitive Touch Screen
Wifi built-in
DAB+ Digital Radio & FM/AM Receiver
Bluetooth Hands Free & Audio Streaming
USB Wired and Wireless Apple CarPlay® Ready
USB Wired and Wireless Android Auto™ Ready
USB Wired and Wireless Mirroring for Android
up to 3 camera inputs
3 RCA high power (5V) preouts (front/rear/sub)
Compatible with High Res Audio
Digital Sound Processor, Time Alignment & 13-Band EQ
Dual High Speed USB 2.0 Port
General Features
DIN Size 2 DIN
Security Code Function ( user set) Yes, Set by user
Smooth GUI Yes
Selectable GUI Background Wallpaper Yes
Key Illumination Variable color
Installer Memory Yes
Back-up Memory Yes
Attenuator with Smooth Volume Return Yes
Optional IR remote controller Yes, (KCA-RCDV331)
Digital Clock (24H) Yes
Built-in Bluetooth Yes
DAB Tuner Built-in Yes
Works with Apple CarPlay Yes
Works Wireless with Apple CarPlay Yes
Works with Android Auto Yes
Works Wireless with Android Auto Yes
Android USB Mirroring Yes
Wireless Mirroring for Android Yes
Firmware upgreadable Yes
HDMI input for video playback
Dashcam Link Yes
GPS input GPS & Glonass Antenna included
Monitor Features
Screen Type 7,0" Wide VGA
Display Mode 3 Mode (Full(default)/Auto/Normal)
Screen Adjustments

► Noon & Night Memory.
► Brightness.
► Tint.
► Colour.
► Contrast.
► Black Level.
► Backlight.

Dimmer function Manual/Sync
Dimmer Level Sync / On / Off
Visual Source Mode Mirorring / CarPlay / Android Auto.
Touch Panel Capacitive
Display Type Glare
Display film Anti-Fingerprint / Anti-Reflection / Anti-Glare)
LCD viewing angle control "0" (Default) / "-1" / "-2" / "-3"
NTSC/PAL judge Yes (Auto)
Multimedia GUI Features
Menu text 22 languages:

English(UK)(Default), English(US), Spanish, French, German, Italian, Dutch, Russian, Portuguese, Chinese (Simplified), Chinese (Traditional), Thai, Turkish, Arabic, Persian, Hebrew, Greek, Malaysian, Indonesian, Polish, Czech, Hungarian

Software updates (SoC) via USB
Graphics Type Graphics
Spectrum Analyzer Yes
Demonstration Mode Yes
Top Menu Customize Yes
Opening Screen Type standard
Background Customize

Preset x6:
Static x4.
Colour Customize x1.
Sync Album Art x1.
USER x2.

Wallpaper colour change Yes
Multi Widgets Multi (up to 4), Clock, Weather & Photo Frame Widget
Picture in picture Yes
Animation Yes
Screen Capture Yes
R-CAM interrupt Yes
R-CAM Caution On Screen Display Yes
R-CAM Parking Guide Lines Yes
Front Camera Interruption Yes
DashCam Control Yes
Rapid charge indicator Yes
Network & Wifi features
WiFi built-in built-in
Frequency Range Dual Band (2.4GHz / 5GHz)
IEEE standard 802.11a/b/g/n/ac
Wifi connection for Apple CarPlay Yes
Wifi connection for Android Auto Yes
Wifi connection for Android Mirroring Yes
Tuner Features
Station Select Manual / Preset (List)
Tuner Type Lithio
FM(RDS) + AM(MW/LW) Tuner Yes
Tuner Presets (FM/AM) 20 Presets (15FM / 5AM)
Preset memory w/o back-up power Yes
Tuning mode
Up/Down Seek/Scan Yes
Automatic Memory Entry (AME) Yes
FM Stereo / Mono Selector Yes
Radio Data System Yes
Radio Text Plus Yes
Traffic Information Yes
Local search Yes
AF Regional Selectable: AF/AF Reg/OFF
Auto TP search Yes
Enhanced Other Networks Function (EON) Yes
Program Type Function (PTY) Yes
CE DAB tuner features
DAB+ tuner built-in Yes
Digital Radio Certification Mark Yes
Intelligent seek Yes, (Service, Ensemble & Component)
Ensemble seek Yes
Tuning mode / Seek mode Auto1/Auto2/Manual
Service preset 15 ch * 1 bank presets,
Service list by alphabet order Yes
Preset list Yes
Alphabet Search Yes
Related service Yes
Traffic Information Yes
DAB priority Yes
DAB-DAB/DAB-FM auto switch Yes
Seamless DAB-FM blending Yes
DLS (Dynamic Label) Yes
PTY (Programme Type) search Yes
PTY (Programme Type) watch Yes
Announcement Switching (ASW) Select Yes
TMC (Traffic Message Channel) support Yes
DMB Audio (Digital multimedia broadcasting) Yes
Soft linking Yes
Antenna power supply on/off switch Yes
Bluetooth General Features
Module Murata
Max num. of regist. phones for HFP & A2DP 10 phones
Hands Free Profile (HPF) V1.7
Hands Free Profile with High Sound Quality HFP V1.7
2 Phones Switchable Hands Free Yes
2 phones fulltime connection Yes
Audio Streaming (A2DP) Yes, (SBC/AAC)
High Quality Audio Streaming SBC/AAC
Max num. of regist. units for A2DP 5 units
Serial Port Profile (SPP) Yes
Simple Secure Pairing (SSP) Yes
Phonebook Access Profile (PBAP) Yes
Number of PBAP entries Up to 1000 phonebook entries
PBAP call history Up to 50 entries of dialed, received and missed calls
Audio/Video Remote Control Profile (AVRCP) Yes, V1.6
Multi Profile Support Yes
iPhone & Android automatic pairing via USB Yes
KENWOOD Remote App Ready
KENWOOD Music Mix Support Yes
Catchphone / Call Waiting Yes
Private mode Yes
Alphabet Search (Phonebook) Yes
Noise Canceller Yes
Echo Canceller Yes
Phone device status display Yes
Audio device status display Yes
Signal strength display Yes
Remaining battery display Yes
High-quality noise canceling microphone Included (rear wired)
Playable Audio File
AAC (*.m4a) files are playable USB
AAC (*.aac) files are playable USB
MP3 files are playable USB
WMA (.wma) files are playable USB
WAV (.wav) files are playable USB
FLAC files are playable USB
CE_Playable Video File
MPEG1/2 files are playable USB
MPEG4 files are playable USB
WMV files are playable USB
H.264 files are playable USB
mkv files are playable USB
JPEG files are playable USB
BMP files are playable USB
PNG files are playable USB
USB Features
USB terminal Yes, Rear USB 2.0 (Full Speed)
USB Type 2.0 High speed
USB extension cable supplied 2x 1 meter
Drive Change Yes
Works with Android Auto Yes
USB 1 wire Mirroring for Android Yes
Tag Information Display Yes
Album Art Display Yes
Repeat/Scan/Random search Yes
Repeat Play Folder/File/All
Random play Folder
Category search Yes
Link Search Yes
Resume play Yes
Time code display Yes
iPod Features
Made for iPod & iPhone * Yes
USB Direct Control (Audio, 1 wire, Lightning-connector) with optional cable KCA-iP103
Album art support Yes
Music library search Yes
Alphabet search Yes
Skip search Yes
iPod Accessory Protocol (iAP) iAP2
iTunes Radio App yes iAP2
Works with Apple CarPlay Wireless or Wired via USB
Reverse browsing Yes
Voice Control using Siri. Yes
Bluetooth Auto Paring for iPhone Yes
Battery charge + power control Yes
* Always update to latest Apple firmware
Audio Features
Max. Output Power (MOSFET Power IC) 4 x 50W
Pre-out 3RCA: Front/Rear/Subwoofer
Pre-out Output Level 5V
Volume Offset Yes
2 Zone Control Yes
Balance/Fader Control Yes, (via DSP)
Loudness Control Yes, By DSP
Bass Boost Yes, (Via DSP)
Att.(-20dB) with smooth Volume Return Yes
Equalizer Yes, 13 Band Graphic EQ
Digital Sound Processor (DSP) Yes
Digital Time Aligment (DTA) Yes
Beep On/Off Yes
Multimedia DSP Features
Car type control Off / Compact / Sedan / Wagon / Minivan / SUV / Passenger Van
Speaker Size & Location Control Yes
X'over network 3-Way / 2-way X'over / HPF / LPF
Listening postion control / Time Alignment Yes
Equalizer type Graphical
Equalizer 13-Bands
Equalizer presets / User set 8 presets / 4 User set
Zone Control 1 Zone / 2 Zone
Balance & Fader Control Yes
Source Volulme Offset source independent
Sound Effects

Bass Boost
Supreme
Loudness
Realizer
Drive Equalizer
Stage EQ
Space Enhancer

Audio Setup Memory Yes
Connectivity
iPod direct control Yes
USB interface 2 x USB 2.0 (pigtail)
OEM Wired Remote Control ready Yes, Optional interface needed
OEM Display Control ready Yes, Optional interface (KIM) needed
Programmable OEM Steeringwheel Remote Function Yes
Display input/output control Yes
DC-Cord Mitsumi to ISO
Parking sensor (handbrake) wire Yes
Power Control (P.CON) wire Yes
2-way (Tel/Navi) mute wire Yes
Dimmer control wire Yes
Speedpuls input wire Yes
AV-Input 1x mini-jack (selectable: AV-in / Camera-in)
AV Output Video: RCA / Audio: mini-jack
Available AV-Out source AV-in / Off
Reverse sensor wire Yes
Rear View Camera Input Dedicated RCA Video-in
Front View Camera Input selectable: Front / Dash-Camera-in
Camera inputs up to 3 camera's
Multi View Camera Control Line Yes
Dashcam Link Yes
Amplifier pre-out 3 x RCA: Front/Rear/Subwoofer
3rd Party TV Control (Mini-Jack) Yes
HDMI input Type A
GPS Aerial Input HRS GT5-1S connector
FM Antenna Input JASO connector
DAB Aerial input SMB connector
External microphone input 3,5mm mini-jack
Tuner Specifications
FM range: 87.5Mhz - 108MHz (50Khz step) Yes
FM Usable Sensitivity 0.8μV/75ohm (S/N 30dBf)
FM Quieting Sensitivity 1.6μV/75ohm (S/N 15.2dBf)
FM Frequency Response 30Hz ~ 15kHz (± 3dB)
FM Signal to noise ratio (Mono) 65dB
FM Selectivity(DIN) over 80dB (±400kHz)
FM Stereo Separation (1kHz) 45dB
MW range: 531kHz - 1611kHz (9kHz step) Yes
MW Usable Sensitivity 45μV
LW range: 153kHz - 279kHz (9kHz step) Yes
LW Usable Sensitivity 25μV
DAB Tuner specifications
Band III - Frequency range 174.928 MHz - 239.2MHz
Mode I, II, III, IV
Sensitivity - 100dBm
Signal to noise ratio 90dB
Audio format MPEG1 Audio Layer II, MPEG4 HE-AAC v2
DAB Aerial Connector Type SMB
Output Voltage 14.4V (11V to 16V allowable)
Maximum Current < 100 mA
Bluetooth specifications
Technology Bluetooth V5.0
Frequency 2.402 - 2.48 GHz
Output power +4dBm(max), power class 2
Maximum range Line of sight approx. 10 meter
Handsfree profile (HFP) Yes, V1.7
Serial port profile (SPP) Yes
Advanced audio distribution profile (A2DP) Yes
Audio Codec SBC/AAC
Audio/Video remote control profile (AVRCP) Yes, V1.6
Phonebook access profile (PBAP) Yes
Multi Profile Support Yes
USB Specifications
USB Version compatibility USB 2.0 High Speed
File System FAT 16/32 / exFAT / NTFS
Maximum Supply current 1500mA
D/A Converter 24/32 bit
Video Decoder MPEG1/MPEG2/MPEG4/WMV/H.264/MKV
Audio Decoder MP3/WMA/AAC/WAV/FLAC/Vorbis
S/N Ratio 98.5 dB (1kHz)
Dynamic Range 89dB
Audio Specifications
Maximum Power 50W x 4
Output Power (DIN45324,+B=14.4v) 22W x 4
Output frequency band 20Hz ~ 88kHz
Preout Level 5000mV / 1kOhm,
Preout Impedance ≤ 300Ohm
Speaker Impedance 4Ohm ~ 8Ohm
DSP Specifications
Frequency band 62.5/100/160/ ~ /6.3k/10k/16k Hz
Equalizer Gain –9db ~ +9db
Time Alignment 0 — 610cm(1 cm step)
Speaker type - Center

NONE
40mm X 70mm
5cm
10cm
13cm
16cm OVER

Speaker type - Front

O.E.M.
10cm
13cm
16cm
17cm
18cm
4" x 6"
5" x 7"
6" x 8"
6" x 9"
7" x 10"

Speaker type - Rear

NONE
O.E.M
10cm
13cm
16cm
17cm
18cm
4" x 6"
5" x 7"
6" x 8"
6" x 9"
7" x 10"

Speaker type - Sub woofer

NONE
16cm
20cm
25cm
30cm
30cm over

2-Way X'over / Front/Rear (HPF) / Frequency Through, 30/40/50/ ~ /220/250 Hz
2-Way X'over / Front/Rear (HPF) / Slope -6/-12/-18/-24 (dB/oct)
2-Way X'over / Subwoofer (LPF) / Frequency 30/40/50/ ~ /220/250 Hz, Through
2-Way X'over / Subwoofer (LPF) / Slope -6/-12/-18/-24 (dB/oct)
3-Way X'Over / High Pass Filter Frequency Through, 30/40/50/ ~ /220/250 Hz
3-Way X'Over / High Pass Filter Slope -12/-18/-24 (dB)
3-Way X'Over / Low Pass Filter Frequency 30/40/50/ ~ /220/250 Hz, Through
3-Way X'Over / Low Pass Filter Slope -12/-18/-24 (dB/Oct
Subwoofer Level -50dB ~ 10dB
Car type control

Off
Compact
Sedan
Wagon
Minivan
SUV
Passenger Van
Video Specifications
Color System of External Video Input NTSC/PAL
External video input level (mini-jack) 1 Vpp / 75 Ohm
External audio max. input level (mini-jack) 2 Vpp / 25 kOhm
Video input level (RCA) 1 Vpp, 75 Ohms
Video Output Level (RCA) 1 Vpp / 75 Ohm
Audio Output Level (mini-jack) 0.9 Vpp / 10 kOhm
HDMI - VGA input resolution 640x480p @59.94Hz/60Hz
HDMI - 480p input resolution 720x480p @59.94Hz/60Hz
HDMI - 720p input resolution 1280x720p @59.94Hz/60Hz
HDMI - input Audio type 16/20/24-bit Linear PCM
Monitor Specifications
Screen size (Diagonal) 6.95 Inches Wide
Screen Size (WxH) 156.6 x 81.6mm
Display system Transparent TN LCD Panel
Drive system TFT Active Matrix System
Number of Pixels 1152000pixels (800(H) x 480(V) x RGB)
Effective pixels 99.99%
Pixel arrangement RGB Striped
Back lighting LED (Light Emitting Diode)
General Specifications
Operating voltage 14.4V (11 ~ 16V Allowable)
Dimensions (WxHxD) 178 x 100 x 155mm
Weight 1700 gr.
Accessories
Release keys 2 pieces
Escutcheon Yes
Installation Sleeve Yes
DC cord (Mitsumi to ISO) 20 cm
usb extension cable 2 pieces, 1 meter
GPS antenna with 3.5 m cable
Handsfree Microphone with 3 m cable
Multi-Language Instruction Manual Included Quick-Guide + Instruction manual
Manuals Downloadable Yes
Kenwood DMX8020DABS In-Car Digital Media AV Receiver
1. Refer to the installation section for fitting instructions.
2. For Iphone/Ipod Compatibility with the Kenwood DMX8020DABS, please refer to the following link and select your device from the drop down list
If you are unsure about the suitability of this product please contact us via the ask a question link at the top of this page or telephone us and we will gladly assist you.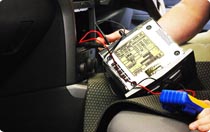 To complete the installation you will require a radio wiring lead. This adaptor lead is required to replace a factory fitted in car radio with an aftermarket audio headunit (eg. Parrot, Alpine, Pioneer, Kenwood, Sony, JVC etc.). It will convert the car's original power and speaker wiring connector to a standard ISO connector. Simply plug one end of the adaptor into your car's wiring harness and the other end into your new in car AV system, without the need for tools or cutting of wires. Refer to our fitting accessory section to purchase your car specific lead. Parrot products are all designed so that there is no need to cut any cables as long as you use an in-car radio wiring harness.

If you are unsure at anytime please contact us via the ask a question link at the top of this page or telephone us and we will gladly assist you
| | | |
| --- | --- | --- |
| | | You may need to replace your car radio facia. Depending on your OEM radio you will either require a single or double DIN fascia trim panel. Refer to our website fitting accessories section. |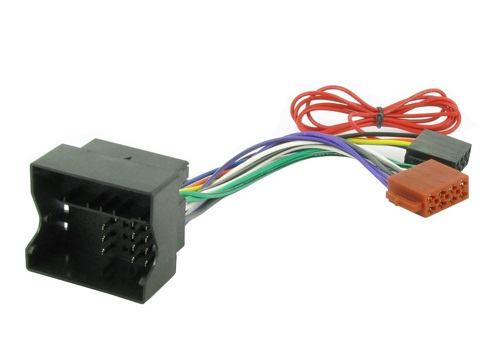 Stereo ISO adaptor harness allow connection to aftermarket stereo head units. Can ue steering wheel adapter instead.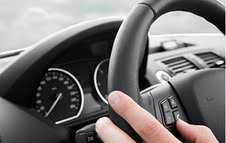 Steering wheel adapter allows you to retain use of your steering wheel buttons. Avoids having to reach for car stereo controls in the dash.
| | | |
| --- | --- | --- |
| | | |
| | | Enjoy the peace of mind that comes with a professional, risk-free installation service, by placing your trust in a certified installer. Car Communications are a certified installer. |
Apple Carplay - Android Auto
Screen Mirroring
Android Auto - Wireless, Android Auto - Wired
Product Class
Product Type
DAB, Bluetooth Hands Free, Bluetooth Music Streaming, Car Stereo & Navigation, USB Charger, A2DP, Apple Carplay & Android Auto, DAB DAB+, HDMI
Car Stereo Full Specification
Android Auto
Yes - Wired & Wireless
Android Ready
Yes
Apple CarPlay
Yes- Wired & Wireless
Bluetooth
Yes
Button Illumination
Variable
DAB Radio Tick Mark Approved
Yes
DAB+
Yes
Equaliser
13 Band EQ - DSP - DTA Built-in
FM Radio
Yes, Traffic information
iPod Ready
Yes
Max. Power Output
MOSFET 4 x 50W
Plays
MPEG1/MPEG2/MPEG4 Video files playback, MP3/WMA/AAC Audio files playback
Pre Out
3 RCA: Front/Rear/Subwoofer
Radio Data System
Yes
Rear Camera Input
Yes
Screen Size
7-inch Capacitive Touch-Screen WVGA Display
Size
Double DIN
USB Input
Rear USB
Wifi
Yes