Mio Mivue 788 DUAL 2.7" HD Recording DashCam Rear Camera GPS Tracking Wifi
Brand: Mio

Product Code: Mio Mivue 788 Dual

Need any more information?
Ask a question
---
1 Year Warranty

Easy Returns
Recommended Add Ons
SD Memory card is optional extra, please select.
To find out of the size of the memory card that is included in this package, please look in the description.
Optional Installation Package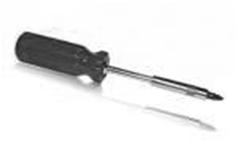 You are being offered an installation at an additional cost. If you select the installation option then this product will be professionally Installed at your home or workplace anywhere in the UK by our own network of accredited engineers. You will be contacted by a member of our installation booking team after you have placed an order.
---
MIVUE 788 DUAL
Your Eyewitness On The Road
If someone crashes into you, will you be able to prove that they were at fault? Disputes over liability and cash for crash schemes are sadly becoming more common. It's every driver's worst nightmare. The MiVue 788 DUAL dash cam provides peace of mind that nobody will take advantage of you on the road. You also get the added connectivity of Bluetooth™ to stay connected as you drive.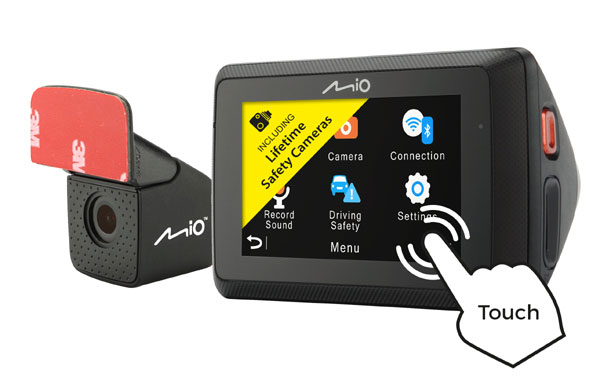 Top Features
Built-in Bluetooth®
Integrated WIFI
2.7 Inch Touch Screen
1080p Full HD Recording at 30 fps
High Quality Optic Sensor
140° Wide Angle View
Safety Camera Warnings
GPS Tracking
Advanced Driver Safety Alerts
F1.8 Aperture Lens
Rotating Mount Design
HUD Display Mode (Time, Driving Speed, Notifications)
Parking Mode (Requires Smart Power Box)
High Endruance MicroSD™ Card Required (max up to 128GB)
Over the Air - Update
Over the air firmware and safety cam updates so there is no need to switch SD cards from PC to DashCam and vice versa. No need to manually download Firmware and Data. You will always have the latest Firmware and Data update over the air (via smartphone WiFi).
Built-in Bluetooth®
Safe notifications while you drive Sync with your smartphone to display notifications on screen. If you're waiting for that important message, you'll know when to pull in to check it safely.
Live Broadcast & WIFI Pro
You can Live Stream to Facebook by connecting your device to the unit and broadcast to share your driving experiences with your friends and family. You can also transfer files to your MiVue Pro smartphone app quickly and easily. You will always have a backup of your footage, stored securely on your phone.
2.7 Inch Touch Screen
Offers true ease of use: intuitive and user friendly. To operate your dash cam, touch the screen with your fingertip. The system provides the control buttons and system icons on the screen.
1080p Full HD recording at 30 fps
1080p Full HD recording at 30 fps - with the latest H.264 technology for high quality videos at a smaller file size. You'll capture registration plates, road signs, and markings to use as evidence supporting your version of events. It records clearly in low-light conditions too.
High Quality Optic Sensor
For detail-packed videos with superb contrast, clear and rich colours, especially in low-light conditions
140° Wide Angle View
To clearly capture every detail at critical moments with wide dynamic range technology
Safety Camera Warnings
Free safety camera data with monthly updates for the lifetime of your device.
Advanced Driver Assistance Systems
Forward Collision Warning System: The system will alert you when the car moves slowly and gets too close to the car ahead.
Lane Departure Warning System: The system will alert you when it detects that the car speed is over 60 km/h and the car has strayed from its intended lane.
Stop and Go: The system will alert you when the car ahead has proceeded to go after being stopped for longer than 10 seconds.
Eco Drive Indicator: The system will display the Eco drive indicator on the screen. The colour of the indicator will change (red, yellow or green) depending on your driving status to remind you to drive more efficiently.
Headlight Reminder: The system will remind you to turn the lights on when you are driving after dark.
Driver Fatigue Alert: The system will remind you to take a break for a long-distance drive (2 hours, 3 hours or 4 hours).
MiVue Manager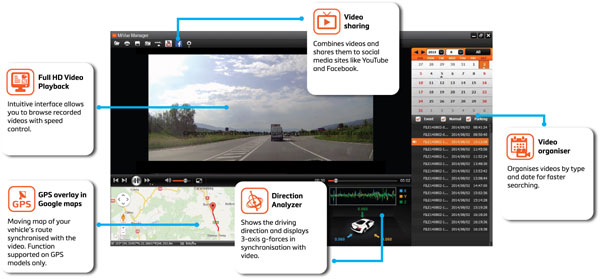 SPECIFICATIONS
Display
Display size 2.7"
Touchscreen
Video
Recording resolution Full HD 1920 x 1080p at 30fps
Video sensor IMX 323 2M sensor
Aperture F1.8
Recording format .MOV (H.264)
Lens viewing angle 140°
Audio recording
Photo mode
Night mode
Rear camera Optional
Auto power on
Lane departure warning
Safety Camera Warning
Fatigue Alert
Manual
Automatic
Shock sensor
Motion sensor
Hardware
Bluetooth
WiFi
GPS receiver
Second card slot
Memory

MicroSD, up to 128 GB
Operating temperature -10° to +60° C
Operating humidity 5% - 85%
Height (mm) 52.5 mm
Width (mm) 87.8 mm
Depth (mm) 31.9 mm
Weight (gr) 100 g
Quantity 1 Product
In The Box
1 x MiVue 788 (Front)
1 x MiVue A20 (Rear)
1 x In-vehicle charger
1 x In-vehicle mounting bracket
1 x Quick Start Guide
Mio MiVue 788 Dual
Mivue Dash Camera is Compatible with all vehicles.
If you are unsure about the suitability of this product please contact us via the ask a question link at the top of this page or telephone us and we will gladly assist you.
Everything you need is supplied in the box and fitting this camera to your car is as easy as most portable Sat Nav devices. Simply mount the camera on your windscreen facing forwards and plug it in to your cigar lighter socket.
However we offer an installation service to hardwire the dash camera. Which means no mess or clutter on your dashboard. No wires trailing to the cigarette socket. We will hard wire the camera kit to the ignition supply. This is an optional extra. Please select from the Add ons drop down. Parts will be included. One of our accredited fitters will come to your doorstep or place of work to carry out the installation.
Product Class
Product Type
Dash Camera