New Snooper S8100 Ventura Pro 7" LCD For Caravan & Motor Home - EU/UK Mapping
Brand: Snooper

Product Code: New Snooper S8100 Ventura Pro

Need any more information?
Ask a question
---
1 Year Warranty

Easy Returns
---
NEW SNOOPER S8100 VENTURA PRO - EU & UK

If you want to quickly and safely make your way to thousands of caravan and motorhome locations across Europe, the Ventura Pro S8100 is the perfect product for you. Pre-loaded with more than 24,000 destinations in over 31 countries, the Ventura Pro S8100 calculates the best routes using your vehicle's measurements. It comes with free lifetime map updates, as well as boasting:
7" inch Full Colour LCD Display
DVB-T2 Freeview TV with Built-in Telescopic Antenna
The largest campsite and POI database on a sat nav
Ventura Pro Large Vehicle Routing and Lane Guidance
High quality Piano Black outer casing

| | |
| --- | --- |
| | The perfect gadget for any road trip or summer holiday, Ventura Pro S8100 is pre-loaded with over 24,000 campsites and motorhome stopover destinations in over 31 countries including The Caravan Club, The Camping and Caravanning Club, ACSI, BordAtlas and CamperStop. Designed specifically for caravan, camper and motor home owners Ventura Pro S8100 calculates practical routes based on your vehicle's width, length, height and weight. Features include 7" LCD Display, Improved Screen Resolution, DVB-T 'Freeview' TV, Free TMC, Junction View and Lane Guidance. |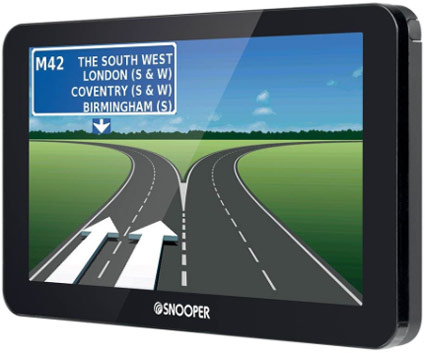 Snooper Ventura Pro S8100 - The No.1 choice for caravan, camper and motorhome owners.
The best navigation system designed for Caravan & Motorhome use just got better!

Now includes the following New Ventura Pro features - Car or Motorhome/Caravan routing based on vehicle size plus over 24,000 ACSI EU campsites & stopovers in 31 countries!, Latest Here® Maps for Life (Formerly Navteq®) maps (See countries added below), Lane guidance, Junction view, New updated Motorhome/Caravan Specific POI's with POI "Corridor" search, "My Speed" Speed limits database with on screen Alerts, Navigate by junction number, Your route, Adjustable map text and Route timer, all housed in a stylish piano black casing.

VENTURA is the first portable sat nav system to include dedicated routing designed specifically for caravans and motorhomes - plus Snooper's multi award winning speed camera location technology. First launched on the S2000 with a 4.3" LCD display, Ventura has been a huge success and welcomed by caravan and motorhome enthusiasts across Europe. S8100 Ventura Pro allows you to input the length, width and weight of your vehicle and will then only calculate routes that are practical and safe, avoiding low bridges and narrow roads plus, where possible roads that are unsuitable for larger vehicles.

Over 2 million POI's across Europe including Caravan Club sites and Caravan Club recommended sites preloaded as standard!
NEW High Resolution 7" Anti-reflective full colour LCD touch display with piano black casing
NEW Dynamic large vehicle routing software with Lane guidance and Junction view
NEW Pre-installed ACSI UK & EU database (With over 24,000 campsites & stopovers)
NEW Pre-installed Complete lists of Caravan Club campsites
NEW Pre-installed Board Atlas database
NEW Pre-installed Camperstop database
NEW Large vehicle or Car navigation modes
NEW Extended EU Map coverage now Includes 12 New EU Countries (See below details)
NEW DVB-T2 'Freeview' Digital TV (will only operate in areas with a digital TV signal)
NEW Sleek Design Model takes Full 7 digit postcode
NEW Here® Maps for Life (Formerly Navteq®) maps now with Navigate by Junction number
NEW Operating software with Route timer, Your route and Adjustable map text
NEW Updated Motorhome/Caravan Specific extensive POI's now with POI Corridor search
NEW MY SPEED Speed Limits data with on screen Alerts
NEW 12/ 24 Dual voltage unit
NEW Multi-address input now takes up to 16 destinations
NEW GPS Coordinates input
NEW AURA Extensive UK & EU speed camera database
NEW Low Bridge alerts both verbally and in the display
NEW FREE Unlimited Live TMC Premium traffic information with re-route
NEW Options to avoid motorways or toll roads
NEW Bluetooth handsfree
NEW Handsfree built in microphone
NEW 3D Direction indicators
Reversing camera compatible
Turn By turn voice instructions
Built-in Li-lon rechargeable battery
"One touch" Home and Office route planner
2D or 3D map view selection
Choice of 11 different screen colours
Further New Model Enhancements
Simplified alert tones and alert frequency
Simplified alerts detail and countdown
Now provides alerts to speed cameras on both carriageways
Adjustments to speed sensitive alert pattern
With our Pre-Loaded Mapping - Simply Plug & Go, Simple Installation Free.

Pre-Loaded mapping suitable for Motorhome, Caravan or large vehicle use
Pre-Loaded campsites which can be selected to your own personal requirements

S8100 Ventura Pro - What's new?

Snooper Tyre Pilot Compatibility

Make your caravan and motorhome journeys easier and safer with the New S8100 Ventura Pro.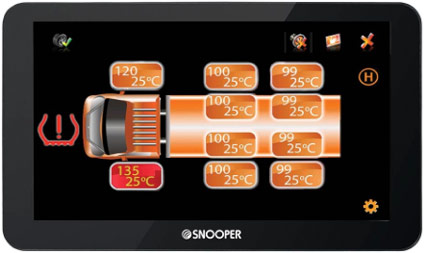 Enhanced Loud Audio Speaker

With a loud three watt audio speaker, the S8100 is loud enough for even the noisest of motorhomes.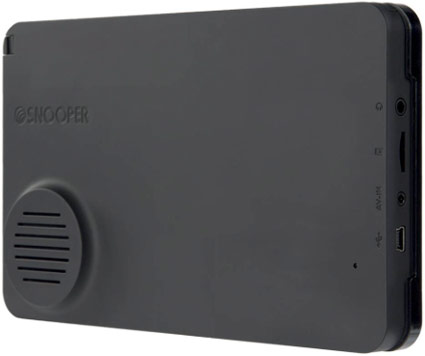 DVB-T2 Freeview Digital Television

Ventura S8100 includes a built-in DVB-T2 (Digital Video Broadcasting Transmitter) providing 'Freeview' Digital Television. Watch your favourite channels whilst taking a break from the driving.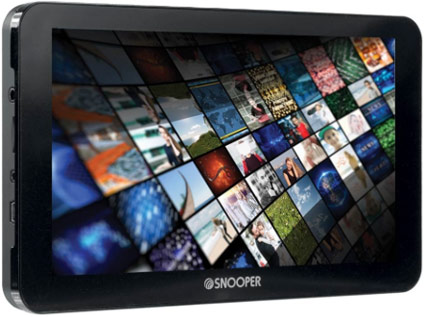 FREE Lifetime Map Updates!

To ensure that you always have the very latest Ventura Pro software and street level mapping available, S8100 Ventura Pro comes with FREE Lifetime Map Updates as standard. Simply register your unit online after purchase and receive free map updates for the life of your unit. Instructions for online registration are enclosed.

New and improved Here® Maps for Life (Formerly Navteq®) mapping

Latest street level mapping supplied by Here® Maps for Life - UK & Ireland and Extended European mapping comes as standard.

New Map Guarantee

Ensuring all new units have the very latest in street level mapping provided by Here® Maps for Life, we offer a map guarantee for the first 30 days after initial GPS connection.

Alan Rogers, ACSI, Board Atlas, Caravan Club, Camping & Caravan Club and Camperstop database's included

Select the facilities you require from the built-in ACSI, BordAtlas and CamperStop databases then search and navigate to one of 24,000 campsites and motorhome stopover sites across 31 countries across Europe. In many cases Ventura will even show you a photograph of your chosen campsite before you depart!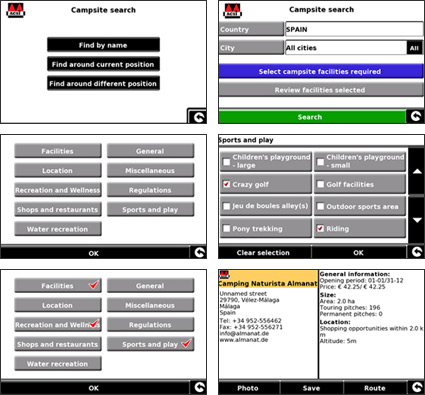 Snooper have joined forces with camping and motorhome stopover specialists ACSI, BordAtlas and CamperStop to provide you with the richest campsite and motorhome stopover site data available and all stored on board Ventura as standard. Simply select the country and region you want to visit then select from an indepth list of facilities you require such as campsites with swimming pools, watersports, a nearby river, by the sea and with shops, restaurants etc Ventura will then do the rest. A list of campsites that match your chosen criteria will be displayed, some even include photographs so you can see the campsite first hand. Once you have selected the campsite or motorhome stopover you want to vist, Ventura will route you straight there.

S8100 Ventura Pro of course comes with the option of Snooper's award winning GPS speed camera location technology. Our new AURA speed camera database now provides protection around the World. So wherever your destination you will always be protected.

The Caravan Club and The Camping & Caravanning Club

Official database information preloaded as standard. Snooper Ventura Pro S8100 comes with campsite locations supplied directly by The Camping and Carvanning Club and The Caravan Club including The Caravan Club Certificated campsites - Official databases all preloaded so that you can search and navigate to them at the touch of a button!

Junction view

Full screen images of main motorway junctions are displayed in advance to help you navigate more safely.

Lane Guidance

Specially formulated lane guidance software provides advanced notice of which lane or lanes to use when approaching junctions for safer driving.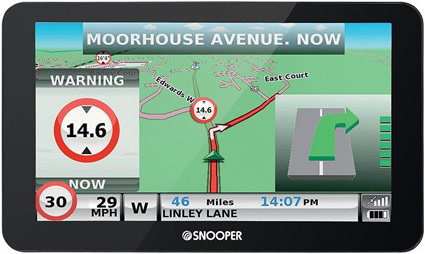 My Speed

The speed limit of nearly every road across Europe can now be clearly displayed on your S8100 Ventura Pro at all times. Choose between speed limits for cars and advisory speed limits for caravans and motorhomes. In addition, My Speed can also be set to alert you if you accidentally exceed the speed limit at any time.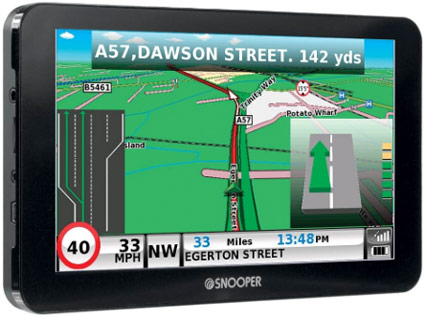 Navigate by Junction number

Search and navigate to motorway junction numbers using the updated 'Find by map' function including Junction numbers.

Your route

Create and save your own bespoke routes. Use the map view to select the roads you would like to travel or search road by road, use 'Your route' to build your own personal, tailored routes.

Motorhome/Caravan Specific Point of interest 'corridor' search

Choose to search from our extensive list of Point's of Interest using our new 'corridor' search facility. The 'corridor' search function enables you to search specifically along your pre-programmed route. These Include;
Caravan Club camp sites
Caravan Club approved sites
ACSI database
Camper Stop database
Board Atlas database
Motorhome pub stopover database
The Caravan and Camping Club UK database
Handler National U International
Parking with overnight stay facilities
Carparks UK
24hr Esso Services
LPG Fuel Stations
Plus much much more
User controlled adjustable map text

Increase the size that road names and numbers are displayed on screen making them easier to read for safer and easier navigation.

Route timer

Set Route timer to alert you when you need to take a break. Set the maximum driving time allowed and set the advanced warning time you require before your next break is due. The Route timer clock will keep you advised of the driving time you have left and will automatically alert you when it's time to take a break.

Research and development

The Snooper S8100 Ventura Pro Sound satellite navigation system is the result of many years of development based on our research of the industry and feedback from the 1000's of caravan and motorhome users already using the Ventura range. As a result Ventura is the most comprehensive portable sat nav system designed specifically for caravans and motorhomes on the market. Ventura uses Here® Maps for Life (Formerly Navteq®) transport data at it's core, but Ventura is further enhanced but 1000's more attributes combining to give far more comprehensive cover of hazards on more roads than any other system on the market.

The S8100 incorporates a larger format display making it much easier to view any potential hazards to your vehicle such as weight and height restrictions, plus it makes it possible to display all turn-by-turn routing instructions in a larger format making them much easier and safer to read whilst driving.

In fact everything about the S8100 Ventura Pro is bigger and better. It is easier to enter addresses and scroll through the systems menu as the on-screen button sizes are bigger and easier to press. Plus the S8100 incorporates more features including TMC traffic information, Bluetooth handsfree and DVB-T digital free to air television*. You can even attach a reversing camera!

Car navigation.

Although S8100 Ventura Pro has clearly been designed to navigate caravans and mobile homes on safe and legal roads it also incorporates a car setting. Simply switch S8100 Ventura Pro to car mode and it will navigate you on the most effective routes for your car instead!

FREE software updates!

Snooper understand the difficulties of fast moving technologies. No sooner have you purchased a new PC or Television and it's already out of date, that's why free operating software updates are included. As Snooper's Ventura technology get's better and better you can keep up, knowing you have always got the most up to date unit on the market!

*System software only. Does not include AURA speed camera updates.

Multi-route technology

Multi-route Pro software now puts up to 16 destinations in the Fastest, most Efficient order!

Snooper sat nav systems have always been the most stylish available. But they don't only look good, they deliver a performance to match.Take our new and unique Multi-route planning software. Multi-route allows you to calculate a single route around up to 16 different destinations just by adding the postcodes. No stopping and starting, struggling to find each and every address, simply your full day's travel calculated and saved in just a few seconds.

Navigate by co-ordinates

Going off the beaten track? All you need is the geographical co-ordinates and your Snooper satellite navigation system will take you straight there.

Premium TMC (Traffic Management Content) - FREE of charge!

If you're an experienced caravanner or motorhomer you will know the importance of needing to know exactly what lies ahead. Accurate and reliable information is a must to ensure that you arrive on time. Traffic information is fed from 100's of thousands of vehicles and sensors across the country providing up to the second information. Snooper's Ventura TMC service will alert you to traffic incidents across the country. If there is congestion on your route simply ask Ventura to find a route around it.

Over 2 million POI's across Europe

POI means 'Points of interest' and S8100 includes Caravan Club sites and Caravan Club recommended sites preloaded as standard! as well as an extensive list of Hotels, restaurants, campsites, petrol stations, golf courses, cash machines, airports, train stations, shops plus many more. S8000 also includes Go straight to your destination at the touch of a button.

S8100 Ventura Pro is completely unique. Unlike any other sat nav system Ventura can provide you with speed limit alerts specific to the class of vehicle you are driving. Plus you can update the speed camera database 24hrs a day 365 days a year. Ventura uses our unique AURA database which is updated daily, so the second a new camera is added you can download it, because anything less than 100% cover is just not an option. S8100 Ventura Pro gets you effortlessly from A to B whilst ensuring that you get there with your license intact. Details on how to subscribe are enclosed in the quick start guide supplied.

The following restrictions are recognised by Ventura systems to ensure a drivable route is calculated.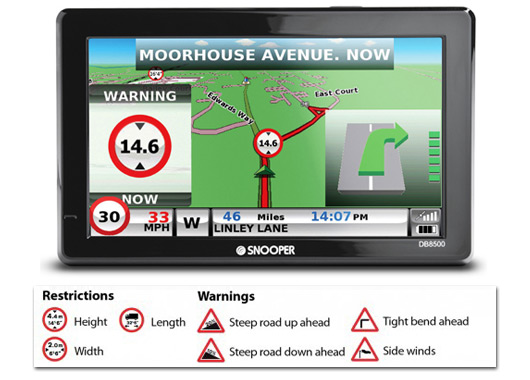 Physical Restrictions
Height
Weight
Width restriction
Length restriction
Low bridges
Large vehicle specific Warning Information
Steep hill downwards ahead
Steep hill upwards ahead
Lateral wind
Risk of grounding
Sharp curve(s)
Also takes in to account date and time related restrictions.

THE AURA ADVANTAGE!

THE IMPORTANCE OF VERIFICATION - ALL DATABASES ARE NOT CREATED EQUAL.

Unlike AURA, many other GPS speed camera databases rely largely on locations provided by hobbyists who might not be able to tell a speed camera or a red light camera from a traffic flow camera or a surveillance camera. These databases could result in annoying false alerts, which could lead you to start ignoring even legitimate alerts-defeating the point of having a GPS database in the first place. Other databases are not updated every day, and they also limit how often you can download updates. As a result, devices using these databases are not as up-to-date as they could be and are likely to miss alerts. In contrast, Snooper has assembled a professional team that devotes every working day to verifying each and every speed camera and high risk zone that goes into the AURA database.

The AURA database is constantly updated, and can be accessed 24 hours a day, 7 days a week. AURA's reliability is backed up by Snooper, one of the most respected and trusted satellite navigation and speed camera location manufacturers. Snooper has won dozens of awards for innovation and product performance and has been establised since 1979.
If you're considering a GPS database to reduce your risk of an unintended speeding ticket or accident, doesn't it make sense to go with the database and the company that reduces that risk the most? As well as the UK and Ireland, the AURA speed trap database now offers Worldwide protection Including Germany, Holland, Belgium, France, Spain, Portugal, Switzerland, Italy, Austria, Luxembourg, Denmark, Norway, Sweden, Finland, Poland, Romania, Russia, North America, Canada, Australia, New Zealand and South Africa and is still growing.

Here® Maps for Life (Formerly Navteq®)

A satellite navigation system is only as good as its mapping software - this is why the Snooper S8100 utilises Here® Maps for Life street level mapping, ensuring that you can travel from A to B using the best route possible and more importantly, without getting you lost. By using Here® Maps for Life digital map data, the S8100 is able to offer accurancy, detail, reliability, and flexibility providing you with a highly accurate representation of the detailed road network.
It is the unseen force behind the leading express mail services, emergency and government routing plans, efficient field service management, as well as numerous fleet operations, worldwide.

Bluetooth Handsfree Technology with Anti-Echo

Stay on the right side of the law. The S8100 Ventura Pro is equipped with Bluetooth Handsfree Technology with anti-echo for clearer communication, so that if you do have to take a call whilst you are on the move you can do so safely, with both hands still on the steering wheel.

Advanced street level mapping with unique Ventura routing

Recognised as the industry leader in digital street level mapping Ventura uses Here® Maps for Life data. Ensuring you are taken seamlessly from A to B on the best possible route.

Snooper S8100 Ventura Pro Includes Extended Western Europe as standard

Latest 2016 European Extended Cover version now provides full street level mapping and points of interest for the following western european countries;

UK, Ireland, France, Spain, Portugal, Italy, Austria, Switzerland, Belgium, Holland, Luxembourg, Germany, Denmark, Norway, Sweden, Finland, Poland, Estonia, Lithuania, Czech Republic, Latvia, Liechtenstein, Hungary, Romania, Slovakia, Slovenia, Serbia, Montenegro, Croatia, Turkey, Greece, Albania, Bosnia & Herzegovina, Bulgaria, F.Yugoslavia Rep.of Macedonia, Russia, Cyprus, Ukraine.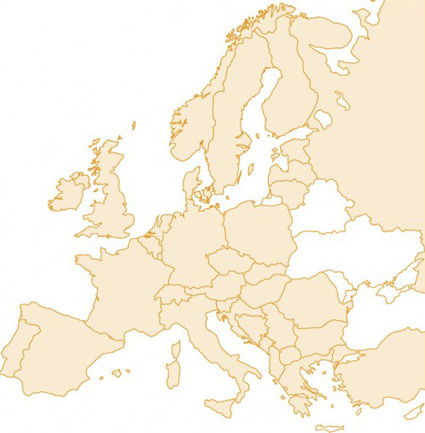 Auto Ranging

There is no need to set the detection range of Snooper S8100 Ventura Pro, as it automatically calculates the distance required depending on the speed limit. For instance it will alert you 200 meters in advance in a 30mph zone and up to 500 meters in a 70mph zone.

Provides advanced personal warning of
Gatso Cameras
Truvelo Cameras
SPECs Cameras
MCS Cameras
Average Speed Roadwork Cameras
Watchman
Speedcurb
DS2 Speedmaster
Mobile Gatso & Truvelo Cameras
Mobile Laser Sites
Mobile Camera Van Sites
New Multi lens 'Daddy' Gatso
Accident Hotspots
High Risk Zones
Digital Cameras
Schools (optional)
Congestion Charge Cameras

Features include
Ventura dynamic large vehicle routing software
DVB-T2 Digital TV (will only operate in areas with free to air digital TV service)
New Anti-reflective full colour Ultra Sharp 7" LCD Widescreen colour display
Multi-address input (Up to 16 destinations)
Latest Here® Maps for Life (Formerly Navteq®) maps
Lane Guidance
Junction View
Updated extensive POI's now with POI "Corridor" Search
MY SPEED Speed limit data with on screen Alerts
Navigate by junction number
Your route
Adjustable map text
Route timer
ACSI, Board Atlas, Caravan Club, Camping & Caravan Club and Camperstop database
GPS Coordinates input
Bluetooth handsfree
Built in microphone
High Quality Casing
ReadyReady to use - genuine plug and play
Fully portable - easily transferable from car to car
Wireless for use in vehicle or on foot
2D and 3D Screen Views on 7" Inch Screen
Live TMC traffic jam information with re-route
Touch screen operation
Door to Door Navigation anywhere in the UK
UK Mapping included as standard
Large memory SD card included
Route Preview - review calculated route before you start travelling
FULL 7 Digit Postcode search - Simply key in the postcode of your destination
Up to 7 different search methods
'One touch' home and office route programmer
Built-in Li-lon rechargeable battery
Turn by Turn Voice instructions
Most sensitive built in GPS antenna available
Your choice of route type: fastest, shortest or avoiding toll roads and congestion charge areas
Mapping provided by Here® Maps for Life is the most accurate & up to date available
Extensive Points of Interest lists from petrol stations to golf courses
Electronic Compass
GPS Auto Timeset
Genuine Speed Camera detection using Snooper's AURA database
Snooper Camera Detection Technology includes
Logic Modes - Detects cameras only if they are considered a risk
Speed limits at point of alert
Detects & visually identifies ALL fixed cameras by type
Voice Alerts confirm camera type and speed limit
Snooper S8100 Specifications
OS - WinCE 6.0 Core Edition
CPU(Core) SiRF Atlas VI processor 800mHz
Display Type 7" TFT
Display Colours: 24 bit True Colour
Resolution: 800*480 pixels
CPU Speed: 800 MHz
Memory ROM: 4GB Nand Flash
Memory RAM: 512MB SDRAM
Touch: Pressure Type, Anti-Glare Type
Brightness: >= 300NIT
DVB-T2: Yes with Internal DVB-T2 antenna
Product Size: 181mm x 109mm x 20mm
Screen Dimension: W:156mm x 87mm (7" Diagonal)
Product Weight: 370 grams
Wifi: Yes
SD/MMC card slot: up-to 32Gb
Audio Speakers: 3Watt
Power Button (Menu): Push Type
LED: Red:Charging Green:Operating
GPS Chip Set: TriG RF lite (CSR)
GPS: High Sensitivity GPS module receiver.
Channel: 32CH
Operation Limit: Altitude <18,000m (60,000ft), Velocity=515mm
Battery: Built-in Rechargeable Li Battery 1800mAh
USB: USB2.0 Device (Mini Port)
Cold Start Time: 50 sec
Warm Start Time: 40 sec
What's included?
1 x Ventura Pro S8100 with Built-in DVB-T2 Telescopic TV Antenna
1 x 8GB MicroSD Card with Extended European mapping
1 x Windscreen mounting bracket
1 x 12/24V Vehicle charger with Built-in TMC
1 x USB cable
1 x CD Rom User Manual
1 x Hard Carry Case
New Snooper S8100 Ventura Pro
New Snooper S8100 Ventura Pro Compatibility Chart

Car Model
Year
Radio Description
Notes
Caravan & Motor Home
If you are unsure about the suitability of this product please contact us via the ask a questions link at the top of this page or telephone us and we will gladly assist you.
Plug n Play device, no special installation required.
How does it work?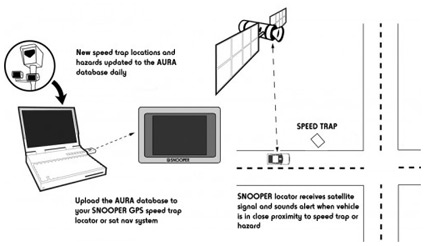 Product Class
Product Type
Dash Camera