Parrot MINIKIT Neo Voice controlled Bluetooth hands-free kit
Brand: Parrot

Product Code: Parrot MINIKIT Neo

Need any more information?
Ask a question
---
1 Year Warranty

Easy Returns
---
Parrot MINIKIT Neo
The Parrot MiniKit Neo is a voice controlled bluetooth hands free kit, that doesn't need installing. It simply clips on to your sun visor, allowing you to talk on the phone when in your car, and stay safe and legal.
With impressive functionality, and an even better price, it's no wonder that so many people choose the Parrot Bluetooth MiniKit Neo bluetooth hands free kit.
Gorgeou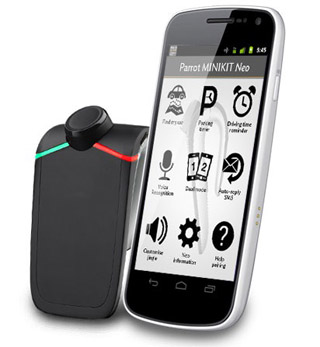 s New Sleek Design
Control the Minikit Neo by voice: make and receive calls without touching any buttons. Say the key word 'MINIKIT' at any time to trigger the voice recognition, and then say the name of the contact you wish to call. When receiving a call, just say 'Accept' or 'Reject'. The kit recognises any voice without need for any programming, matching or training.

New non installation visor kit from the world Bluetooth leaders Parrot. Features multipoint, voice commanded bluetooth phone book and answering. Features vibration sensor that automatically turns the unit on and off when entering or leaving the vehicleA2DP for music streaming and Sat Nav directions from your Smartphone.
CONTROL THE MINIKIT NEO BY VOICE
Say the key word 'MINIKIT' at any time to trigger the voice recognition, and then say the name of the contact you wish to call.
GREAT SOUND QUALITY
Digital Signal Processing drastically reduces unwanted noise and has a strong echo cancellation effect.
EASY UPDATE
Benefit from new features or change the language of your MINIKIT Neo by downloading new software versions for free.
ALL YOUR CONTACTS ON YOUR KIT
Synchronisation with your phonebook is automatic and all menus are vocal so you can stay focused on driving.
SIMPLE PAIRING
The MINIKIT Neo will vocally guide you through the entire pairing process. Once your phone is paired,
the Bluetooth connection with the kit is absolutely automatic.
CONNECT TWO PHONES AT ONCE
Thanks to the Switch function, you can use both phonebooks to make calls!
Listen to your music
The Minikit Neo features Bluetooth Audio Streaming (A2DP). You can listen to all your music on your phone and benefit from the voice commands of your navigation app directly on your kit.
Hours of conversation
The Minikit Neo gives up to ten hours of talk-time. Enjoy six months of standby with Ultra Low Power Mode. The MINIKIT Neo will tell you the remaining battery time vocally upon request.
Compact and sleek design
The Minikit Neo combines the best of technology in a compact and stylish design. The integrated clipping system is compatible with all sun -visors and can be reversed easily with only one hand when you fold or unfold the sun visor.
Minikit Neo Specification:
General
Dual Mode (Multipoint): simultaneous connection of two Bluetooth phones
Number of contacts: 2,000 per phone – Total of 20,000 contacts maximum per MINIKIT Neo
Language: one language per version
Pairing capacity: maximum of 10 devices per MINIKIT Neo
Battery: Lithium Ion – 1000mAh
Battery life: over 10 hours in conversation
over 6 months in deep sleep mode
Charging time : 3 hrs maximum – 5V / 500mA
Easy Pairing Process and NFC tag
Automatic connection by pairing order
Software update via USB port
Interface
2 button On / Off / Battery level
4 buttons Operation, including one jog-wheel
4 LEDs (green and red), including one for battery charging
Telephony
Green button: answer, call a contact from the phonebook, initiate voice recognition, confirm, private mode
Red button: hang up, cancel, exit menus
Rotary knob: access the menus, adjust the volume, send DTMF signal
Audio
3W speaker
Full duplex
Built-in multidirectional microphone
Output via NXT vibrating panel
HDR < 1%
Noise reduction : Parrot NR v3.1
Echo cancellation : Parrot APA v1.6
Voice prompts for all menus
Speaker Independent Voice Recognition
Natural Text-To-Speech (reads the names in the phonebook)
Bluetooth
Bluetooth v3.1
Profiles : HFP 1.6 (Hands Free Profile) – A2DP (Advanced Audio Distribution Profile) – PBAP (Phone Book Access Profile)
Other synchronisation protocols : SyncML – Synchro AT – Synchro Nokia
Bluetooth range: 10 meters maximum – 30 feet maximum
Pairing code: ' 0 0 0 0' by PIN code – No pairing code with NFC tag
Hardware
SIP6 processor at 416 MHz
Flash memory: 128MB (1Gb)
RAM memory: 32MB (256Mb) – DDR
Dimensions and weight
Length: 94 mm – 3.70 in
Width: 54 mm – 2.12 in
Thickness: 39 mm – 1.53 in
Weight: 69 g – 2.43 oz
Package content
1x Parrot MINIKIT Neo
1x USB / micro-USB cable
1x 12V accessory socket charger – USB out
1x Quick Start Guide
Parrot MINIKIT Neo
Parrot MINIKIT+ Portable Bluetooth hands-free kit for mobile phones, Smartphones, Android and iPhones
If you are unsure about the suitability of this product please contact us via the ask us about this item link at the top of this page or telephone us and we will gladly assist you.
Plug and play portable handsfree device. Follow the supplied easy to follow instructions to setup.
Product Class
Product Type
Bluetooth Hands Free