Parrot MKi9000 Bluetooth Music Car kit v3
Brand: Parrot

Product Code: MKi9000

Need any more information?
Ask a question
---
1 Year Warranty

Requires optional SOT lead

The SOT lead is car model specific. It converts the ISO lead supplied with the kit so you can plug into the back of your radio. It will mute the radio and transfer telephone or music audio through the car speakers.

Easy Returns
---
Parrot MKi9000 Bluetooth Car Kit v3
The Parrot Mki9000 Bluetooth Hands Free Music Car Kit has a wireless remote control so that you can make and take calls without taking your hands off the steering wheel, as well as voice control.
As well as perfect for phone calls, your Parrot Bluetooth Mki9000 allows you connect your choice of music player,such as iPod, or even a USB pen drive and listen to your favourite songs in the car. This means that you don't have to carry a pile of CDs with you, or put up with the radio.
The Parrot MKi9000 is a Bluetooth screenless hands-free system that blends in seamlessly inside any vehicle. A wireless remote control can be positioned on the steering wheel or dashboard and allows the driver to control all the functions of the MKi9000. In addition to conventional telephony functions - pick up, hang up, dual calls - the Parrot MKi9000 boasts cutting-edge telephony functions: automatic phonebook synchronisation, training-free multi-speaker voice recognition, speech synthesis of the names in the phonebook, contact management (up to 2 000 per phone). No need for a screen - the Parrot MKi9000 offers a voice menu for accessing its functions.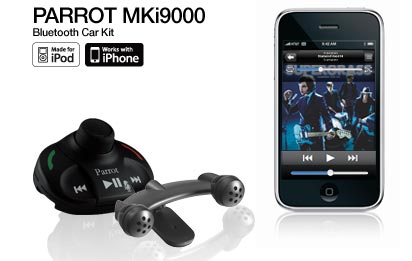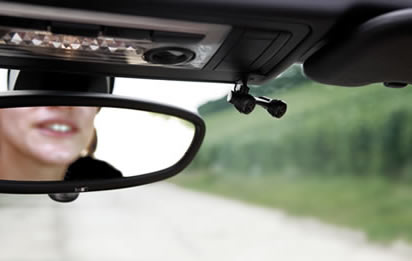 Parrot MKi9000 Bluetooth car kit
Full Integration
During a telephone call the stereo will cut-out any audio (music, radio, CD etc) and route the conversation through the front speakers of the car. This is possible by using a special lead which is car specific and can be purchased seperately from our fitting accessory section.
Listen to your digital misic in the car
The Parrot MKi9000 is also gifted for music. Supplied with a specific cable, it is compatible with all music sources, such as iPods, iPhones, USB flash drives, Bluetooth stereo (A2DP) phones, MP3 players and any other analogue players. Music is delivered through all the car's speakers*, giving the driver and passengers exceptional sound quality and the breathtaking effects (Virtual SuperBass…).
Double micro-phone for crystal clear sound
To ensure optimal audio quality when on the phone, the Parrot MKi9000 combines double microphone technology with new signal processing software (DSP-3) that eliminates background and surrounding noise, including noise from inside the car. For maximum listening quality, conversations are reproduced over the vehicle's speakers. The Parrot MKi9000 is a Bluetooth hands-free system compatible with all vehicle makes* and which works with all mobile phone brands.
Key Features of the Parrot MKi9000
Bluetooth screenless hands-free system
Hands-free, double microphone with DSP-3 technology reducing background noise and echo providing crystal clear audio,
Wireless button allows user to scroll through menus and control the volume and music
Whats Included in the Package
1 MKi9000 electronic control unit
1 Dual microphone with cable
1 radio mute cable with line output (ISO cable*)
1 power supply cable
1 wireless remote control
1 AUX & USB cable compatible with Apple devices
1 user guide
| | |
| --- | --- |
| | *requires car specific radio adaptor lead. Refer to installation section for further details and how to purchase. |
Addons available for Parrot MKi9000*
Brodit active Cradle The Brodit active cradles is the ultimate accessory for Bluetooth hands-free car kits, which do not independently support the use of the charging function of the mobile phone. The components of the Brodit are designed for Bluetooth hands-free car kits of all manufacturers. The Brodit cradle also allows your mobile phone to be held safely and securely keeping you within the law.

Parrot UNIKA is an installable interface that connects your vehicle's steering wheel controls to any hands-free system in the Parrot MKi series, putting all the features of your Parrot hands-free system within easy reach, whatever the circumstances.

* Please select from the Option menu to purchase.
Parrot MKi9000 Bluetooth Car Kit
Compatibility

Car Model
Year
Notes
All models supported see notes opposite
all
1
| | |
| --- | --- |
| | 1. requires car specific radio adaptor lead. Refer to installation section for further details and how to purchase. |
If you are unsure about the suitability of this product please contact us via the ask us about this item link at the top of this page or telephone us and we will gladly assist you.
To complete the installation you will require an optional car specific OEM stereo adapter lead - also referred to as a SOT lead. The lead will allow you to connect this Bluetooth kit to the car speakers and will also cut-out the radio during a telephone call. The cost of the lead varies from vehicle to vehicle and depends if you have a basic stereo or an amplified stereo such as BOSE, Harmon Kardon, JBL. Refer to our

fitting accessory

section to purchase your car specific lead. Parrot products are all designed so that there is no need to cut any cables as long as you use the optional SOT lead.

If you are unsure at anytime please contact us via the ask us about this item link at the top of this page or telephone us and we will gladly assist you
| | |
| --- | --- |
| | Enjoy the peace of mind that comes with a professional, risk-free installation service, by placing your trust in a certified installer. Car Communications are a certified installer. |
Music Adapters
Music Adapter Features
Bluetooth Music Streaming, iPod/iPhone, Other Smart Phones
Product Class
Product Type
Bluetooth Hands Free, Bluetooth Music Streaming