Snooper Pro SC5800 DVR Satelite Navigation System
Brand: Snooper

Product Code: Snooper Pro SC5800 DVR

Need any more information?
Ask a question
---
1 Year Warranty

Easy Returns
Recommended Add Ons
The hard wiring loom enables you to fit the camera so that there are no wires dangling from your dash camera to the cigar socket, making your car look neat and tidy.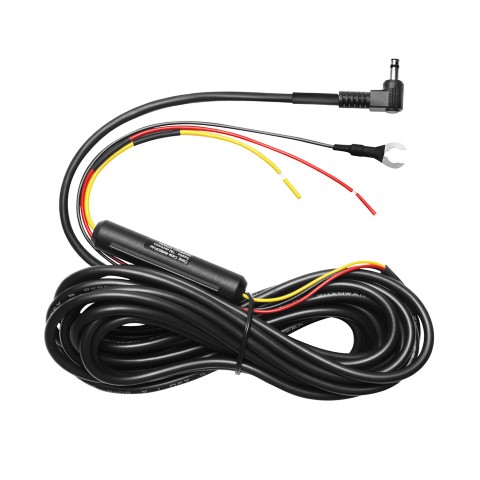 Europe maps include:
UK
Ireland
France
Spain
Portugal
Italy
Austria
Switzerland
Belgium
Holland
Luxembourg
Germany
Denmark
Norway
Sweden
Finland
Poland
Estonia
Lithuania
Czech Republic
Latvia
Liechtenstein
Hungary
Romania
Slovakia
Slovenia
Serbia
Montenegro
Croatia
Turkey
Greece
Albania
Bosnia & Herzegovina
Bulgaria
F.Yugoslavia Rep.of Macedonia
Russia
Optional Installation Package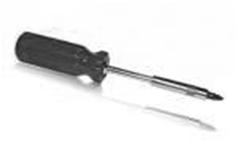 You are being offered an installation at an additional cost. If you select the installation option then this product will be professionally Installed at your home or workplace anywhere in the UK by our own network of accredited engineers. You will be contacted by a member of our installation booking team after you have placed an order.
---
Snooper Pro SC5800 DVR
Snooper SC5800 portable sat nav, DVR, tyre pressure monitoring compatible and speed trap detection system with FREE Lifetime Maps. A super slim car sat nav with a full colour, 5" widescreen LCD that has the perfect balance between viewability and device size and a built-in DVR. Snooper SC5800 DVR is probably the most complete driver aid around.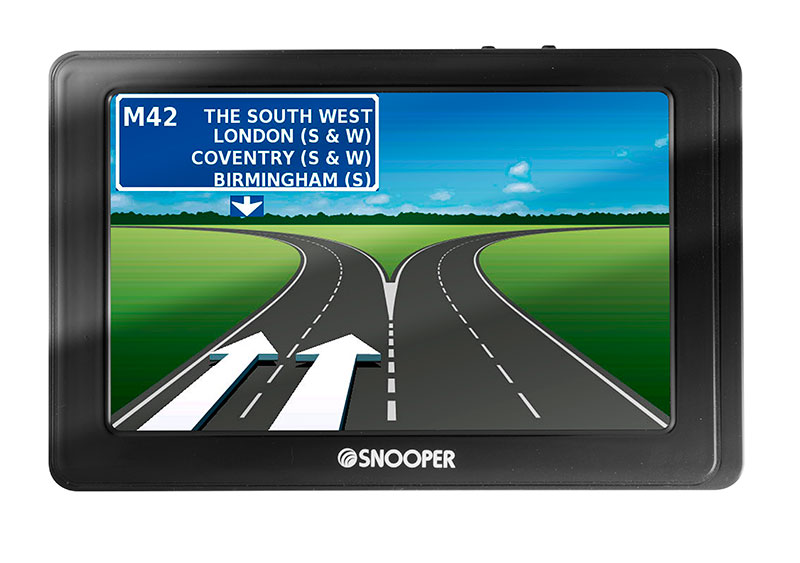 FREE Lifetime Map Updates!
To ensure you always have the latest Snooper car navigation and software available, SC5800 comes with FREE Lifetime Maps. Register your device and receive free maps for the life of your unit* Providing the best and quickest route available.
Industry world 1st - Now with built-in DVR
Using our expertise and knowledge of Sat Nav's, DVR's and Dash Cams, Snooper has created the brilliant SC5800 DVR, a unique combination of our award winning car navigation and witness camera technology.Whiplash, lies and fraud; the UK's growth industry. Everyday vehicles including cars, MPV's, and 4 x 4's are now increasingly targeted by fraudsters costing insurers and drivers over half a billion pounds a year. A spokesman for the insurance industry said, "Crash for cash is becoming a booming business, all the fraudsters need is a car and a little know how and they're ready to go. We certainly recommend that motorists take steps to mitigate any fraud by using a DVR device".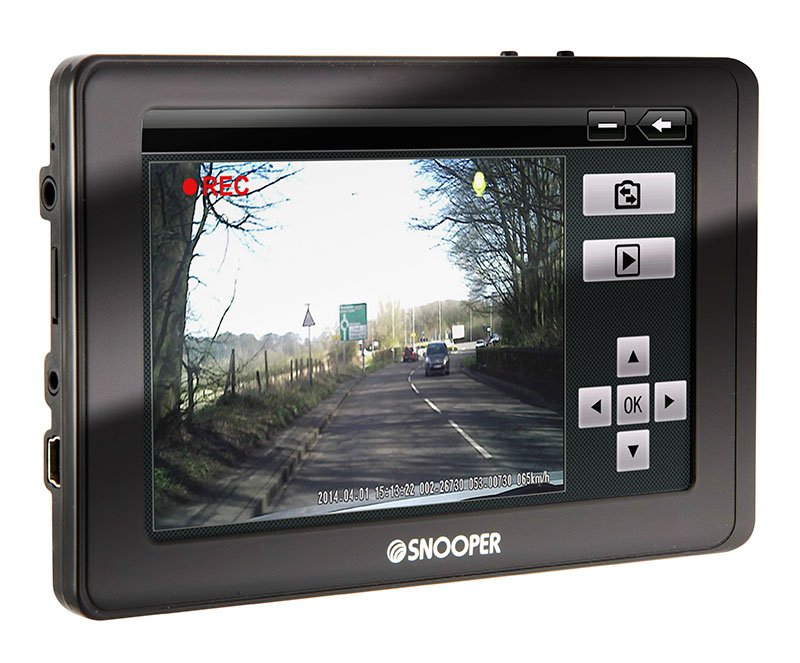 Built-in HD Dash Cam
New for Snooper satellite navigation devices, SC5800 DVR comes with a high definition dash cam. Our latest car navigation unit automatically records and saves any vehicle incidents you may encounter negotiating the UK or Europe's vast road network. Ideal video evidence for any insurance claim.
Protect your driving licence with Aura™ Speed Trap Alerts
SC5800 DVR includes our industry leading Aura™ speed trap database*. The Aura™ database is compiled and updated by a professional data collection team that devotes every working day to verifying each and every speed camera and high risk zone that goes into the Aura™ database. The Aura™ database is constantly updated, and can be accessed 24 hours a day, 7 days a week.
There are currently over 5,000 speed camera's located across the UK and 1 in 5 drivers have been caught travelling over the speed limit. This costs drivers a huge £20 million per year and is attributed to a staggering 13% of all fatal collisions on UK roads.
Protect yourself and your loved ones with the industry leading speed trap alert system.To further protect a driver and their driving licence, SC5800 DVR includes our latest speed limit software, My Speed XL. This unique software displays the speed limit of the road plus your current speed in large format, aiding drivers to keep within the speed limit. No nasty speeding fines and safer roads.Aura™ is a chargeable database*.
Tyre Pilot Compatible
For safer and lower cost motoring and a first for a 5" satellite navigation device, Snooper SC5800 DVR is compatible with Tyre Pilot, a tyre pressure monitoring system. Display the pressure and temperature of your vehicle's tyres on screen with the added benefit of audible alerts to pressure drops and abnormal temperature increases.
Tyre defects contribute to over 3% of all vehicle accidents and are the main fault attributed to a vehicle incident. Monitoring your vehicle's tyres whilst driving and ensuring they are correctly inflated could save you up to 10% in fuel charges, extending tyre life by 35% and reduces the chances of an accident or blow-out.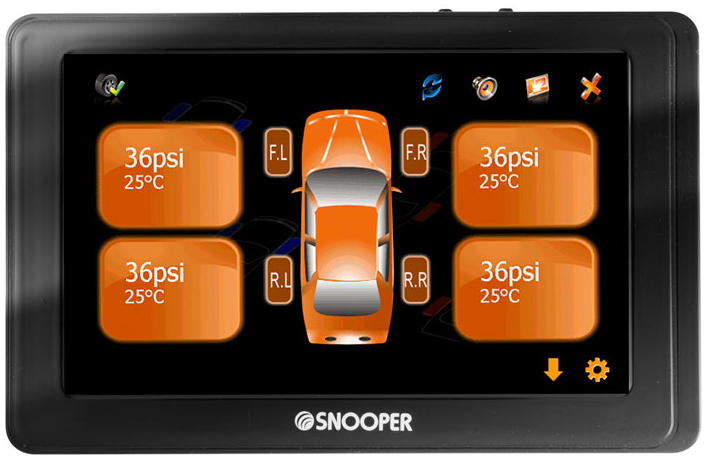 Continuous Video Recording
SC5800 DVR records the view in front of your vehicle and any sounds from inside with its built-in microphone. Video files recorded by the built-in DVR, are downloaded to your PC via Snooper Player. Providing essential video evidence of your journey and any incidents that have occurred.
GPS Video Technology
Incorporating the most advanced GPS technology available, Snooper SC5800 DVR can pinpoint your position anywhere across Europe and downloaded using Snooper Player software provided. Detailed information includes where your incident occurred, time, date and your vehicle's speed. It's like having your very own 'Black Box'.
My Speed XL
The new Snooper SC5800 DVR not only includes our award winning Aura™ speed trap database* but additionally includes a new feature, My Speed XL. Whilst travelling routes you're already familiar with, My Speed XL software will display the speed limit of the road you're travelling, plus your current speed in large format. This aids drivers to quickly see the speed limit and their current speed, protecting their driving licence and keeping them free from hefty fines.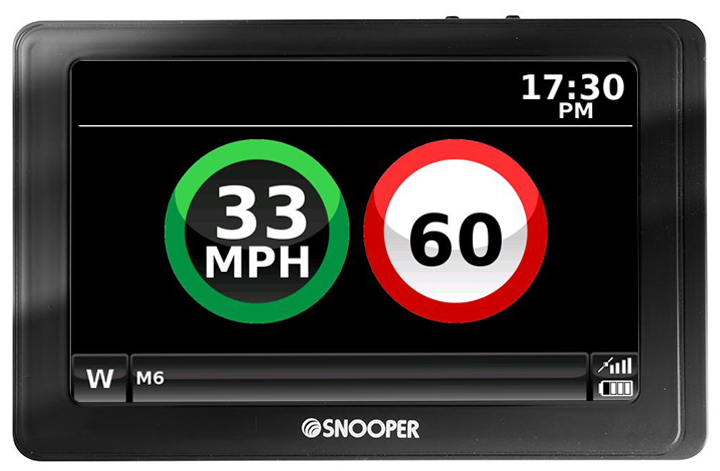 Modern and Clear Menu Option
Snooper SC5800DVR includes a modern and clear menu display, making it easier to use. Brighter, stylish and sleek.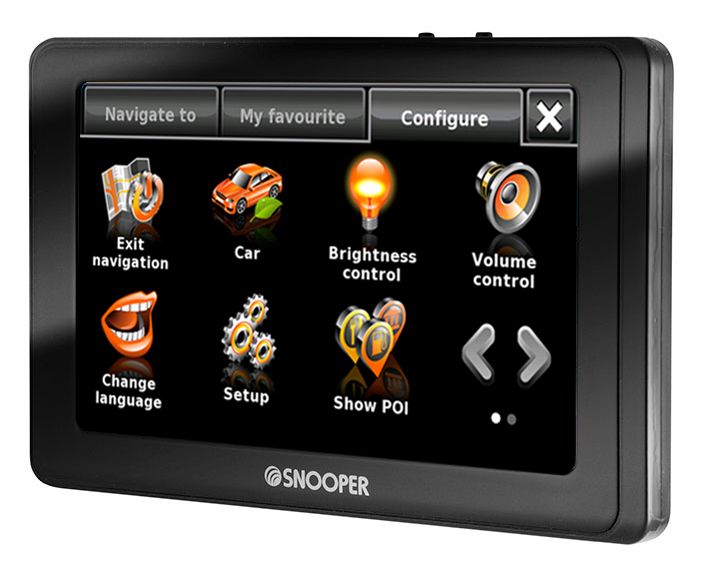 New and Improved Mapping
Powered by Here® Maps for Life, the number one car navigation mapping company, Snooper SC5800 DVR finds the best and quickest route from A to B. UK & Ireland and European map packages available.
Junction View
Full screen images of main motorway junctions are displayed in advance to help you navigate more safely.

Lane Guidance
Specially formulated lane guidance software provides advanced notice of which lane or lanes to use when approaching junctions for safer driving.

Navigate by Junction Number

Search and navigate to motorway junction numbers using the updated 'Find by map' function including Junction numbers.
Your Route

Create and save your own bespoke routes. Use the map view to select the roads you would like to travel or search road by road, use 'Your route' to build your own personal, tailored routes.
Extensive Points of Interest

All Snooper devices can download our extensive user point of interest list which includes details of hotels, petrol stations, train stations and many many more.
Point of Interest 'Corridor' Search
Choose to search from our extensive list of Point's of Interest using our new 'corridor' search facility. The 'corridor' search function enables you to search specifically along your pre-programmed route.
User controlled adjustable map text
Increase the size that road names and numbers are displayed on screen making them easier to read for safer and easier navigation.
Choose between UK & Ireland or Full European Mapping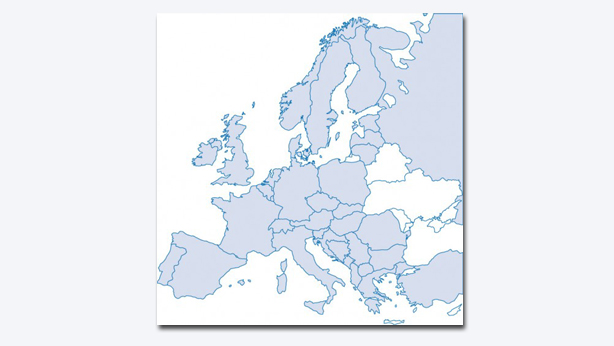 UK
Ireland
France
Spain
Portugal
Italy
Austria
Switzerland
Belgium
Holland
Luxembourg
Germany
Denmark
Norway
Sweden
Finland
Poland
Estonia
Lithuania
Czech Republic
Latvia
Liechtenstein
Hungary
Romania
Slovakia
Slovenia
Serbia
Montenegro
Croatia
Turkey
Greece
Albania
Bosnia & Herzegovina
Bulgaria
F.Yugoslavia Rep.of Macedonia
Russia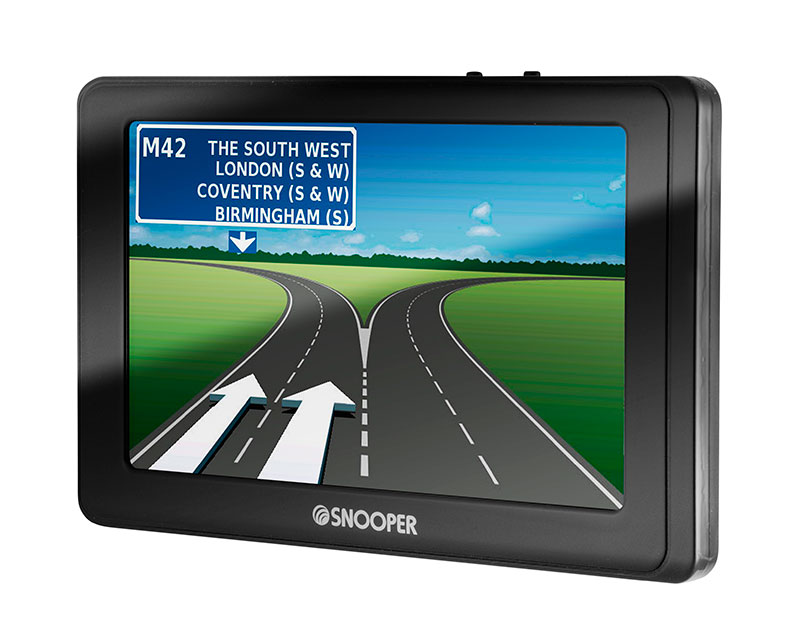 Multi-Route Technology
Snooper SC5800 DVR incorporates a multi-route function. Multi-route finds the best route around up to 16 different destinations just by adding the postcodes. No stopping and starting, struggling to find each address. Your full day's travel calculated at a touch of a button and saved in just a few seconds.
Auto Re-Routing
Turn off the route by mistake or decide you want to go another way? Snooper SC5800 DVR will automatically re-route you in seconds, getting you back on track or will find an alternative route.
One Touch Home and Office Modes
Save your home and/or your office address so that you can navigate straight there at the touch of just one button.
Navigate by Co-Ordinate
Going off the beaten track? All you need is the geographical co-ordinate and Snooper will take you straight there.
TMC Traffic Information Technology - FREE of Charge!
Traffic information is fed from 100's of thousands of vehicles and sensors across Europe providing up to the second traffic information. If there is congestion on your route, simply ask Snooper SC5800 DVR to find a route around it.
Bluetooth Handsfree Technology
Snooper is equipped with Bluetooth Handsfree Technology so that if you do have to take a call whilst you are on the move you can do so safely, with both hands still on the steering wheel. Compatible with most bluetooth enabled mobile phones.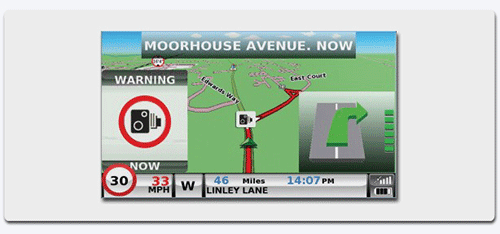 THE AURA™ ADVANTAGE! THE IMPORTANCE OF VERIFICATION - All Databases are not Created Equal
Unlike AURA™, many other GPS databases rely largely on locations provided by hobbyists who might not be able to tell a speed camera or a red light camera from a traffic flow camera or a surveillance camera. These databases could result in annoying false alerts, which could lead you to start ignoring even legitimate alerts--defeating the point of having a GPS database in the first place.
Other databases are not updated every day, and they also limit how often you can download updates. As a result, devices using these databases are not as up-to-date as they could be and are likely to miss alerts.
In contrast, Snooper has assembled a professional team that devotes every working day to verifying each and every speed camera and high risk zone that goes into the AURA™ database.
The AURA™ database is constantly updated, and can be accessed 24 hours a day, 7 days a week. AURA's reliability is backed up by Snooper, one of the most respected and trusted satellite navigation and speed camera location manufacturers. Snooper has won dozens of awards for innovation and product performance and has been established since 1979.
If you're considering a GPS database to reduce your risk of an unintended speeding ticket or accident, doesn't it make sense to go with the database—and the company—that reduces that risk the most?
How does it Work?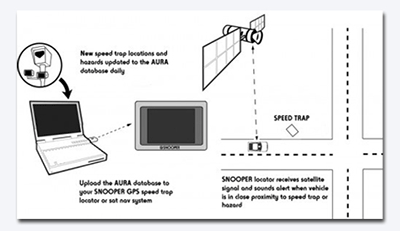 Snooper SC5800 DVR will provide personal alerts of the following speed traps and hazards
Gatso & Truvelo Cameras
Watchman
MCS (Multi Camera System)
Speedcurb
SPECs average speed
Roadwork cameras
DS 2
Accident Hotspots
High Risk Zones*(Includes alerts to regular sites of Mobile Laser and Mobile Camera vans)
Temporary Gatso
Truvelo Cameras
Congestion Charge Cameras
Digital Cameras
Schools (optional)
As well as the UK and Ireland, the AURA™ speed trap database now offers Worldwide protection. Included in our system are locations in Germany, Holland, Belgium, France, Spain, Portugal, Switzerland, Italy, Austria, Luxembourg, Denmark, Norway, Sweden, Finland, Poland, Romania, Russia, North America, Canada and South Africa and is still growing.
What's in the Box?
1 x SC5800DVR portable satellite navigation system
1 x windscreen bracket
1 x in-vehicle charger with built-in TMC antenna
1 x soft carry case
1 x USB cable
1 x 8GB Micro SD Card (Dash Camera)
1 x Dash Disk
1 x CD Rom inc PDF instruction manual
Key Features Include
Ventura Routing Software
Built-in HD DVR
TMC traffic information technology
Tyre Pilot Compatible
Junction View
My Speed XL
Lane Guidance
My Speed® - speed limits
Your Route - calculate your own bespoke routes
Multi-route planner
Route Timer
User POIs - upload and share POIs with other users
Navigate by junction number
Navigate by co-ordinate
Navigate by Easting & Northing
Bluetooth® handsfree
5" full colour LCD touch display
3D Direction indicators
Built-in MSTAR GPS antenna
Turn by turn voice instructions
Built-in rechargeable battery
'One touch' Home & Office route planner
2D & 3D map views
A choice of different screen colours
Extensive list of Points of Interest
Physical Dimensions W:136mm x H:87mm x D:14mm
Screen Dimensions W:108mm x H:64mm (5" Diagonal)
PC System requirements: Windows 7, 8, 8.1 and Windows 10
Technical Specification
Processor (CPU) MSB2531 Cortex A7 800MHz
OS WinCE 6.0
Memory 256MB DDR3 RAM
Memory Card (Navigation) Micro SD Card upto 8GB
GPS Receiver High Sensitivity GPS Chipset
LCD Display Display size: 5"
Display Resolution: 800x480
16:9 TFT LCD
Bluetooth (A2DP, SPP, PBAP, HFP, Auto-link)
Speaker Mono 8? / 1.5W (MAX) speaker
Battery Li-ion battery 800 mAh
Power 12-24V DC, USB 2.0 OUTPUT: 5.2V DC 1.5A
Operating Temperature range. -10°C.~ +70°C.
Unit Weight - 176g (with built-in battery)
DVR Specification
DVR Memory Card Micro SD Card upto 32GB (8GB Included)
DVR Camera 720p HD
130° Wide View Camera
This unit has been designed to provide safe and efficient routing but it not a substitute for driving with due care and attention. The driver is responsible for paying full attention to road signs, road conditions and the proper operation of the vehicle at all times. Always defer to all posted road signs and road conditions.
Snooper Pro SC5800 DVR
Snooper SC5800 DVR Compatibility Chart

Car Model
Year
Radio Description
Notes
All Vehicles
If you are unsure about the suitability of this product please contact us via the ask a questions link at the top of this page or telephone us and we will gladly assist you.
How does it work?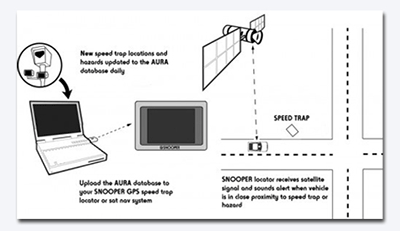 Plug n Play device, no special installation required.
Product Class
Product Type
Speed Camera Detectors