Snooper Ventura Pro S6800 EU Mapping
Brand: Snooper

Product Code: Ventura Pro SC6800

Need any more information?
Ask a question
---
1 Year Warranty

Easy Returns
---
Snooper Ventura Pro S6800. Now includes the most comprehensive database of caravan and motorhome camp sites and stopover sites available on any sat nav on the market. Includes over 24,000 sites in 31 countries supplied directly by The Caravan Club, The Camping and Caravanning Club, ACSI, BordAtlas, Camperstop and Alan Rogers plus many more!

Ventura Pro S6800 incorporates a large 7? widescreen LCD, giving drivers a clearer view of Ventura's unique satellite navigation software and is compatible with Snooper's very own tyre pressure monitoring system, Tyre Pilot. Tyre Pilot delivers alerts to any tyre pressure or temperature changes whilst driving, ensuring safety and fuel efficiency throughout any journey.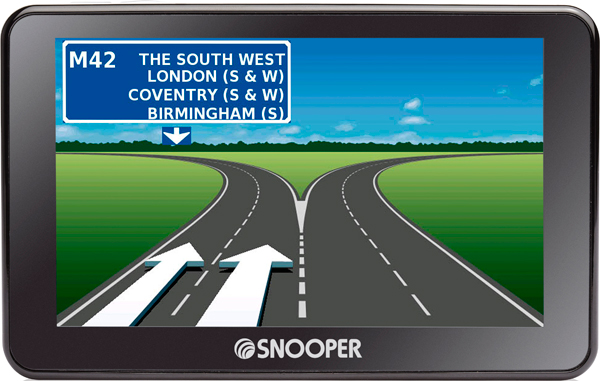 Complete with official comprehensive databases of camping and caravan sites supplied directly by The Caravan Club, The Camping and Caravanning Club and Alan Rogers"

By simply entering the height, weight and width of your vehicle, Ventura Pro S6800 will automatically calculate caravan and motorhome friendly routes avoiding low bridges, narrow lanes and other common hazards faced by caravanners, campers and motorhomes. However, not only will Snooper Ventura Pro S6800 route you around common hazards and restrictions faced by caravan and motorhome drivers but Ventura Pro will also guide you along the most economical route, saving you time and money through improved fuel consumption.

Perfect for any road trip, camping weekend or summer holiday. Ventura Pro S6800 is loaded with information on over 24,000 campsites and motorhome stopover destinations in the UK and Europe. In fact Ventura Pro includes camping and campsite information in 31 countries, more information in more countries than any other sat nav on the market. Ventura pro includes official campsite databases supplied directly by The Caravan Club, The Camping & Caravanning Club, Alan Rogers, ACSI, BordAtlas and CamperStop plus many more. Simply choose the country or region you wish to visit and then select the facilities you require, such as a sea view, chemical toilet facilities, swimming pool, shops or restaurants, and Ventura Pro will display a list of campsites or stopovers that match your criteria. Select the campsite you want to go to and Ventura Pro will guide you safely to your destination.

The No1 choice of sat nav for caravan and motorhome owners.
Ventura is the most comprehensive range of portable caravan and motorhome sat nav system designed specifically for caravans and motorhomes on the market. All Ventura satellite navigation systems use Here® Maps for Life (Formerly Navteq) transport data at their core, but are further enhanced with 1000s more attributes combining to give far more cover of hazards and restrictions on more roads than any other sat nav system on the market.

Ventura Pro S6800 - What's new?

Tyre Pilot compatible.
For safer and lower cost motoring, Ventura Pro S6800 is compatible with our latest driving aid, Tyre Pilot, a tyre pressure monitoring system. Display the pressure and temperature of your vehicle's tyres on screen with the added benefit of audible alerts to pressure drops and abnormal temperature increases. Tyre defects contribute to over 3% of all vehicle accidents and are the main fault attributed to a vehicle incident. Monitoring your vehicle's tyres whilst driving and ensuring they are fully inflated could save you up to 10% in fuel charges, extending tyre life by 35% and reduces the chances of an accident or blow-out.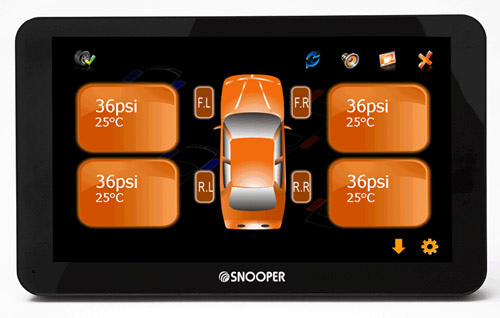 FM transmitter.
Enjoy Ventura's award winning navigation through your vehicles speakers with the built-in FM transmitter. Now it's even easier to hear turn-by-turn navigation, allowing you to concentrate on the road ahead.

New Alan Rogers rich campsite data.
Launching with the Ventura Pro S6800 is our new partnership with Alan Rogers Travel. Alan Rogers publish the market leading campsite guides, trusted and renowned among caravanners and motorhome owners since 1968. All new Ventura satellite navigation devices will now include rich campsite content from Alan Rogers as standard. So simple to use, just select the Alan Rogers icon, pick the country, region and campsite required, and your Snooper Ventura device will display detailed rich campsite data and navigate you there safely.

Large 7" LCD touch screen.
For clearer and easier navigation, S6800 comes with a built-in 7" LCD touch screen display. This is enhanced with improved screen resolution, allowing drivers to quickly see the approaching junction or lane guidance display.

The Caravan Club, The Camping & Caravanning Club and Alan Rogers.
Snooper Ventura now also comes with complete lists of The Caravan Club campsites, The Caravan Club Approved campsites plus The Camping & Caravanning Club campsites and Alan Rogers - all preloaded so that you can search and navigate straight to them at the touch of a button!

Now includes campsite, camper and motorhome stopover information supplied by ACSI, BordAtlas and Camperstop!

Select the facilities you require from the built-in ACSI, BordAtlas and CamperStop databases then search and navigate to one of 24,000 campsites and motorhome stopover sites across 31 countries across Europe. In many cases Ventura will even show you a photograph of your chosen campsite before you depart..

New and improved mapping.
All Snooper Ventura sat nav units utilise the latest street level mapping supplied by Here® Maps for Life.

Junction view.
Full screen images of main motorway junctions are displayed in advance to help you navigate your caravan, camper or motorhome more safely through motorway junctions.

Lane guidance.
Specially formulated caravan, camper and motorhome lane guidance software provides advanced notice of which lane or lanes to use when approaching junctions for safer touring.

My Speed®
The speed limits of virtually every road across Europe are clearly displayed on your Ventura Pro S6800 at all times. Choose between speed limits for cars and advisory speed limits whilst towing a caravan, campers and motorhomes. In addition, My Speed® can also be set to alert you if you accidentally exceed the speed limit at any time, keeping your licence safe and reducing your chances of receiving a speed ticket.
Your route.
Create and save your own bespoke routes. Use the map view to select the roads you would like to travel on or search road by road. Use 'Your route' to build your own personal, tailored routes, perfect for caravan or motorhome touring.

Point of interest 'corridor' search.
Choose to search from our extensive list of Point's of Interest using our new 'corridor' search facility. The 'corridor' search function enables you to search specifically along your pre-programmed route.

New and improved menu display.
Ventura Pro S6800 now includes a completely new and updated menu design. Brighter, stylish and sleek.
FREE Ventura operating software updates!
At Snooper we understand the difficulties of fast moving technologies. No sooner have you purchased a new PC or Television and it's already out of date, that's why we offer free software* updates. As Snooper Ventura technology get's better and better you can keep up, knowing you have always got the most up to date satellite navigation system on the market!

*System software only. Does not include Here® Maps for Life map updates.
Here™ Maps for Life street level mapping.
Recognised as the industry leader in digital street level mapping, Ventura Pro S6800 uses Here® Maps for Life data. Ensuring you are taken seamlessly from A to B on the best possible caravan friendly route. Snooper Ventura also includes full postcode search for these countries

UK• Ireland• France• Spain• Portugal• Italy• Austria• Switzerland• Belgium• Holland• Luxembourg• Germany• Denmark• Norway• Sweden• Finland• Poland• Estonia• Lithuania• Czech Republic• Latvia• Liechtenstein• Hungary• Romania• Slovakia• Slovenia• Serbia• Montenegro• Croatia• Turkey• Greece• Albania• Bosnia & Herzegovina• Bulgaria• F.Yugoslavia Rep.of Macedonia• Russia
THE AURA™ ADVANTAGE! THE IMPORTANCE OF VERIFICATION - All speed camera databases are not created equal.

Unlike AURA™, many other GPS speed camera databases rely largely on locations provided by hobbyists who might not be able to tell a speed camera, speed trap or a red light camera from a traffic flow camera or a surveillance camera. These speed camera databases could result in annoying false alerts, which could lead you to start ignoring even legitimate alerts - defeating the point of having a speed camera alert system in the first place.

Other speed camera databases are not updated every day, and they also limit how often you can download updates. As a result, devices using these camera databases are not as up-to-date as they could be and are likely to miss alerts.

In contrast, Snooper has assembled a professional team that devotes every working day to verifying each and every speed camera and high risk zone that goes into the AURA™ speed camera database.

If you're considering a GPS database to reduce your risk of an unintended speeding ticket or accident doesn't it make sense to go with the database—and the company—that reduces that risk the most?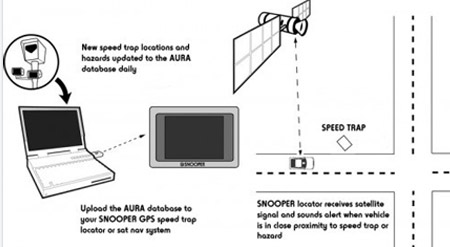 Key features:
Ventura Routing Software
TMC traffic information technology
Tyre Pilot Compatible
Wi-fi Capable
Junction View
Lane Guidance
My Speed - speed limits
Your Route - calculate your own bespoke routes
Multi-route planner
Route Timer
User POIs - upload and share POIs with other users
Navigate by junction number
Navigate by co-ordinate
Navigate by Easting & Northing
Bluetooth handsfree
MP3 player
7" full colour LCD touch display
3D Direction indicators
Built-in TRIG RF (CSR) GPS antenna
Turn by turn voice instructions
Built-in rechargeable battery
'One touch' Home & Office route planner
2D & 3D map views
A choice of different screen colours
Extensive list of Points of Interest

Technical specification
Processor (CPU) SiRF Atlas VI processor 800mHz
OS WinCE 6.0
Memory 256MB (SDRAM)
Memory Card Micro SD Card upto 32GB (included 4GB Uk or 8GB EU Mapping)
Internal Nand Flash Memory: 4GB
GPS Receiver High Sensitivity Module Receiver
GPS Model Name: TriG RF Lite (CSR)
Frequency: 1.575GHZ
C/A CODE: 1.023 MHZ chip rate
Channels: 32 Channel
Tracking Sensitivity: -165dBm
Positioning accuracy: 10m, 2D RMS 5m, 2D RMS, WAAS enable
Speed: 0.1m/s
Data update rate: 1HZ
Re-capture time: Average 1s
Hot start-up time: Average 2s
Warm start-up time: Average 32s
Cold start time: Average 35s
Maximum Positioning Height: 18,000m
Maximum rate: 515m/s
Acceleration: < 4g
GPS Antenna Built-in passive ceramic antenna
LCD Display Display size: 7"
Display Resolution: 800x480px
16:9 TFT LCD
LCD Brightness ›= 300NIT
Bluetooth Class2 BLUETOOTH
Chipset: MT6611 Bluetooth specification 2.1 + EDR
Wifi: Yes
FM Transmitter: Yes
AV-in: Yes
USB: USB2.0 Device (Mini Port)
Frequency range: 2402MHz~ 2480MHz
Sensitivity: -90DBm
Transmit Power: 4DBm
User Interface Touch Screen & 1 Power/Menu Button
Speaker: Built-in Loud Speaker 3 Watt
High-fidelity stereo 16O or 32O headphone jacks (f 2.5)
Microphone 40dB
Battery Li-ion battery 1800 mAh
Power 12-24V DC OUTPUT: 5.2V DC 1.5A
Current 400-450 mAh 60 mA (4.2V) (Normal) in Operation
800 mA (4.2V) (Normal) in Charging
800 mA (4.2V) (Normal) in Operation & Charging
Operating Temperature range. -10°C.~ +60°C.
Storage Temperature range. -20°C.~ +70°C.
Operating Humidity range. 45%. ~ 80%RH
Atmospheric pressure. 860MBar . 1060Mbar.
What's in the Box?
1 x Snooper Ventura S6800 Portable Satellite Navigation Unit
1 x In-Vehicle Charger with built-in TMC Antenna (3 metres length)
1 x Windscreen Bracket
1 x Dashmount Disc
1 x Hard Carry Case
1 x CD ROM inc PDF Instruction Manual
1 x USB Cable
Dimensions W:182mm x H:109mm x D:19mm
Screen Dimensions W:155mm x H: 86mm (7" Diagonal)
PC System requirements: Windows Vista, Windows 7, Windows 8
Ventura Pro SC68000
Ventura Pro SC6800 Compatibility Chart

Car Model
Year
Radio Description
Notes
All vehicles
If you are unsure about the suitability of this product please contact us via the ask us about this item link at the top of this page or telephone us and we will gladly assist you.
Plug n Play device, no special installation required.
How does it work?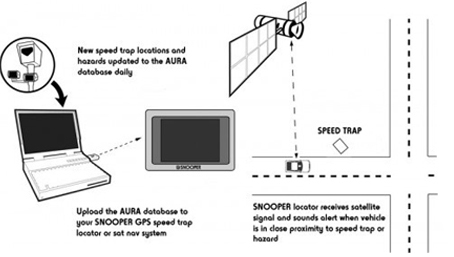 Related Products
Snooper Pro S6800 Snooper Truckmate Pro S6800 is an advanced satellite navigation system that is ..
Ventura Pro SC5800 DVR NEW Ventura SC5800DVR. 5" widescreen LCD with built-in DVR and Tyre P..