TRACKER Plant inc. Nationwide Installation
Brand: Tracker

Product Code: Tracker-Plant

Need any more information?
Ask a question
---
---
TRACKER Plant
TRACKER Plant is a ground-breaking new system that combines fleet tracking capabilities with TRACKER's award-winning stolen vehicle recovery system. Designed specifically for plant owners and hirers, the new TRACKER Plant allows you to monitor your plant machinery usage on and off-site as well as benefiting from TRACKER's ultimate security system in the event of theft.
Key Features:
Features GPS, GSM & VHF technology
Monitor plant machinery usage on and off-site
Check engine running hours against contracted usage
Verify fleet location and movement
Configure service intervals alerting you when a service is due
Receive Geofence breach alerts
24-hour TRACKER Control Centre Support
Installed by an Approved Engineer
Thatcham Approved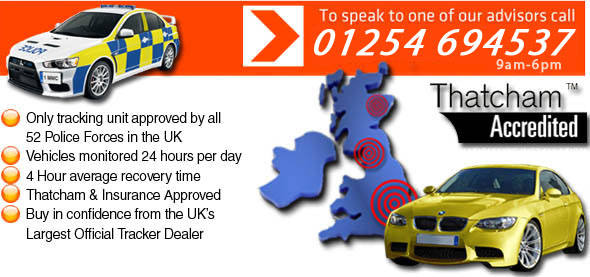 Featuring GPS and GSM technology, the TRACKER Plant gives plant owners a new level of control over their fleet machinery. Proven to withstand harsh plant usage, the robust and waterproof unit reports real time information about plant usage including arrival/delivery times, engine running hours and service reminders. Summary reports are e-mailed weekly containing clear and concise plant data. The system also allows owners to set a location radius (otherwise known as Geofencing) alerting them if plant equipment is moved outside of the perimeters.

In addition to the fleet tracking capabilities, the TRACKER Plant includes TRACKER's market leading stolen vehicle recovery system. Every year, more than 95% of plant equipment is stolen year on year* but with the TRACKER Plant, you can significantly increase the chances of recovery if your plant equipment is stolen. Featuring TRACKER's latest VHF radio technology, this clever tracking system works like an electronic homing device, sending silent signal to the TRACKER 24-hour Control Centre and Police, leading them directly to the exact location of the stolen vehicle. The system is also Thatcham approved, offering added quality assurance and the possibility of an insurance discount.
| | |
| --- | --- |
| | *Requires anual subscription £189 per year. You may instead purchase a one time duration subscription for *£389. Both options are via direct debit with TRACKER. |
*3 Year subscription only
TRACKER Plant
Compatibility

Vehicle
Description
Notes
Cars and Plant Equipment
This is an entry level tracking device. We also recommend Tracker Monitor or Locate for cars and TRACKER Plant.
1
| | |
| --- | --- |
| | 1. TRACKER will arrange for a recovery company to collect and return your vehicle to you. This service is only available in mainland Great Britain. |

If you are unsure about the suitability of this product please contact us via the ask us about this item link at the top of this page or telephone us and we will gladly assist you.
Price includes full nationwide installation at your home or workplace
An installation request for your Tracker will be passed to our booking team, in which case one of our agents will contact you to arrange an appointment.

We aim to have an engineer attending site within 5 working days (mainland UK only), we will dispatch the Tracker direct to the you via courier, after installation you will be required to complete and post the accompanying paperwork to Tracker as soon as possible. The information you supply to Tracker will include details of the vehicle, contact numbers and bank details to activate Direct Debit to cover subscription* costs.

We will contact you during our office hours Monday to Friday 9am – 6pm, if you have a preferred time slot please indicate during online purchase and we will do our utmost to accommodate you.
| | |
| --- | --- |
| | *Requires anual subscription £189 per year. You may instead purchase a one time duration subscription for *£389. Both options are via direct debit with TRACKER. |
*3 Year subscription only