VISEEO Mercedes OEM Bluetooth Handsfree - New MB-4+ Bluetooth adaptor
Brand: Viseeo

Product Code: VISEEO-MB-4+

Need any more information?
Ask a question
---
1 Year Warranty

Easy Returns
---
VISEEO Mercedes MB-4+ OEM Bluetooth adaptor with 5v USB charging Port
The Viseeo MB-4+ replaces the MB-2, and has many new software and hardware improvements. The MB-4+ is now powered by a Bluetooth module from Parrot, the industry leader in Bluetooth technology. The MB-4+ also features a clever multiple pairing mode, which allows up to 4 phones to be paired at the same time. You can easily switch between which phone to use with the car kit by the press of a single button. The MB-4+ also features USB charging which will allow you to charge any mobile phone via a USB charger.

Once paired, your phone will automatically connect everytime you turn the ignition on. When a phone is connected and in use the MB-4+ will mute the radio system and the conversation will be conducted through the cars existing speakers and microphone.

| | |
| --- | --- |
| | |

Using the MB-4+
The ViseeO MB-4+ is designed to work in all Mercedes vehicles with the UHI (or MHI) connector. You must have this connector in order to use the MB-4+ . The UHI connector is generally found in cars made 2005 onwards, however can be found in earlier cars. The MB-4+ simply clips onto the UHI connector in your car and you are ready to go. The UHI connector can be found in the centre arm rest of your car or sometimes on the dashboard.

Sometimes the UHI connector may be under a black plastic cap, or it may have a detachable phone cradle from Mercedes connected to it. Once this has been unclipped, the MB-4+ will plug straight into the UHI connector.
A photo of the UHI connector can be seen in the compatibility section.
Classic features
Like its predecessor, the MB-2 Bluetooth upgrade adaptor, MB-4+ is free installation device. Simply plug MB-4+ into the UHI connector located under the front armrest and you are ready to make a call via Bluetooth. MB-4+ will automatically upload phonebooks from your mobile phone into Mercedes Comand console. You can dial out or receive a call simply by pressing the buttons on the Comand console or the multi-function steering wheel.

Premium functions
MB-4+ uses the new CK5050+ Bluetooth module supplied from Parrot, a leading Bluetooth handsfree company based in France. This particular module will equip the MB-4+ with extremely fast phonebook sync performance, excellent phone compatibility and brilliant sound quality.

MB-4+ has also added a Bright OLED Screen like its premium brother MB-3 that not only allows us to design a simpler user interface for a smooth operation but also allows us to add more features to it.

The MB-4+ comes with a 5V Charging Port that enables you to charge the battery of your phone or iPod or any other devices that can be charged via a computer USB port.

With the MB-4+ you can now pair up to 4 phones and each holds up to 1000 address book entries and total up to 4000 entries.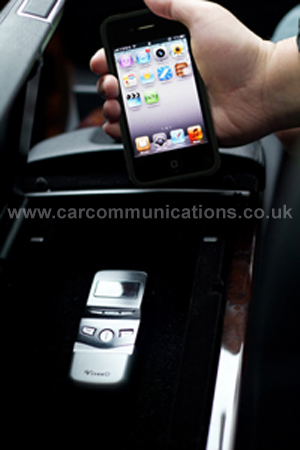 ViseeO MB-4+ Features:
Install it yourself - just clips in!
Phonebook transfer for each paired mobile/cell phone
Compatible with most Bluetooth mobile/cell phones
Steering wheel control integration where fitted
Comand keypad control
Phonebook displayed on the Mercedes screen
Multiple phone memory - pair up to 4 phones each with its own memory
Dashboard display in instrument cluster where fitted
Microphone volume control to prevent echo
Privacy feature - transfer calls to handset
Voice dialing including Siri support with compatible mobile phones
Maintains call logs
Clear call history feature
Object Push Profile for sending contacts when Auto-Sync is not possible
Includes full manual with instructions
Includes software update cable + charging cables
Full 12 Month Warranty
Brand new features with totally new experiences for the MB-4+:
Quick Switch for Paired Phones is a new feature which allows an instant switch to connect other paired phone simply with one click of a button. You can tell which phone is in connection from the Comand console screen.
SYNC Now Button is a short-cut command that allows you to sync phone's contact at anytime with one press of a button.
Bluetooth PIN Selection let you select a default pass code for pairing with MB-4+. This function is particularly useful for phones that run Android 2.3.1 such as Samsung Galaxy S2 which requires PIN to be set to 0000 in order to get connected with a Bluetooth device.
Keypad Control is another innovative feature that enables you to control some of MB-4+ functions using the Mercedes console keypads instead of having to open the front armrest compartment and pressing the actual button on MB-4+. The current available command that can be controlled from the console buttons is the Quick Switch for Paired Phone and the SYNC Now features.
Activate Siri Assistant for iPhone users from the Mercedes Keypad - use to send messages, check emails, and much more!

ViseeO MB-4+ Hardware Specification:
Bluetooth upgrade adaptor for German luxury vehicles (see compatible vehicle list at the bottom of this spec sheet)
Bright OLED display
Powered by extremely powerful CK5050+ Bluetooth Module
Bluetooth 2.1 (Downwards compatible with 2.0/1.X version) + EDR
Multiple pairing up to 4 phone devices
HSP (Handsfree Profile)
Super fast phone synchronization
OPP (Object Push Profile) for manually upload a phonebook
Display 1000 or 650 phonebook entries (in alphabetical order) depending on your console
Digital signal processing for noise reduction and echo cancellation
SBC decoder/encoder for Audio Connectivity via Bluetooth
Microphone volume adjuster
5V charging port compatible with most electronic devices that can be charged via USB port
Multiple language platform including English, Spanish, French, German, Italian, Dutch, and Norwegian (Not yet available)
Bluetooth Firmware upgradeable via Bluetooth
Operating software upgradeable via upgrade cable (included)
Contents of Package:
Bluetooth adaptor
5V micro-USB charging cable
User Manual
12 month warranty
Software update cable
Authorised ViseeO Distributor: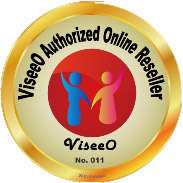 We are an authorised ViseeO distributor which can be confirmed with the manufacturer and is recognised by the unique logo. We can therefore offer unrivalled technical support and our stock is genuine UK and Europe stock. We also run the website www.viseeo.uk.com so you can be assured of our dedication and experience with ViseeO products.
Our staff are available to assist either by telephone or email with any questions you may have. Unlike other sellers, we are also able to offer a 12 Month Manufacturers Warranty, meaning that if your ViseeO unit develops a fault at any point during your first year of purchase you will be covered.
| | | | | | | |
| --- | --- | --- | --- | --- | --- | --- |
| Make | Model | Varitions | Radio | Year From | Year To | Notes |
| Mercedes-Benz | All Models | | | 2004 | 2009 | See note(s) below |
This unit works in all Mercedes cars with a MHI or UHI (Universal Handy Interface) connector (generally in cars made after 2004). The connector is usually found in your Mercedes armrest or on the dashboard. If you have never used a cradle then the connector will have a plastic cap over it.
Where you have an existing cradle, simply unclip and remove it. Plug in the MBU-4, pair your mobile phone and you're ready. Once installed, just pair the device in less than 30 seconds and you'll have clear, echo free Bluetooth hands free communication with the phone of your choice. For iPod, MP3, A2DP music playback please purchase the MB-3 adapter instead
Tested with the latest handsets including the Nokia N/E series, Blackberry, iPhone 3G/3GS,4/4S, HTC, Android, Samsung S3, Sony Ericson and Motorola
Simple "Plug n Play" installation. Simply plug into the UHI connector and pair your phone to the adapter Bluetooth handsfree - its that simple. For iPod, MP3, A2DP music playback please purchase the MB-3 adapter instead.
Product Class
Product Type
Bluetooth Hands Free