Bluetooth & Handsfree Buyers Guide
Bluetooth Handsfree Options


Factory Retrofit Bluetooth Systems
We now offer original factory fit Bluetooth hands free kits, which work exactly as if your vehicle where fitted with the telephone option when it was originally built. The picture below shows the display in an Audi bluetooth hands free kit after installation, Typical to Audi Q5, Q7, A3, A4, A5, A6, A8 and R8.
1
| | | |
| --- | --- | --- |
| | | |
These systems will enable you to answer a call using your steering controls as well as browse your phone contacts via your drivers information display. Sound from the car speaker system giving perfect quality audio.We also offer factory style system that work exactly like the original system without any compromise. Sometimes these can have better features like A2DP music streaming, they can be slightly cheaper too. The choice is yours at the end of the day.
Retrofit Bluetooth systems are currently available for VW, Audi, BMW, Mercedes, Seat, Skoda, Peugeot, Citroen, Ford and most Porsche. If your car isn't listed, contact us and we'll help you find the right hands free bluetooth kit for your car.
Calls can be answered and contacts navigated using your original steering controls as illustrated below.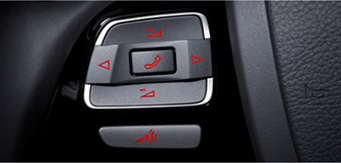 We can install these products either at our workshop in Blackburn Lancashire, or we can install on your doorstep as we offer a full nationwide installation service. Prices start from £329 including fitting. Please browse our website or call for pricing and availability for your vehicle.
Aftermarket Bluetooth Systems
There are many situations where it is simply not possible or cost effective to retrofit a factory Bluetooth system. In these cases Car Communications offer a range of aftermarket Bluetooth kits made by leading brands including Bury and Parrot. These bluetooth kits offer a range of innovative solutions to hands free calling and can also include iPod connection.
The reliability and functionality of a hands free system is greatly dependant on the way it has been installed, that's why at Car Communications we fit them a little differently to most of our competitors.
Firstly, we use a dedicated vehicle specific wiring harness (Autolead also referred to as a SOT lead) that requires no soldering no-cutting or drilling of the dash. The SOT lead integrates the sound from the hands free kit to the audio system of the vehicle, giving clear digital sound. Our 'Plug and Play' installation won't damage your vehicle or invalidate its warranty. Display screens are only fitted after we've spoken to you, and you've told us where you want your screen fitted. We will secure thescreen in position without damaging the trim or dashboard. We will ensure it is safe and will not affect the airbag system in any way.
The microphone will be mounted at the top of the A pillaror in the centre by the rear view mirror, where it can be used by both the driver and the passenger. The "A pillar" trim will be removed so the cables can be secured behind the air bag, not just tucked behind the rubber, where airbag deployment can be seriously disrupted in the event of an accident.
Lastly, because we have been supplying and installing car accessories for over 25 years, so we are your logical choice when you need your hands free bluetooth kit installing.
Here are a just a few of our favourite and best selling bluetooth hands free kits.
Introducing the first Bluetooth hands free car kit with full LCD Display…..
When you get in your car, you simply start the engine and the kit immediately connects to your mobile phone. Thanks to the voice recognition feature of the Parrot hands free car kit, just speak a name and the kit automatically dials the number.
The Parrot hands free kit displays your mobile phone's information on the LCD screen : incoming call number, phonebook, last number called, and so on. The ingenious screen can be installed wherever you want it to be on the dashboard and provides you with the optimised viewing angle for safety, greater comfort and readability.
Installed in your car for just £189 inc VAT.
A full system dedicated to conversation and music in car with Colour TFT 2.4' Screen. Made for iPod & Works with iPhone …..
The Parrot MKi9200 is a Bluetooth hands-free system with a 2.4-inch high-resolution TFT colour screen. A wireless remote control can be positioned on your steering wheel or dashboard and gives you control of all the functions of the MKi9200.

 In addition to conventional telephony functions - pick up, hang up, dual calls - the Parrot MKi9200 boasts cutting-edge telephony functions: automatic phonebook synchronisation, training-free multi-speaker voice recognition, speech synthesis of the names in the phonebook, contact management (up to 2 000 per phone), call records, and so on.
Its colour screen displays the phonebook, caller ID and photo, phone information and user settings. The menus and phonebook are also audible for easier, more intuitive use.
The Parrot MKi9200 is also perfect for listening to your MP3 music when you're driving. Supplied with a specific cable, it is compatible with all music sources, such as iPods, iPhones, USB flash drives, Bluetooth stereo (A2DP) phones, MP3 players and any other analogue players. The Parrot MKi9200 also features an SDHC-compatible SD card reader on the side of the screen.
The MKi9200 displays the full playlist along with the name of the artist, the title and even the corresponding album cover in colour when available on the iPod, iPhone or USB flash drive.
Music is delivered through all the car's speakers*, giving the driver and passengers exceptional sound quality and the breathtaking Virtual SuperBass and Sound Spatializer effects.
Installed in your car for just £229 inc VAT
Bury 9058 Touchscreen Bluetooth
The all new Bury 9058 Touchscreen has a clear black display which provides you with caller information and device status. Superior voice audio through your vehicle speakers and a charging solution for your device are also provided with this package.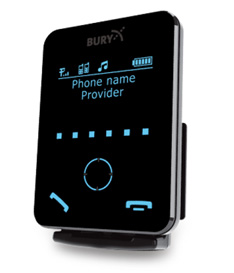 Illuminated sensor keys for call handling and volume control
Display of the caller's name, telephone number and further information on the display
Battery charging function for optimumconvenience of use, scope of delivery includes Micro-USB charging cable
Multipoint-function simultaneous connection of two mobile phonesto the system is possible
Voice Tags – access to voice tags stored on mobile phone
Automatic radio mute function when calling

Installed in your car for just £199 inc VAT
Parrot ASTEROID Mini
The Parrot ASTEROID Mini is a hands-free multimedia system that fits in all vehicles in addition to an existing audio system.
Useful APPS - Discover and download connected APPs from Google Play store or from the ASTEROID Market
Connect to the world - The ASTEROID Mini connects to the Internet on the move in many different ways
Voice activated music search - Push the dedicated button, say an artist or an album name and then enjoy your music. It's magic!
The largest music connectivity - Access all your music: iPod/iPhone, USB, SD card, Bluetooth, line-in... and also from music APPs.
Bluetooth hands-free calling - Automatically synchronize your entire phonebook, initiate calls using advanced voice recognition.

Installed in your car for just £249 inc VAT
Bury UNI System 8Take&Talk Car Kit
The Bury Uni System 8 Take and Talk Bluetooth Hands Free Car Kit is still the most popular and most purchased hands free car kit. This is based on the UNI system 8 mobile-specific snap-in cradle. If a cradle is not available for your handset then you can use the universal Bluetooth cradle which is compatible with almost every smartphone. Superior voice audio through your vehicle speakers,an antenna to boost the reception signal and a charging solution built into the cradle are standard with this package.
Cradles available supporting over 600 mobile phones including smartphones
Perfect voice output thanks to the filtering out of driving noises and the use of vehicle's sound system
Automatic radio mute function when calling
Possibility of connecting an external GSM antenna
Built-in charging function for your mobile phone – guarantees unlimited talk time in your car

Installed in your car for just £239 inc VAT
Still not sure which Bluetooth Hands Free Kit is right for you? Contact us now on 01254 694537, and tell us what you need.