Campervan and Motorhome Audio Visual SatNav Multimedia Systems
Campervan and Motorhome Audio Visual Satnav Multimedia Systems
Let Car Communications introduce some cutting edge Audio / Visual Entertainment Technology into your Campervan or Motorhome.
Car Communications stock a comprehensive range of Campervan and Motorhome dedicated Audio Video (AV) stereo Entertainment Systems. We offer the best quality brands, such as Pioneer, Alpine, Kenwood and Sony. We also offer Nationwide Installation of Audio and multimedia equipment and accessories.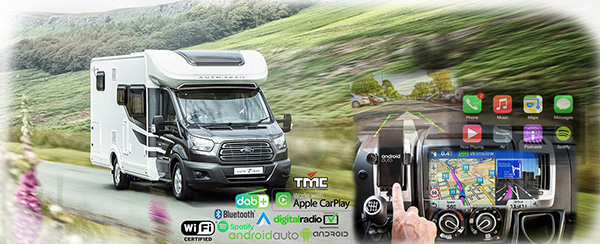 If you are looking to update your current Campervan stereo system or buy a new AV system for the very first time, we offer a wide range of multimedia Entertainment Systems that combine high quality audio and video with integrated smart navigation specifically designed to complement Campervans and Motorhomes. Whatever features you require, we've got it covered:
Satellite Navigation ( SATNAV)
WIFI, Bluetooth and USB
Apple CarPlay, Android Auto and Android Support
DAB and DAB+ Digital Radio
Spotify
You no longer have to carry large bundles of CD's and DVD's around with you on long journeys. You can play all your favourite music or video collection off your USB storage device or stream it directly from your latest smartphone. It's as simple as plug in your device, choose your favourite playlist and press play. All the major digital audio and video content formats are catered for. Some of our more advanced stereo systems even offer built in multicolour mood lighting to match your interior lighting. You can also say goodbye to the bundles of cables hanging from the dashboard, the latest technology built into the current multimedia headunits takes care of the connectivity via WIFI and Weblink.
We also offer a wide selection of accessories to complement existing or newly purchased multimedia Entertainment Systems.
Speakers and Subwoofers
Amplifiers
Front and Rear View Camera ( RVC )
Trackers and Immobilisers
Caddys and conversion kits
Facia Panels
Cables and Leads
Aerials
If you want to keep an eye on the rear of your campervan or motorhome whilst you're in the driving seat. No problem. We have this covered too. We have a wide selection of stereo headunits which have built in camera ports. All that's required is your choice of camera. Select your requirement from the options list, once you've selected your chosen AV Entertainment System.
Our Campervan and Motorhome Stereo Entertainment Systems and accessories are competitively priced. We have a nationwide team of friendly qualified and experienced installation engineers who can fit your newly purchased equipment at your home or work place at a time which suits you. Providing you with a peace of mind that your newly purchased AV Entertainment System is neatly installed into your Campervan or Motorhome and fully operational. For added peace of mind, all of our installations are guaranteed.
We can offer a Campervan Stereo Entertainment solution to suit all budgets and help make those long journeys a little more relaxing...
Not sure which product is right for you? Give our experts a call on 01254 694537 and together we can enhance your In-Campervan audio and video experience.
Showing 1 to 13 of 13 (1 Pages)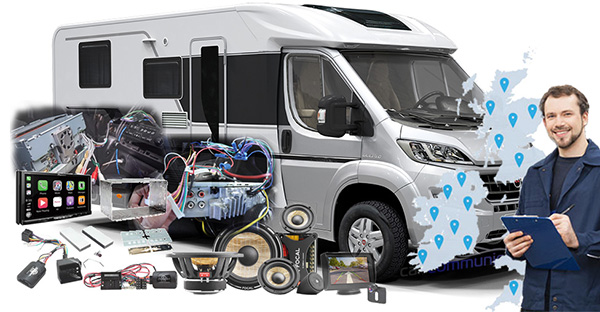 Enjoy the peace of mind that comes with a professional, risk-free installation service by placing your trust in a certified installer. Car Communications are certified installers.