Why Should I Upgrade To Digital Audio Broadcasting (DAB)?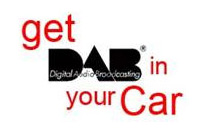 Digital Audio Broadcasting, as noted in our DAB Digital Car Radio Guide, is the future. Despite the rise of music streaming from smartphones and music devices, broadcast radio remains a popular form of entertainment in cars.
The car radio is an easy-to-use, essential piece of equipment for all drivers whether you are commuting 2 hours a day or just nipping 10 minutes down the road to the local shop. And chances are you would miss it a lot it if was absent from your dashboard.
But one thing is certain- it needs to be compatible with DAB/DAB+ if you want to continue listening to the music that you love. What's more, DAB promises a wider choice of stations and better signal quality.
Here are 5 of the main reasons why you should upgrade to a DAB digital car radio:


1. DAB switchover
By the end of the decade, the UK government plan to make sure all radio is switched over to DAB. In 2009, the WorldDMB Forum and the European Broadcasting Union issued a press release stating that they wished to achieve a "unified digital radio market" in Europe.
So there will come a point that you need to upgrade in order to continue listening to your favourite station. Why wait until the last minute and find yourself rushing around to find a new radio at the eleventh hour? Plan ahead and upgrade now. Don't get left in silence.
Norway have already had their radio switched over to DAB.
2. Digital-only stations

You'll find that most radio stations are already broadcasting on DAB and there are a number of digital-only radio stations like BBC Radio 6 and Planet Rock that offer exclusive content. If you want to be part of the 'elite' club that has access to exclusive content, you need to upgrade from FM/AM.


3. Better sound quality

DAB offers crystal-clear sound without the hiss or crackle of old radio that is common with FM/AM. After all, it is a modern replacement for the older technology! AM and FM radio are analogue technologies. Background noise and interference is common with these mediums and it continues to spoil radio listening; so if you don't want your radio to distort during your favourite song, go digital.


4. Great data display

One of the fantastic benefits of DAB is that it provides greater data display like the station you're listening to, the artist and the track information. A good example of this is the DABmotion Universal In-Car Radio Converter. The adapter is operated wirelessly and messages are displayed on the screen of your in-car audio system.
So next time you are driving along and find yourself saying, "I like this song, who sings it?"- you can simply look to your radio display for the answer.


5. Better flexibility

DAB is fast becoming a popular upgrade for car technology for the simple fact that it features modern name-based station search, so you no longer have to scan through the waves to find your favourite station. Don't spend hours trying to tune in your favourite channels- no scanning is necessary. What's more, some radios let you pause and rewind so there is greater flexibility in terms of consumer's needs.
Will UK digital radios soon be obsolete? We can't say for sure but one thing is certain, you don't need to buy a new car to get DAB radio on the move. If want to upgrade your radio system, Car Communications are the go-to-experts.
If you need some expert advice about going digital, give our friendly team a call on 01254 694537 or get in touch via our contact form. We are the leading specialists in state-of-the-art car communications and we offer a nationwide fitting service- it couldn't be simpler!