BMW DAB Car Radios & OEM Digital Car Stereos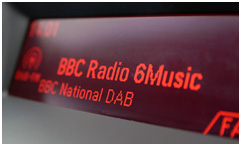 Access 100's of digital stations in your BMW by going digital
Enhance your in-car experience with a range of exclusive and award-winning stations, all rendered in perfect quality. By installing a DAB car radio adapter conversion kit or an aftermarket DAB stereo in your BMW, you can listen to all your favourite digital radio stations using digital technology rather than analogue.
Compared to older FM/AM wave based formats, DAB radio offers improved sound, more reliable reception and a greater range of stations. This digital technology is the basis for every DAB car radio adapter conversion kit or aftermarket DAB stereo that we stock for your BMW here at Car Communications.
In fact, we stock a wide variety of digital radio kits for all BMW models, including 1 Series, 3, 5, 6, 7, 8, M3, M5, X1, X3, X5, Z3, Z4.
So, if you're looking for a range of tried and tested BMW AutoDAB car accessories, you're in exactly the right place. As well as simply supplying these products, we can even install them at your convenience. You're just a few short steps away from converting your radio using our BMW in-car DAB stereo kit - and you can even take advantage of our nationwide fitting service!
Showing 1 to 10 of 10 (1 Pages)
A DAB car tuner offers many benefits including a wider selection of stations while on the move; exclusive digital-only content and clearer sound quality.
Upgrade your car AM/FM to DAB and you'll be able to listen to a superb selection of national, regional and local stations. From jazz and classic rock to classical and hip-hop, there's a digital station to suit every taste.
Choosing a digital car radio can be confusing, so use our handy DAB car radio buyer's guide to discover why you should upgrade to the next generation in digital radio.
And if you?re unsure how to fit it yourself, rest assured that you can get a first class installation service by fully accredited, reputable car radio installers with our help.
Click here for our full range of DAB digital car radios for all makes and models!
To get a comprehensive list of DAB radio stations please visit getdigitalradio.com.