Snooper Pro S6800 sat nav and speed camera location system
Brand: Snooper

Product Code: S6800 Syrius EU

Need any more information?
Ask a question
---
1 Year Warranty

Easy Returns
---
Snooper Pro S6800
Consistently at the forefront of GPS technology, Snooper are delighted to unveil our latest 7" satellite navigation device S6800, bringing together a wealth of driving aids into one brilliant device. Snooper S6800 brings together our award winning street level navigation plus tyre pressure monitoring and built-in speed camera detection for the first time on a Snooper sat nav.
7" LCD touchscreen
Tyre Pilot compatibility
Speed camera detection
Free lifetime map updates
Snooper Pro S6800 satellite navigation system with FREE Lifetime Map Updates. Includes a large 7" widescreen LCD, Tyre Pilot compatibility, Junction view, Lane Guidance, My Speed XL and of course Snooper's Award Winning speed camera detection technology. The most comprehensive detection technology around plus much, much more.
See more with the all new Snooper Pro S6800 sat nav and speed camera location system including a super-sized 7" widescreen LCD!

Snooper Pro S6800 car sat nav is the latest addition to the Snooper range and now with Tyre Pilot*, tyre pressure monitoring display onscreen and My Speed XL, alerting you to the speed limits at all times.
Snooper Pro S6800 has been designed to provide fast but economical routing and comes packed with all the features you would expect from a high-end satellite navigation system. The perfect partner for any road trip, Snooper Pro S6800 comes equipped with FREE Premium TMC traffic information, FM Transmitter to deliver navigation through your cars speakers and Bluetooth handsfree technology to allowing you to take calls safely without your hands leaving the wheel.

In addition Snooper Pro S6800 of course features Snooper's award winning speed camera location technology. Providing personal alerts of every type of speed trap and speed camera across Europe and enhanced by Snooper's My Speed® technology, displaying speed limits on virtually every road across Europe.

Snooper S6800 - What's new?

Tyre Pilot compatibility.
For safer and lower cost motoring, Snooper S6800 is compatible with our latest driving aid, Tyre Pilot, a tyre pressure monitoring system. Display the pressure and temperature of your vehicle's tyres on screen with the added benefit of audible alerts to pressure drops and abnormal temperature increases. Tyre defects contribute to over 3% of all vehicle accidents and are the main fault attributed to a vehicle incident. Monitoring your vehicle's tyres whilst driving and ensuring they are correctly inflated could save you up to 10% in fuel charges, extending tyre life by 35% and reduces the chances of an accident or blow-out.
FM transmitter.
Snooper S6800 has a built-in FM Transmitter and a larger speaker for improved audible navigational instructions. By utilising the FM Transmitter, Snooper S6800 will deliver superior street-by-street directions through the vehicle's built-in speakers, perfect for any larger vehicle.

My Speed XL.
The new Snooper S6800 includes our latest speed awareness aid, My Speed XL. Whilst the S6800 will display the road speed limit and your speed when navigating, if you're travelling routes you're already familiar with, select the My Speed XL software and receive the speed limit plus your current speed in large format. This aids drivers to quickly see the speed limit and their current speed, protecting their driving licence and keeping them free from hefty fines.
Large 7" LCD touch screen.
For clearer and easier navigation, S6800 comes with a 7" LCD touch screen display. This is enhanced with improved screen resolution, allowing drivers to quickly see the approaching junction or lane guidance display.

New and improved mapping.
All Snooper Pro car sat nav units utilise the latest street level mapping supplied by Here® Maps for Life.

Junction view.
Full screen images of main motorway junctions are displayed in advance to help you navigate your car more safely through motorway junctions
Lane guidance.
Snooper's specially formulated lane guidance software provides advanced notice of which lane or lanes to use when approaching junctions for safer driving.

Navigate by Junction number.
Search and navigate to motorway junction numbers using the updated 'Find by map' function including Junction numbers.

Your route.
Create and save your own bespoke routes. Use the map view to select the roads you would like to travel on or search road by road. Use 'Your route' to build your own personal, tailored routes, perfect for those day trips to family and friends.

Multi route.
Making a multi-stop journey can cause drivers huge headaches; What is the best route? Where should we stop first? Snooper S6800 will take away that headache and plan your multi-stop route accommodating up to 16 destinations at the press of a button. Using the multi-route icon, simply search and select the destinations you require by either postcode, city, POI or even favourites and S6800 will plot a route through each stop off. Want the best route available? Press the rearrange button on your S6800 and it will place the destinations into the most logical order, giving you the simplest and most cost effective route for your journey.
THE AURA™ ADVANTAGE! THE IMPORTANCE OF VERIFICATION - All speed camera databases are not created equal.

Unlike AURA™, many other GPS speed camera databases rely largely on locations provided by hobbyists who might not be able to tell a speed camera, speed trap or a red light camera from a traffic flow camera or a surveillance camera. These speed camera databases could result in annoying false alerts, which could lead you to start ignoring even legitimate alerts--defeating the point of having a speed camera alert system in the first place.

Other speed camera databases are not updated every day, and they also limit how often you can download updates. As a result, devices using these camera databases are not as up-to-date as they could be and are likely to miss alerts.

In contrast, Snooper has assembled a professional team that devotes every working day to verifying each and every speed camera and high risk zone that goes into the AURA™ speed camera database.

The AURA™ speed camera database is constantly updated, and can be accessed 24 hours a day, 7 days a week. AURA's reliability is backed up by Snooper, one of the most respected and trusted satellite navigation system and speed camera location manufacturers. Snooper has won dozens of awards for innovation and product performance and has been establised since 1979.

If you're considering a GPS database to reduce your risk of an unintended speeding ticket or accident, doesn't it make sense to go with the database—and the company—that reduces that risk the most?
How does it work?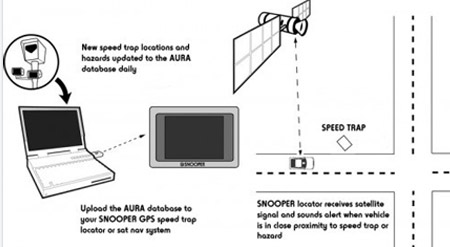 Snooper AURA™ will provide personal alerts of the following speed traps and hazards:-
Gatso & Truvelo Cameras
Watchman
MCS (Multi Camera System)
Speedcurb
SPECs average speed
Roadwork cameras
DS 2
Accident Hotspots
High Risk Zones* (Includes alerts to regular sites of Mobile Laser and Mobile Camera vans)
Temporary Gatso
Truvelo Cameras
Congestion Charge Cameras
Digital Cameras
Schools (optional)

As well as the UK and Ireland, the AURA™ speed camera database now offers Worldwide protection. Included in our system are locations in Germany, Holland, Belgium, Spain, Portugal, Switzerland, Italy, Austria, Luxembourg, Denmark, Norway, Sweden, Finland, Poland, Romania, Russia, North America, Canada, Australia, New Zealand and South Africa and is still growing.
Features include:
TMC traffic information technology
Junction View
Lane Guidance
My Speed XL - speed limits
Your Route - calculate your own bespoke routes
Multi-route planner
Route Timer
User POIs - upload and share POIs with other users
Navigate by junction number
Navigate by co-ordinate
Navigate by Easting & Northing
Bluetooth handsfree
FM Transmitter
7" full colour LCD touch display
3D Direction indicators
Built-in TRIG RF (CSR) GPS antenna
Turn by turn voice instructions
Built-in rechargeable battery
'One touch' Home & Office route planner
2D & 3D map views
A choice of different screen colours
Extensive list of Points of Interest
Dimensions W:180mm x H:112mm x D:15mm
Screen Dimensions W:155mm x H: 86mm (7" Diagonal)

PC System requirements: Windows Vista, Windows 7, Windows 8
Snooper Pro S6800 sat nav and speed camera location system
Snooper Pro S6800 Compatibility Chart

Car Model
Year
Radio Description
Notes
All vehicles
If you are unsure about the suitability of this product please contact us via the ask us about this item link at the top of this page or telephone us and we will gladly assist you.
Plug n Play device, no special installation required.
Product Class
Product Type
Speed Camera Detectors