Range Rover Reversing Cameras & Rear View Camera Kits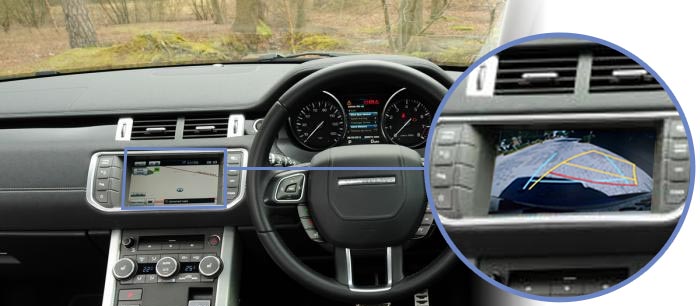 The driver's blindspot is a key factor involved in many accidents that occur while reversing. As you may know all too well, this is especially true if you're driving large vehicles like a Range Rover. A solid obstacle - such as a bollard - may be just outside your field of vision, or a mobile object (or even pedestrian) can enter this space just as you're reversing. The consequences can range from irritating to devastating, and it's exactly these sorts of scenarios that our Range Rover reversing cameras have been designed to avoid.
Most reversing cameras for Range Rovers switch themselves on automatically when you shift the vehicle into reverse, giving you a much clearer view of the area immediately behind you, and thereby helping you to avoid any dangerous or expensive accidents.
Here at Car Communications, we stock rear view cameras that can fully integrate onto a vehicle as if they were factory fitted. Whenever a genuine retrofit is not possible, we can supply high quality replica systems instead, or budget options consisting of a vehicle-specific camera and mirror monitor.
Showing 1 to 11 of 11 (1 Pages)
People do not always think about their visibility around the vehicle and can often walk into a driver's blind spot. By fitting a reversing camera to a vehicle the risk of hitting a bollard, another vehicle or safety of pedestrians is greatly reduced.

We sell genuine rear view camera systems that fully integrate into the vehicle like a factory fit option. Where genuine retrofit is not possible we can supply high quality replica systems. We also sell budget solutions which consists of a vehicle specific camera module and a mirror monitor.