Thinkware F790 FHD 1080p Dash Cam - GPS - WIFI - 32GB

Need any more information?
Ask a question
---
1 Year Warranty

Easy Returns
Recommended Add Ons
---
Sleek Detachable Design with Versatile Features
Along with upgraded Ambarella 1GHz Quad Core CPU, the Thinkware F790 Front facing camera provides FHD resolution (1080p), Super Night Vision, Built-in GPS, Built-in WIFI and Time Lapse during Parking mode to fully surveil the vehicle and Dewarping Video Technolgy for clear & crisp video recordings.
The optional rear facing camera provides FHD resolution (1080p) to capture high definition footage of what's happening behind the vehicle whilst you are driving.
WiFi connectivity for camera management by the THINKWARE Link app and firmware update,
Super Night Vision with HDR which reduces noise and enhances image quality in low light conditions, The F790 uses a combination of High Dynamic Range (HDR) and Noise Reduction technology to reduce noise and lens flare effects that typically affect nighttime footage.
Dewarping for both Front & Rear View Recording - Dewarp technology minimizes an optical distortion caused by the lens of the camera. It takes footage from a dash cam and corrects the original shape to view the full video image without distortion.
Safety Camera Alerts with automatic database update via the THINKWARE Link app,
ADAS alerts, including FVCW, LDWS, FVDS and low speed FCWS for increased driver safety,
Parking mode, including impact and motion detection, time lapse and ultra-energy saving mode giving up to 24 days duration
HEVC (High-Efficiency Video Coding) format compresses high-resolution videos 1.7 times higher than the Advanced Video Coding format, giving correspondingly longer video recording time
Video feed for the second channel, to drive an external monitor for DVS compliance or rear view camera applications
The mounting of the camera assembly on the windscreen is unique, with the cradle housing the GPS receiver being separate from the camera that slides into the mount. The cable connecting the power and rear camera accessories is a single flying lead coming out of the back of the cradle, making for a more permanent and professional looking installation.
MB100 Multiplex box & Additional Camera Options (Awaiting launch details)
(Separate additional mounting capabilities) The Mux box is compatible with the F200Pro, X700 and T700 LTE as well as the F790. This can share the additional optional rear camera feed with up to 4 rear cameras, for all round surveillance by a range of FHD cameras; internal, internal IR, external IR (for rear and side mounting) and streamlined side cameras, more suited to light commercial vehicles and passenger cars. Applications include convertibles, where internal rear cameras can't be mounted, taxi drivers who want internal surveillance as well as external, truck fleets that want to monitor driver behaviour as well as the outside of the vehicle and the ever-expanding fleet of delivery vans.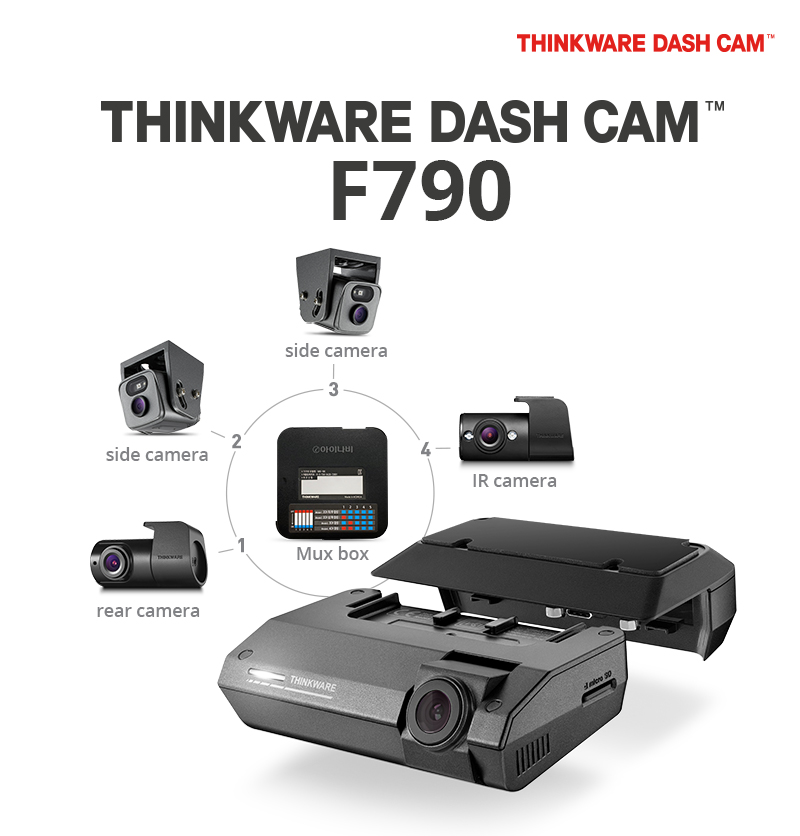 DVS or Direct Vision Standard
For commercial vehicles that weigh 12 tonnes and above, they must comply with the DVS standard if they want to drive in Central London, in a zone that stretches out to the M25 in places. The F790 can have a camera pointing down the side of the vehicle and a monitor can be switched on when the driver indicates left, providing the driver with a view down the side of the vehicle, to see if there are any cyclists or pedestrians that they need to be aware of. Failure to comply can attract a £550 per day fine.
Thinkware F790 Key Features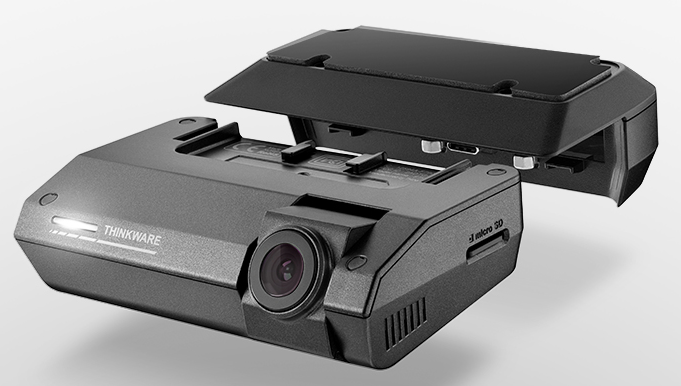 Detachable Design | Ambarella Quad-core CPU | High Dynamic Range | Dewarping Video Technology
High-Efficiency Video Coding | 1080p Full HD 2-Channel | Super Night Vision 3.0 | Energy Saving Mode 2.0
Time Lapse | 140° Wide Viewing Angle | Built-in Wi-Fi (2.4GHz/5GHz) | Built-in GPS | Safety Camera Alert
Road Safety Warning System (LDWS, FCWS, uFCWS, FVDW) | Mobile App | Windows/Mac Viewer
Mounting Solution With A Sleek Design
Thinkware Dash Cam Plugin offers a simple solution for mounting and dismounting your dash camwhile maintaining a sense of sharpness and sleekness in design. Using a C-Type Connector Cradle, it allows the dash cam main unit to securely mount onto the plugin mechanism and powers the dash cam main unit from the plugin mechanism itself.
Safe And Secure Connecting Mechanism
The dash cam can be neatly mounted onto the windshield as the dash cam main unit perfectly clips into Thinkware Dash Cam Plugin. Instead of using magnetic power connectors or screws, it uses a connecting mechanism embedded within the Connector Cradle for a secure and safe connection. This ensures that the dash cam records video footage properly and stays on the windshield in the event of a crash.
* Take caution when unplugging the dash cam main unit from the connecting mechanism as it is tightly fastened onto the main unit.
* Do not twist the dash cam main unit as this may cause damage to the connecting mechanism.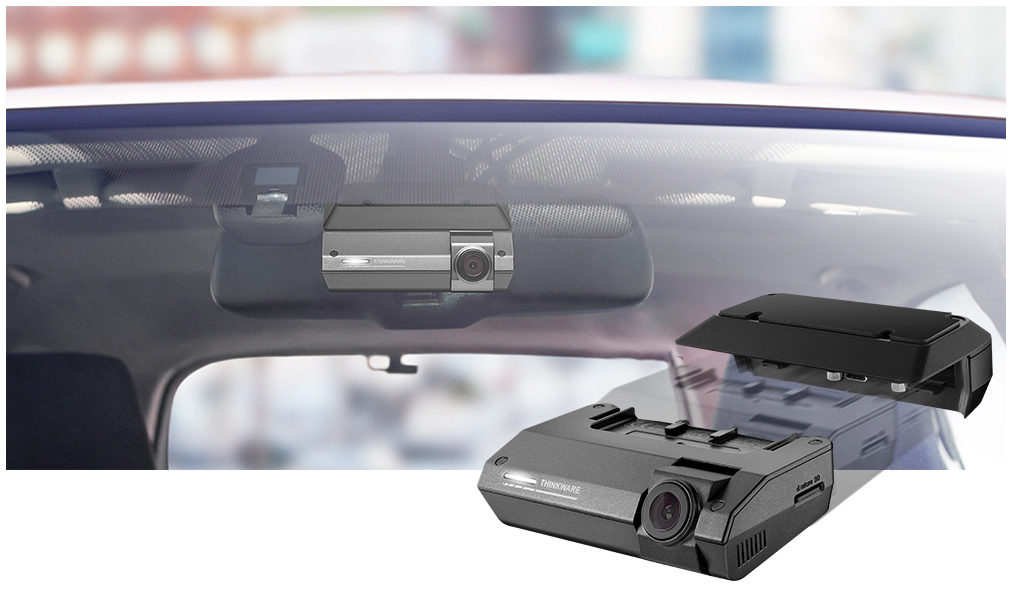 Clean Integration Of Power Cable And GPS Module
The power cable and GPS module are connected on Thinkware Dash Cam Plugin instead of the dash cam main unit. Therefore, it secures space around the main unit by removing the power connector and ports from the main unit.
This type of design reduces the risk of overheating as the power connector is separated from the main unit and integrated into Thinkware Dash Cam Plugin.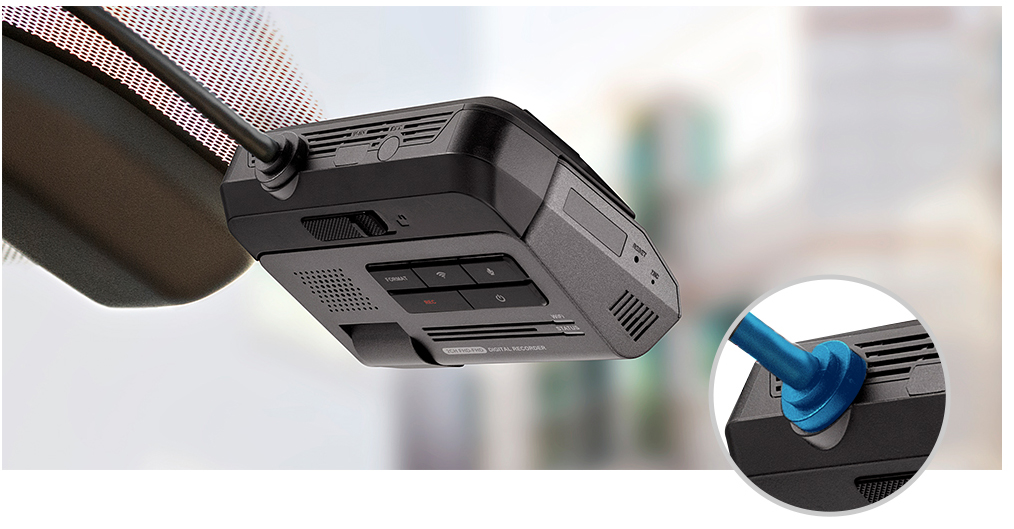 * Take note that the power cable and rear camera cables are integrated into one cable for the 2-channel package. * Hiding the integrated cable into the headliner for certain vehicles may require professional installation or precise technical work.
Secure Yet Adjustable And Detachable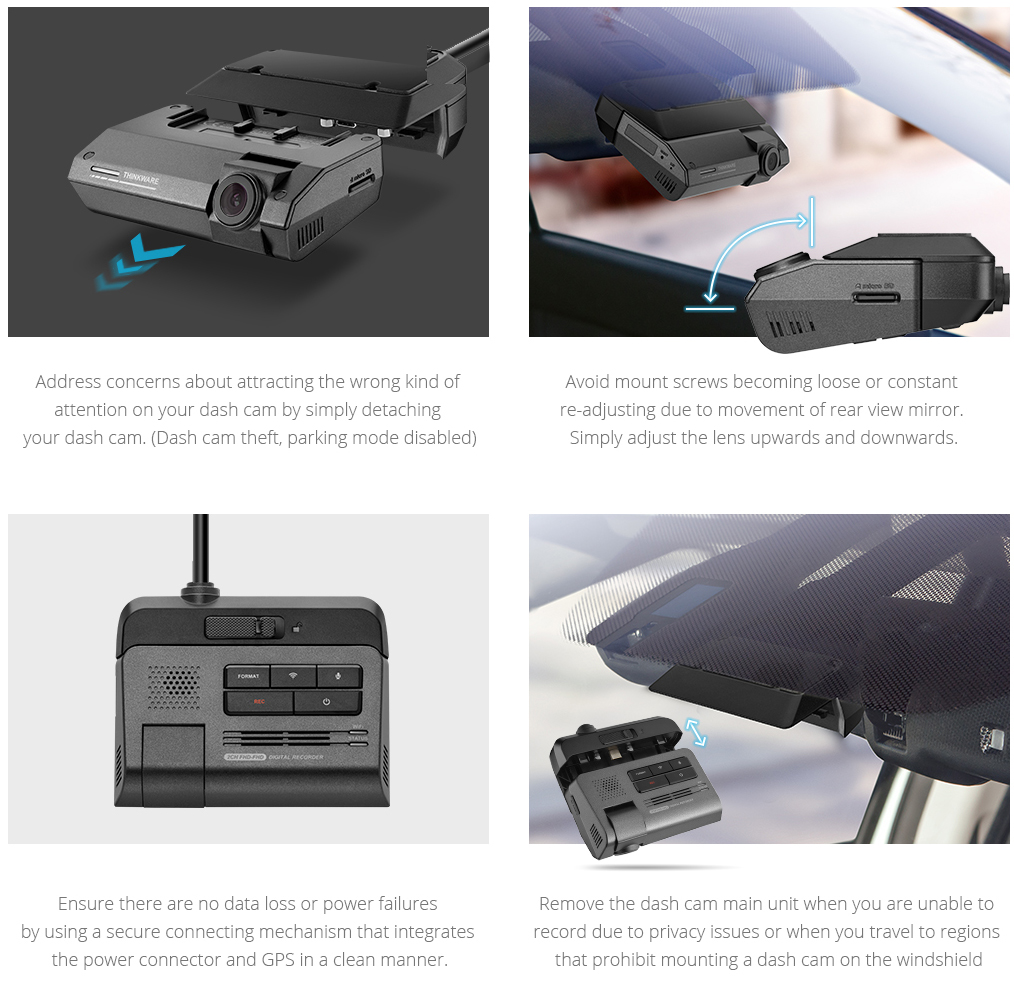 High Dynamic Range
HDR (High Dynamic Range) multi-exposure captures maximum image detail in high contrast scenes and corrects exposure levels when a subject is too dark or too bright. Such scenes include challenging low-light conditions when you want to capture license plates against the reflection of bright LED headlights. The F790 will record a long shutter frame video and a short shutter frame video at the same time to optimize the color of video footage even in dark environments.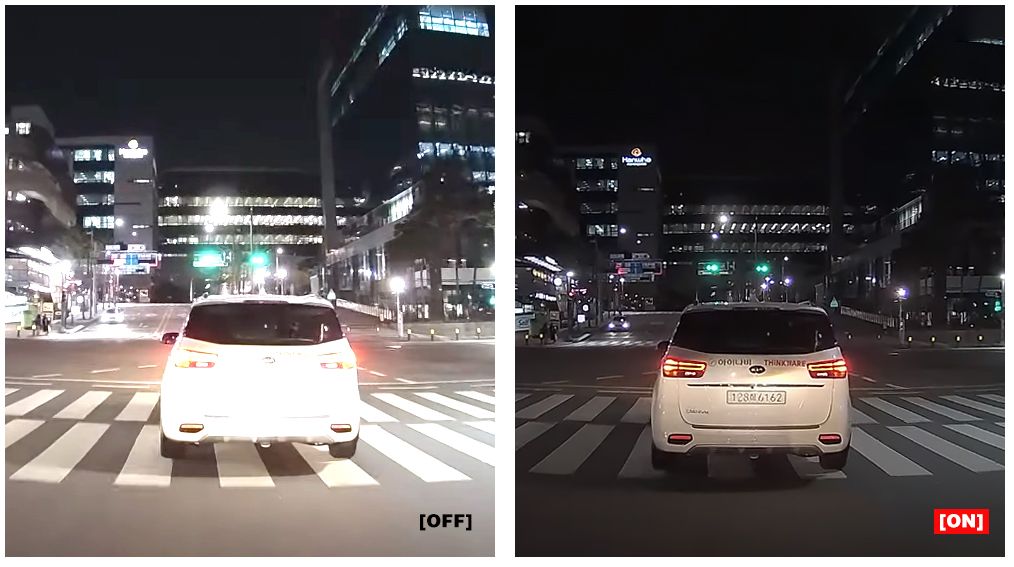 Dewarping Video Technology
Dewarping technology allows the F790's front camera to deliver a close-to-real picture of the vehicle's front view with minimal distortion. The F790 can analyze incoming video frames and tune the video to show an accurate representation of the road without distortions.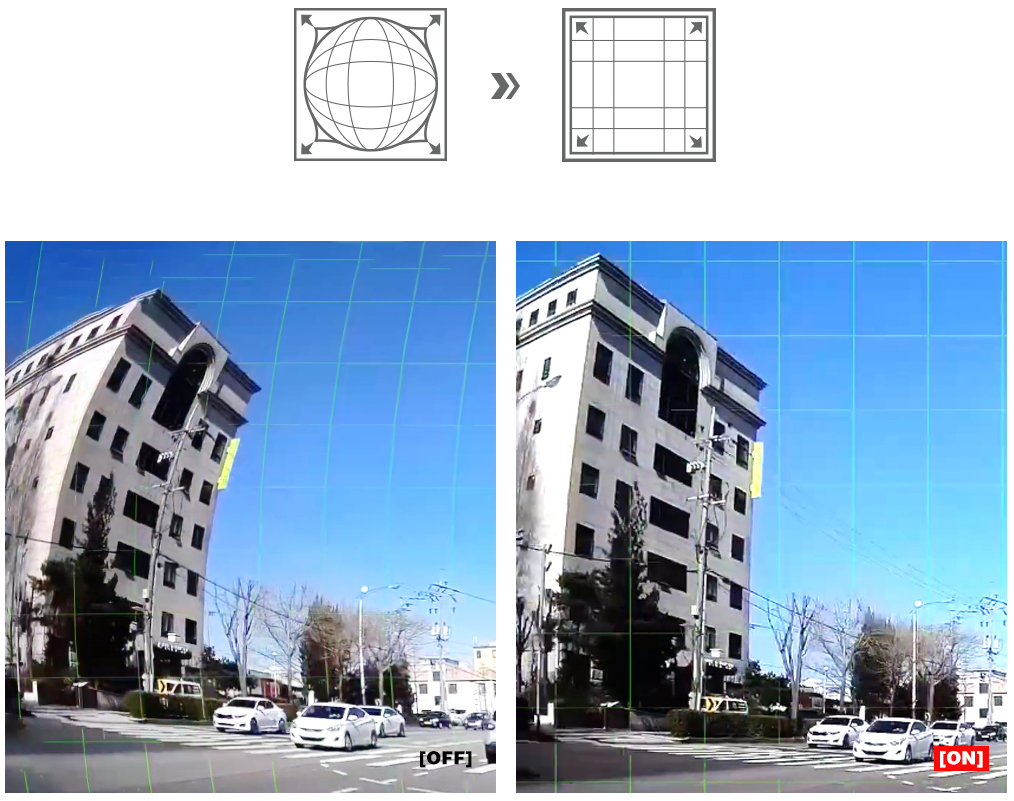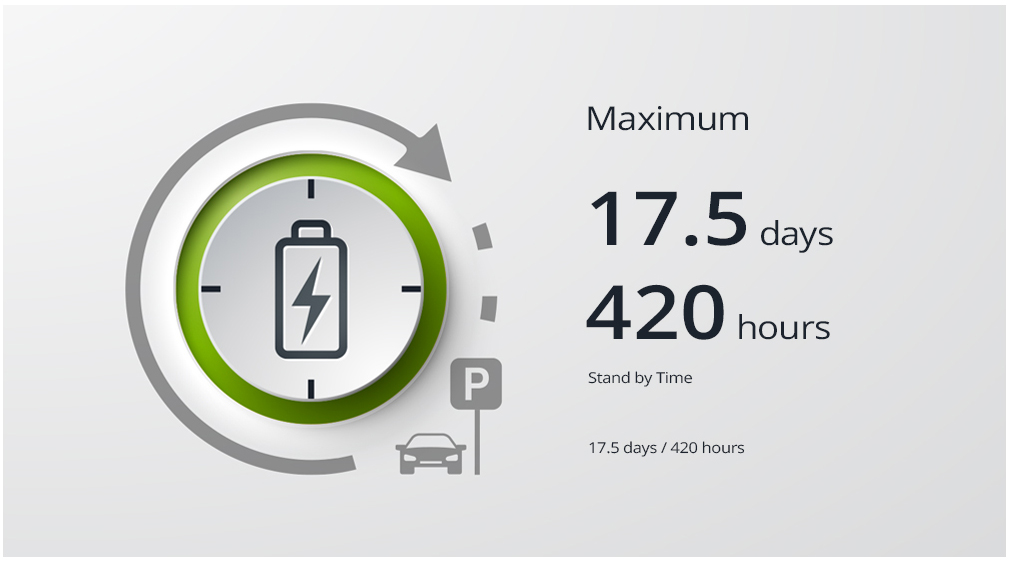 Energy Saving Parking Recording
The Energy Saving 2.0 is a revolutionary development of parking mode. With greatly reduced amount of electricity consumption, the dash cam will be at a standby up to 17.5 days / 420 hours Once an impact is detected, the dash cam will wake up within a second and record for next 20 seconds of period.

* Based on 4,500mAH battery (BAB-50)
* Variables: Temperature, efficiency of the battery by usage time, and change in current after a detection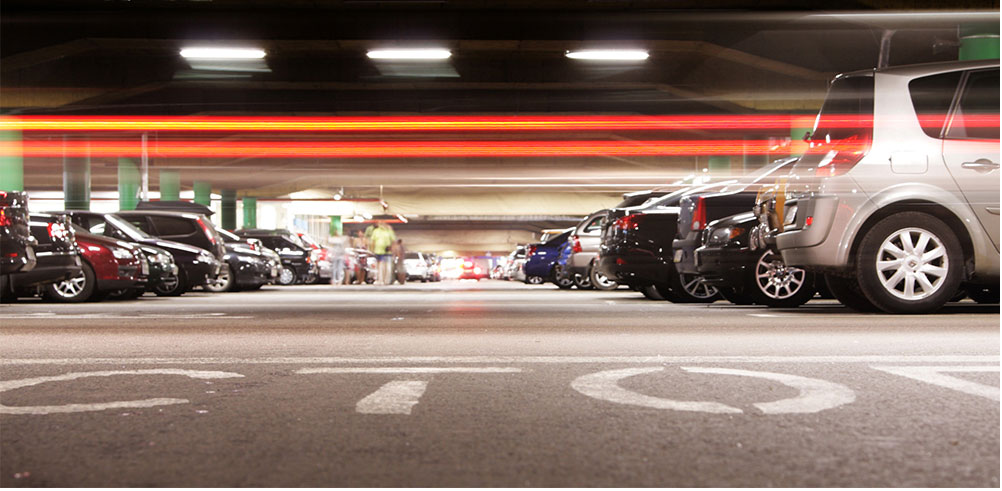 Time Lapse
Important clips and images may get deleted due to insufficient memory space during long continuous recordings, especially in standard parking recording mode which requires large memory for saving 15 to 30 frames per second.
Time Lapse Mode in the F790 records 2 frames per second reducing the size of the video file. This allows video recordings in parking mode to continue up to 10 times longer than the motion detection recording.
Requires hardwiring cable and installation for parking mode (professional installation recommended)
Super Night Vision 3.0
SUPER NIGHT VISION 3.0 uses a combination of low-light recording technology and High Dynamic Rangeto improve night time performance. The F790 can handle low-light environments, such as dark alleys or parking lots, and even lens flare effects and that affect night time footage. Together with Image Signal Processing (ISP) technology, the F790 can record a clear, visible videos in any situation- while driving or parked.
Comparison of Parking & Driving Recordings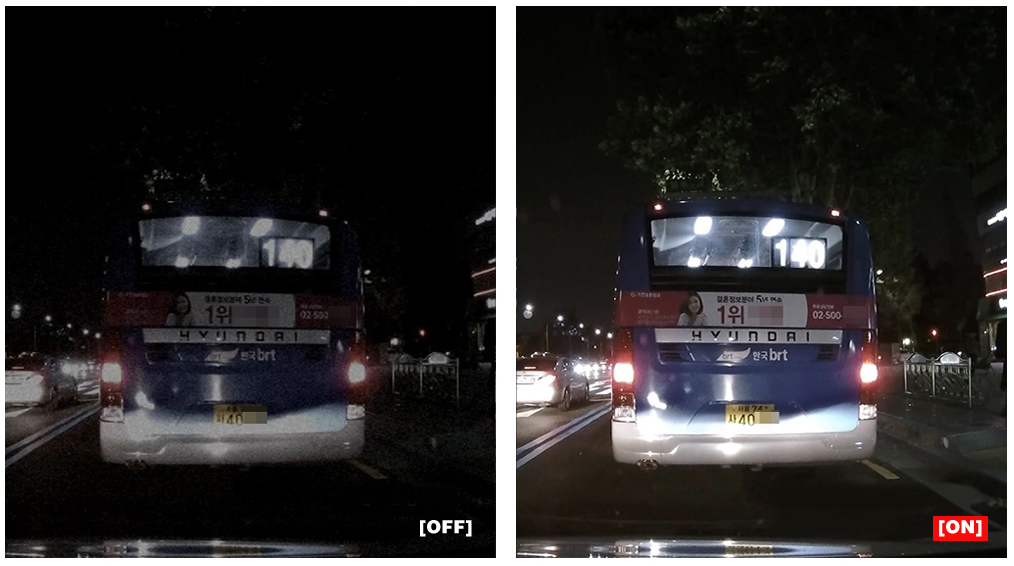 Night Time Picture Quality Correction
Images from the videos recorded during nighttime driving on dark streets are generally difficult to make out. The enhancement Sensors of THINKWARE DASH CAMs come with a standard function of brightness and color control as well as noise cancellation.

Automatic Exposure
A sudden rise of light exposure caused by strong sunlight or headlight beams of oncoming vehicle may cause difficulties to assess the situation. Also, lack of lighting in a dark tunnel or night driving may pose the same problem. The automatic light exposure function controls the level of light exposure to maintain vivid and clear video recordings in all circumstances.

Best Signal Range Via Dual Band Wi-Fi
The F790 has built-in Wi-Fi connectivity, supporting both 2.4GHz and 5GHz bandwidths. Dual-band wireless technology enables the best connectivity experience in different environments.
2.4GHz has a longer range and can be captured from a farther distance The longer range network also captures other devices thus preferred in undisrupted environments.
5GHz has a shorter range and can offer better performance with a higher bandwidth. The shorter range network avoids interferences thus preferred for a less congestive experience within shorter distances.
* Download speed and connection experience can differ according to smartphone specifications and telecommunications conditions. * 5GHz band may be more suitable for busy and densely populated cities due to possible disruptions in telecommunications environments.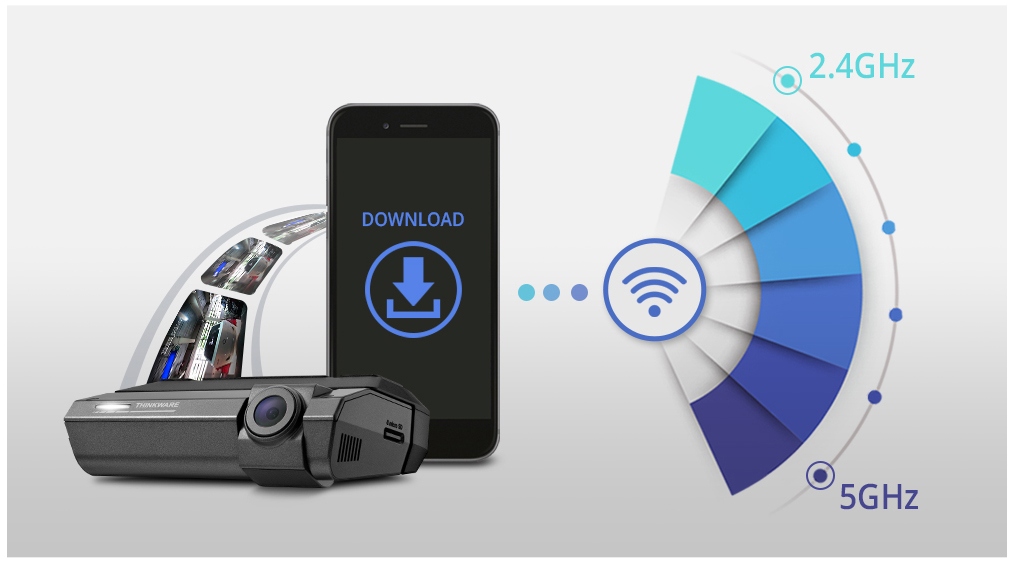 Road Safety Warning System
The THINKWARE DASH CAM F790 is equipped with the Lane Departure Warning System (LDWS), Front Collision Warning System (FCWS), Urban Front Collision Warning System(uFCWS) and Front Vehicle Departure Warning (FVDW) to ensure driver safety with an audible alert.
Lane Departure Warning System (LDWS)
Drowsy or distracted driving greatly increases the chance of an accident on the road. The Lane Departure Warning System will alert the driver when the vehicle goes off lane in a speed over 50 km/h.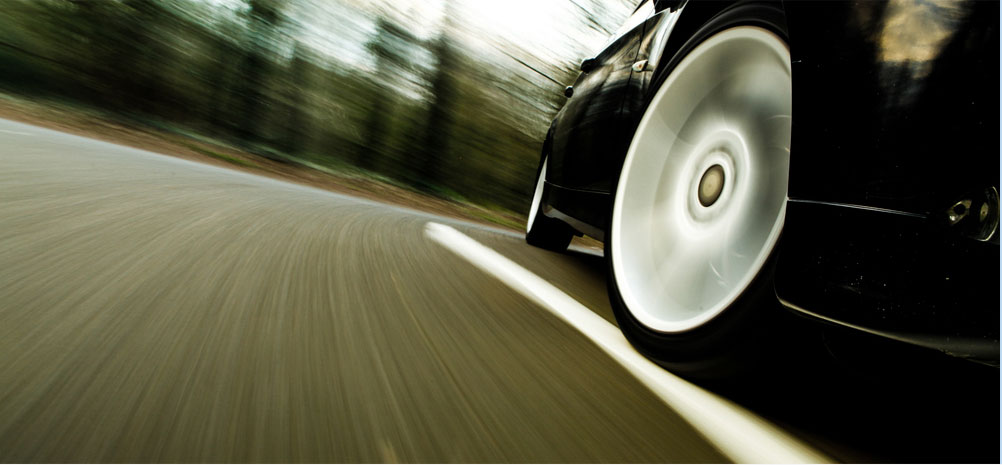 High Speed / Urban Forward Collision Warning System (FCWS/ uFCWS)
Accidents can be avoided by maintaining a safe following distance. Road Safety Warning System in the F790 calculates the real-time distance between your vehicle and the vehicle in front of you, while driving above 30 km/h in expressways or under 30 km/h in a busy city, and issues a 3-level early warning to the driver depending on the danger of collision.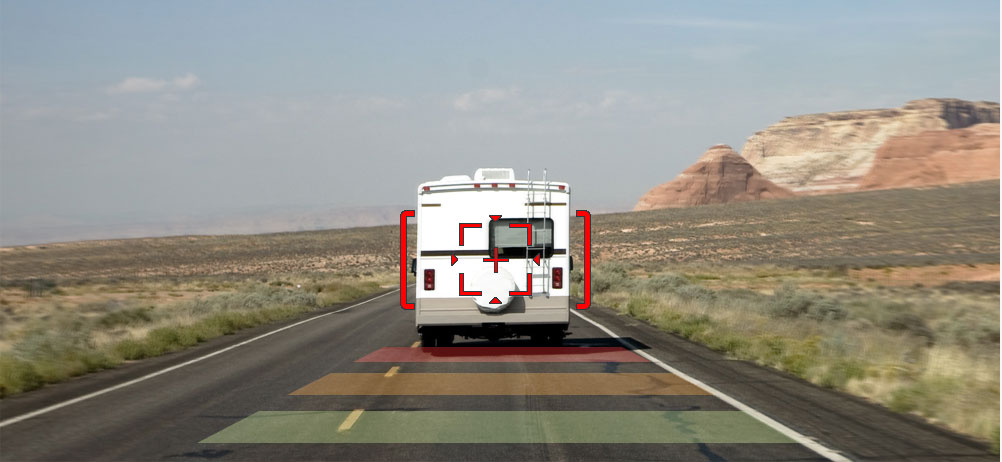 Front Vehicle Departure Warning (FVDW)
When your car is stopped at an intersection or in traffic, the intelligent guidance system informs you that the vehicle in front has started to move, preventing a delayed response just in case you stop looking ahead.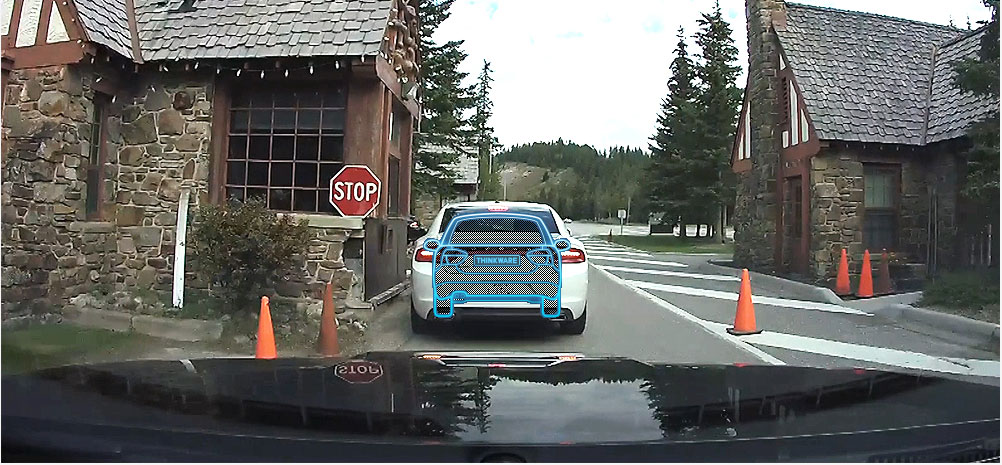 Safety Camera Alert
Along with Optional GPS antenna THINKWARE DASH CAM F790 provides accurate location information while the Safety Camera Alert function is on continuous alert to warn the driver of red lights and traffic enforcement cameras. Cultivate safe driving habits with Thinkware Dash Cam.

Various Autonomous Recording Modes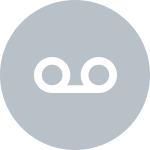 Continuous Recording Mode
This mode is activated automatically when you start the engine. Recorded videos are saved in one-minute segments with an auto-looping mechanism.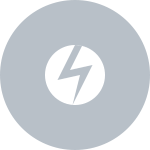 Incident Recording Mode
The Active Impact Monitoring System will automatically store the video data ten seconds prior to and after a collision registered by the 3-axis G-Sensor.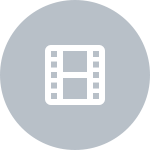 Manual Recording Mode
Similar to a video camera, you can use the Manual Recording Mode to capture events that occur in front of your vehicle whether or not it is in motion.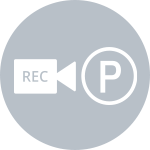 Parking Mode
Even if you are away from the car, your dash cam will keep an eye on what's happening and store the footage into storage when an impact or motion is detected. Or use Time Lapse to store the footage in 2 frames per second. (*Hardwiring installation is required to activate parking mode)
Thinkware Dash Cam Link
Play Record Videos Using Smartphone
Your smartphone and the F790 can be connected via the exclusive application, THINKWARE DASH CAM LINK. Check download or delete recorded images, and configure dash cam settings.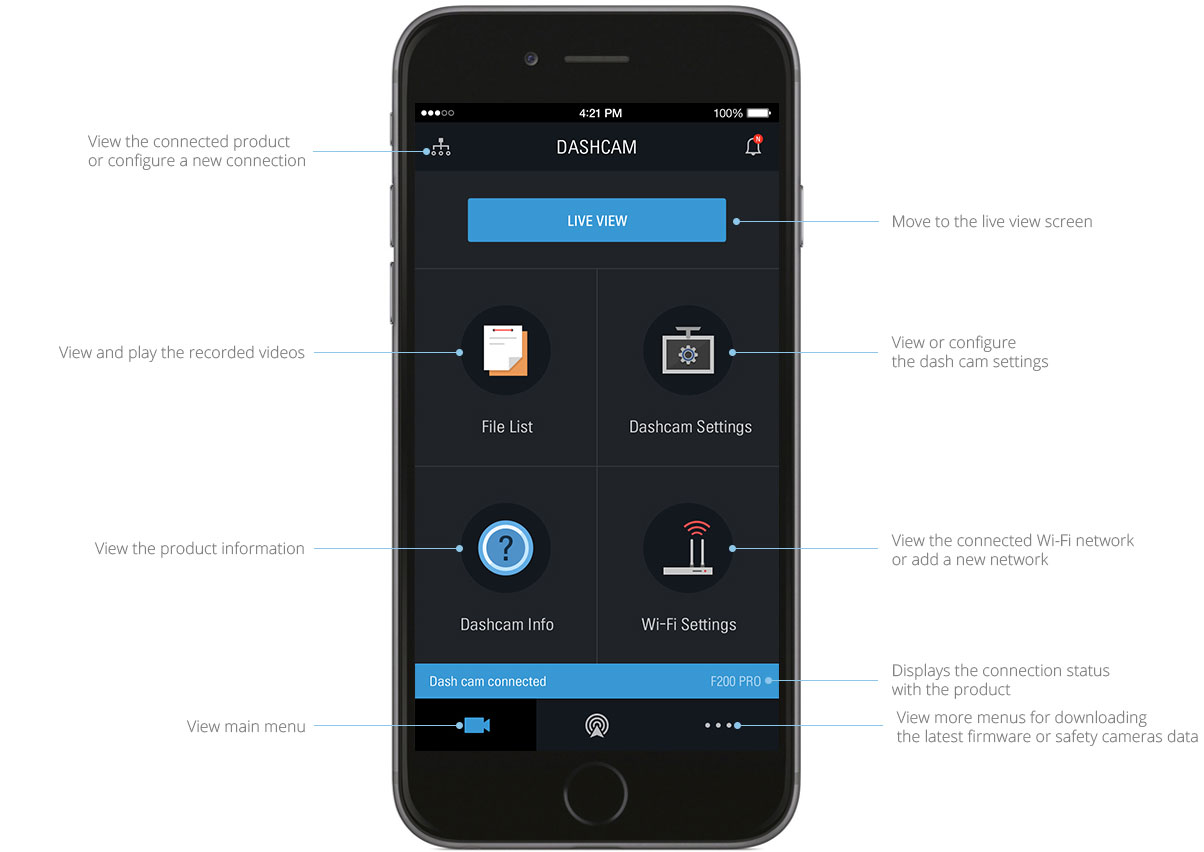 Comprehensive Driving Data through Built-In GPS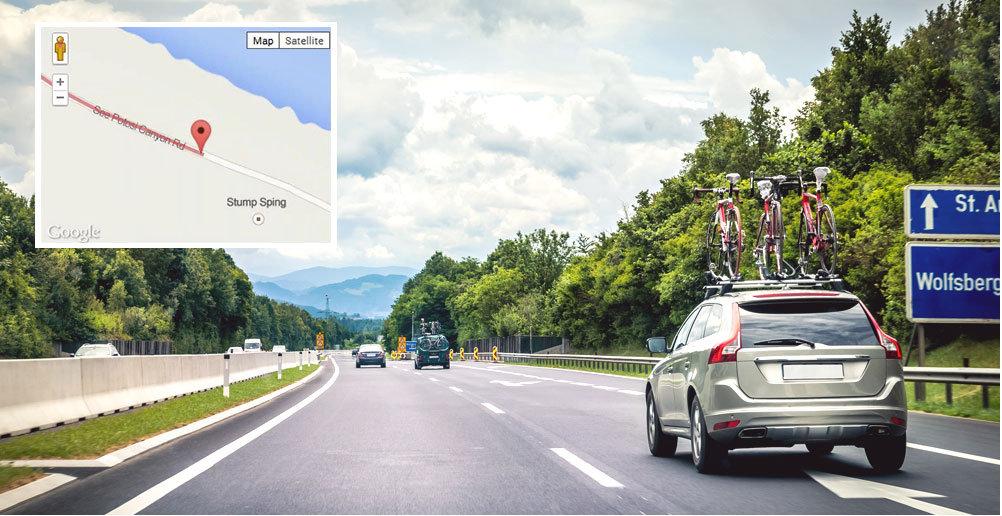 The GPS data in the F790 can precisely pinpoint the vehicle's location and routes with its driving speed on the map. The GPS helps you accurately assess the status of the accident by providing you with the vehicle speed, the direction of the collision and the severity of impact. The dash cam not only records driving footage but can also be used to track and recall past driving routes whether it be work or holiday routes.
* The F790 comes with built-in GPS
High temperature Protection System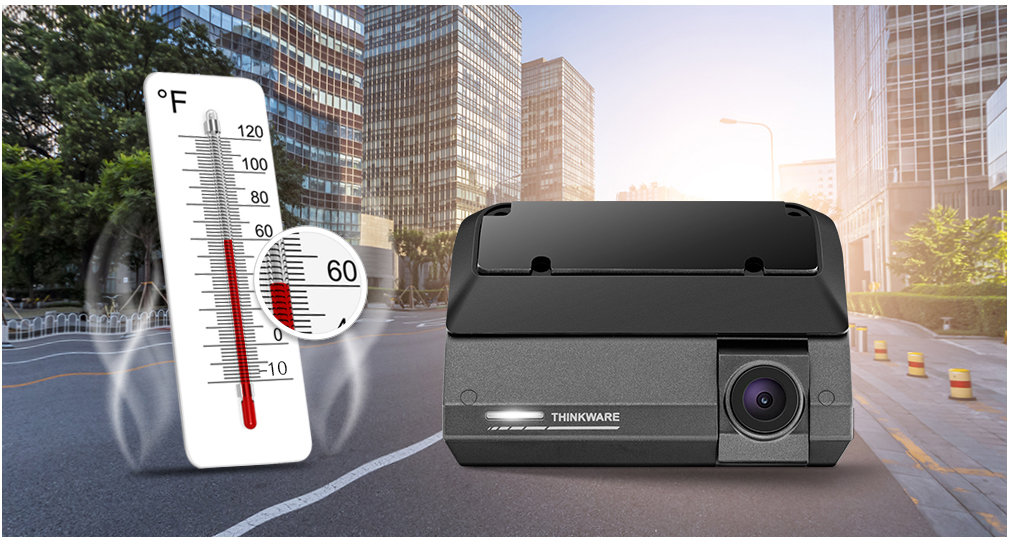 The specially designed heat discharge construction and the built-in thermal sensor protects the device and its data against intense heat by automatically turning it off to prevent overheating
Specification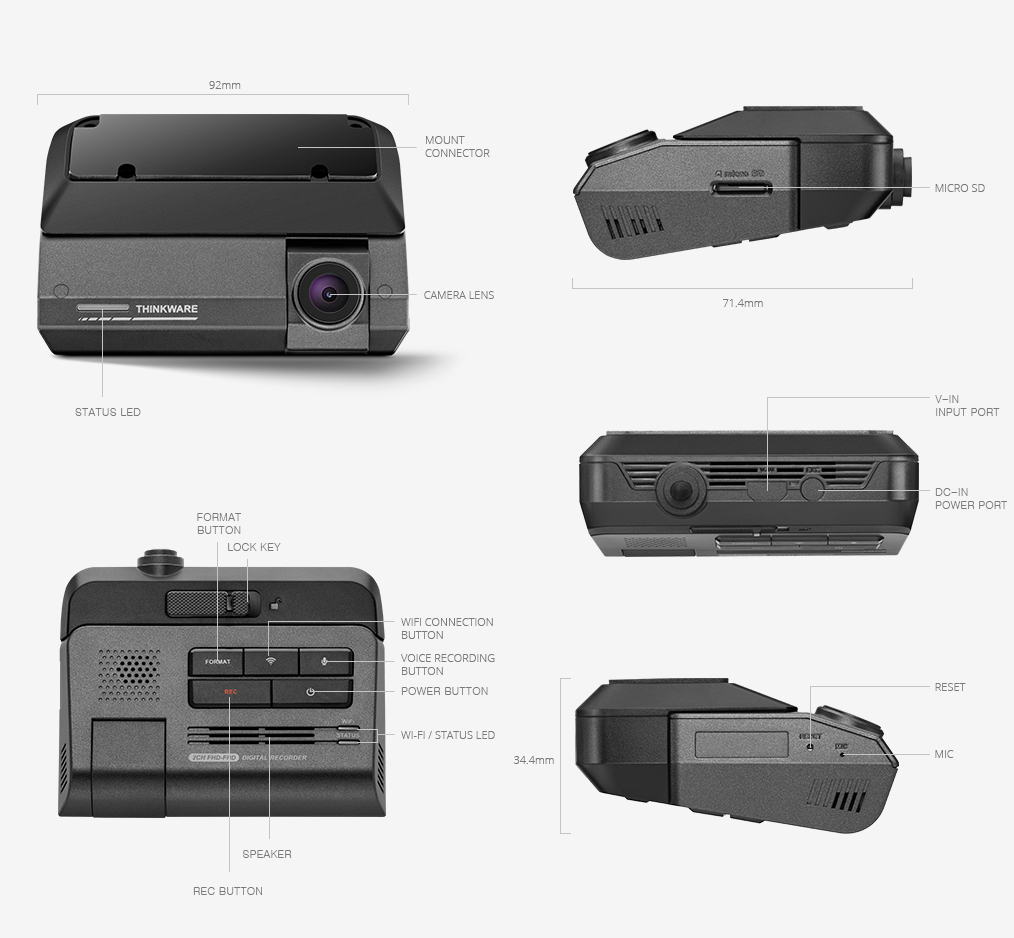 General Specification
Dimension:
92 x 53.3 x 29.7 mm (3.6*2.1*1.16 inch), Including Cradle Mount 92 x 71.4 x 34.4 mm
Weight:
77.6g (0.17lbs) Including Cradle Mount (169.4g)
Package:
Main Dash Cam Unit, Mount with 3M tape (1ea), Cigar jack cable, Adhesive Cable Holder(3ea), Micro SD memory card with adapter(consumable), Quick Start Guide/Warranty Card
Detailed Specification
| | |
| --- | --- |
| Camera: | Front: 2.1M CMOS Sensor, Rear: 2.12M Image Sensor |
| Resolution: | Front: Full HD (1920 x 1080P) Rear: Full HD (1920 x 1080P) |
| Viewing Angel: | Front: 140° (Diagonal), Rear: 160° (Diagonal) |
| Capacity: | Micro SD Card 32GB / 64GB / 128GB UHS-I |
| Recording Modes: | Continuous Recording, Incident Recording, Manual Recording, Audio Recording, Energy Saving |
| Sensor: | 3-Axis Accelerometer G-Sensor (3D, ±3G) |
| GPS: | Built-in GPS |
| Wi-Fi: | Built-in Wi-Fi (2.4GHz / 5GHz) |
| Power: | DC 12 / 24V supported |
| ETC: | Wi-Fi LED / STATUS LED |
Thinkware F790 FHD 1080p Dash Cam
Please visit the Thinkware Support page for Downloads and additional Information: https://www.thinkware.com/Support
If you are unsure about the suitability of this product please contact us via the ask us about this item link at the top of this page or telephone us and we will gladly assist you.
Factory fitted In-car Infotainment systems and their wiring can be complex, so we always recommend that you have your installation carried out by a qualified installer. If you wish, Car Communications can arrange for your Kit to be installed at an address of your choice anywhere in the UK. Please select from addons options above before adding the purchase to your cart. During the checkout process you will be asked for your preferred date(s) and time for the installation.

For added peace of mind, our products can be professionally installed at your home or workplace anywhere in the UK by our qualified and accredited network of engineers.

Please visit the Thinkware Support page for Downloads and additional Information: https://www.thinkware.com/Support
Dash Camera Spec
Dash Cam Features
2CH - Front with Rear Camera, 1080p Full HD, GPS, WiFi, Wide Angle Lens , 1CH - Front Camera, Super Night Vision, Safety Camera Alert, G-Sensor, Event Retention, Parking Mode, Audio Recording, Hardwired
Related Products
A hardwiring cable allows for custom configuration of your dash cam's power supply. The hardwiring c..
Thinkware Dashcam External GPS Antenna Embed crucial dashcam information such as the time, speed,..
A smarter connected experience - 4G LTE, GPS & Dual Band WIFI A smarter connected experience ..