Bentley iPod / iPhone Music Kit Adaptor with Installation
Brand: Dension

Product Code: DENSION-GWBENAC2-INST

Need any more information?
Ask a question
---
1 Year Warranty

Price includes installation on your doorstep

This product will be professionally installed at your home or workplace anywhere in the UK by our own network of accredited engineers.

Easy Returns
Recommended Add Ons
| | |
| --- | --- |
| | Suitable for connecting an Apple lighting device (Eg. iPod nano 7th Gen, iPod Touch 5th Gen, iPhone 5 etc.) to any iPod kit with 30pin docking connector. Eg Dension, Connects2, Dice etc. |
The spec.dock can relocate the existing connection to the ashtray location where the iPod or iPhone is easier to connect to the system and to use. This model is also capable of upgrading your existing interface to USB for charging for use with iPhone 3G, iPod Touch 2nd gen and iPod Nano 4th gen. All interface functionality remains identical. Ashtray door will continue to function normally.
| | |
| --- | --- |
| | |
| Before | After |
---
Bentley iPod Music Kit With Installation
A complete integration kit to connect your iPod or iPhone to your Bentley factory radio system including installation on your doorstep

The Bentley iPod Interface brings complete integration of the Apple iPod or iPhone with your factory fitted stereo. Providing you with full iPod control from your car's original radio, the simple aim is to provide iPod integration without making unnecessary changes to your car's original equipment or dashboard. Choose an iPod cradle from the addons or choose docking cable for an even neater installation by simply having everything tucked away in your glove box or armrest.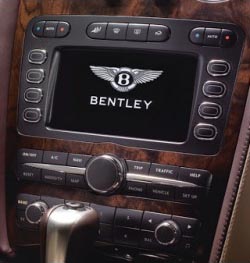 note: images are for illustration only - may not resemble your actual car
Full Integration
Dension translates CD changer messages to iPod controls and switches the iPod automatically on and off as you select/deselect the CD changer source and your iPod is charged while connected.
Control at your Fingertips
The iPod car adapter works like an interpreter between your devices and the car, converting instructions from the car's controls into a language that your iPod can understand and respond to. When connected into the car, the kit emulates a CD changer (usually, sometimes it's an auxiliary input), thus making those controls on the radio available to control the devices connected to it. Of course, every kits with a comprehensive user manual, but in most cases, you select the CD changer function, then CD6, and a series of menus are opened up to you to control your music. The FFWD key and/or steering wheel controls are then all you need to navigate around your iPod. If your car is fitted with a CD changer, this adapter will take its place. Please note the kit will not give any text display only Track 1, 2, etc.
Key Features of the Dension Gateway
Full iPod and iPhone control and charging*
Retains OEM dashboard aesthetic
Plug and play installation/de-installation. Perfect for leased vehicles
Control of external devices through the OEM controls
Song information and browsing only on iPod
Wide range of accessories to extend functionality
*only with Dension Dock Cradle or Cable
Whats Included in the Package
Module
iPod and iPhone Spec docking cable included when selecting the Spec.Dock
Bentley Harness
Installation included
Installation
| | |
| --- | --- |
| | Price advertised includes installation. This product will be professionally installed at your home or workplace anywhere in the UK by our own network of accredited engineers. |
| | | | | | | |
| --- | --- | --- | --- | --- | --- | --- |
| Make | Model | Varitions | Radio | Year From | Year To | Notes |
| Bentley | Continental GT | (01-03-2003 - 01-01-2011) | | 2004 | 2011 | |
| Bentley | Flying Spur | | | 2004 | 2011 | |
iPod/iPhone Supported Models:

iPod 3G
iPod 4G and 4G Photo
iPod Mini
iPod 5G Video
iPod nano (1st, 2nd, 3rd, 4th generations)
iPod Classic
iPod Touch (1st, 2nd generations)
iPod Touch (1st, 2nd generations)
iPhone 1G
iPhone 3G
iPhone 3GS
iPhone 4 / 4S
iPhone 5 / 5S
iPhone 6
If you are unsure about the suitability of this product please contact us via the ask us about this item link at the top of this page or telephone us and we will gladly assist you.
| | |
| --- | --- |
| | Installation Price advertised includes installation. This product will be professionally installed at your home or workplace anywhere in the UK by our own network of accredited engineers. |

Music Adapters
Music Adapter Features
iPod/iPhone, Other Smart Phones, AUX
Product Class
Product Type
Music Adapter