Alpine INE-W720D 7" Car Sat Nav Apple CarPlay Android Auto Bluetooth DAB
Brand: Alpine

Product Code: INE-W720D

Need any more information?
Ask a question
---
1 Year Warranty

Easy Returns
Recommended Add Ons
| | |
| --- | --- |
| | Internal windscreen DAB Antenna. Glass Mount DAB Aerial with adhesive and block Housing. Works best in a good to average digital signal strength area. The aerial is unsuitable for use on thermic metallic and heated windows. We recommend for optimum performance you purchase one of our external DAB aerials. |
With this kit you are able to add a reversing camera to help you maneuver through tight spaces while you're reversing and also parking.
Optional Installation Package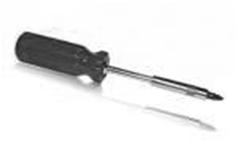 You are being offered an installation at an additional cost. If you select the installation option then this product will be professionally Installed at your home or workplace anywhere in the UK by our own network of accredited engineers. You will be contacted by a member of our installation booking team after you have placed an order.
---
7" Touch Screen Navigation with TomTom maps, compatible with Apple CarPlay and Android Auto
The INE-W720D Advanced Navi Station brings the latest media compatibility, cutting-edge navigation technology and Alpine's audiophile sound quality to your ride. It is fully compatible with the latest smartphones such as the iPhone 7 and the Galaxy S7 and lets you use Android Auto and Apple CarPlay on its 7-inch high-resolution touch screen.
DAB+ digital radio, USB video playback, HDMI connectivity and the latest Bluetooth technology are built-in as well.
You even have 3 options for navigation: the INE-W720D features the iGo Primo NextGen navigation system with TomTom maps and 3 years free-of-charge map update. It also includes online navigation capability to use Maps with Apple CarPlay and Google navigation with Android Auto. Both Apple CarPlay and Android Auto apps can access the Alpine navigation antenna for highest positioning accuracy.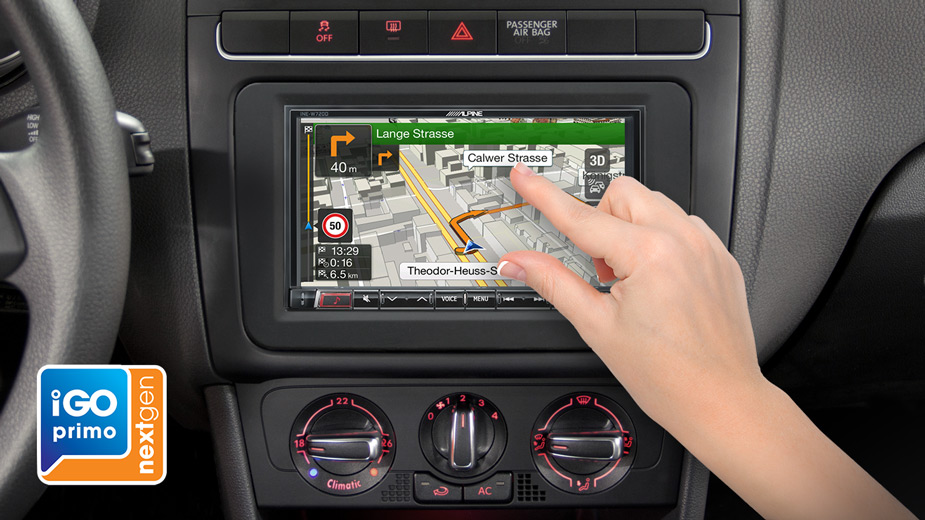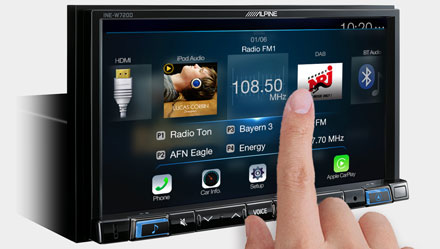 High Resolution WVGA Touch Screen
The 7-inch (17.8cm) high-resolution WVGA display allows full operation of the system via touch-screen technology and features the latest video enhancement technology for outstanding picture clarity, contrast and resolution. This allows navigation maps to be displayed in stunning detail, while movies or video clips become a real cinematic experience. The user interface is very intuitive and is designed to perfectly integrate into your vehicle. You can choose from a variety of screen colours and designs to best match your taste and vehicle.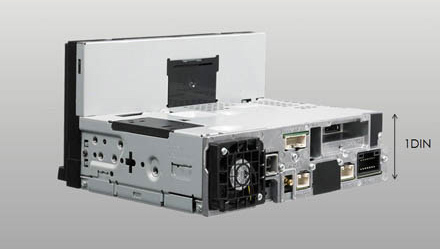 7-inch Screen with 1 DIN chassis
More and more vehicles feature a dashboard space for a 7-inch or 8-inch screen, however behind the screen there is no space to fit a full 2DIN product. The new SMART is for example one of the the vehicles with such dashboard design. Alpine designed the INE-W720D to overcome this problem by putting a 1DIN chassis in the back of a 7-inch screen. With a car specific Alpine installation kit you can achieve a perfect installation and original manufacturer look.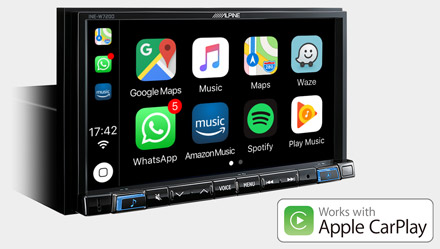 Works with Apple CarPlay
The innovative INE-W720D with Apple CarPlay compatibility brings you a smarter way to use your iPhone on the road. Apple CarPlay gives iPhone users an incredibly intuitive way to make calls, use maps, listen to music and access messages with just a word or a touch. You can even enjoy Spotify, internet radio or podcasts while on the road for a truly connected experience. Simply connect your CarPlay enabled iPhone to the USB port of your Alpine and you are ready to go.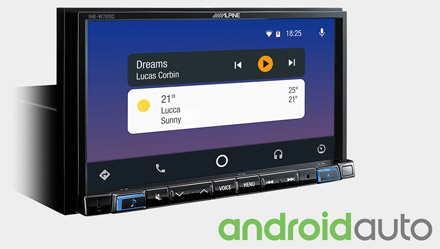 Works with Android Auto
Android Auto was designed with safety in mind. With a simple and intuitive interface, integrated steering wheel controls, and powerful new voice actions, it's designed to minimize distraction so you can stay focused on the road. Android Auto automatically brings you useful information, and organizes it into simple cards that appear just when they're needed. Both Apple CarPlay and Android Auto can access the navigation antenna of the INE-W720D for highest accuracy when using the navi apps.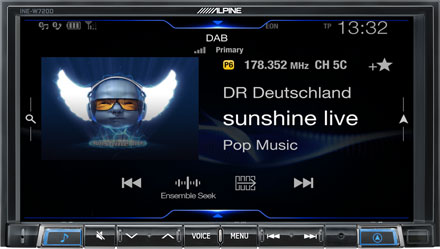 DAB+ Digital Radio
The built-in DAB/DAB+/DMB tuner uses the most advanced digital technology to deliver radio reception in outstanding, noise-free sound quality. DAB+ also offers many other advantages over traditional FM radio: select from a much wider range of radio stations and after an initial station scan you can easily select your desired channels from an alphabetic and genre list of available stations.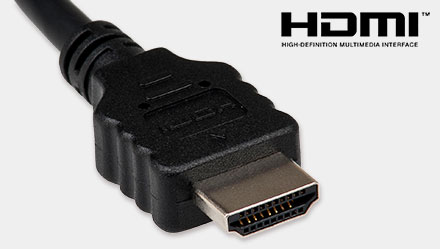 Connect USB and HDMI Sources
You can connect USB sticks and portable hard drives to playback audio and MP4 video files. The INE-W720D is also equipped with an HDMI input to connect the optional Alpine DVD player DVE-5300 or any other portable media player with HDMI output. You can also connect your smartphone if an HDMI adapter for your phone model is available to enjoy the video or photo content on the Alpine screen (requires additional cables and adapters). The INE-W720D includes an HDMI output as well to connect a rear monitor system via HDMI. Note: The HDMI output is a pass-through of the HDMI input and can therefore not be used to output USB video content, Apple CarPlay or Android Auto content or navigation map display.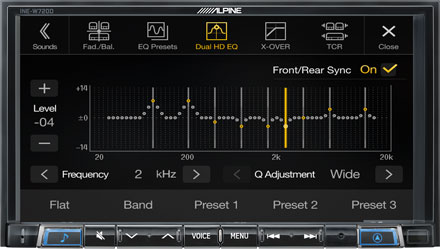 High-end Sound Tuning Options
The INE-W720D puts the power of advanced sound processing in your car with BASS ENGINE SQ to maximise bass sound and overall tone balance, plus lots of custom tuning functions like Digital Time Correction, Digital X-Over and Dual 9-band Parametric EQ. Best of all, you can set them easily from your smartphone with the Alpine TuneIt App. You also get Media Xpander, 24-Bit DAC and 3 PreOuts (4 Volt) as well.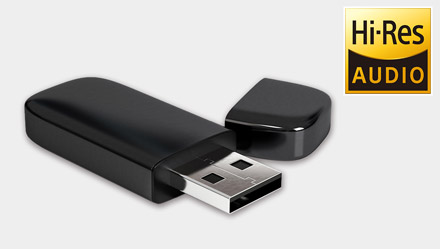 Hi-Res Audio Playback
This Alpine unit can playback audio files in FLAC format – including 24/96 and 24/192 Hi-Res Audio compatibility.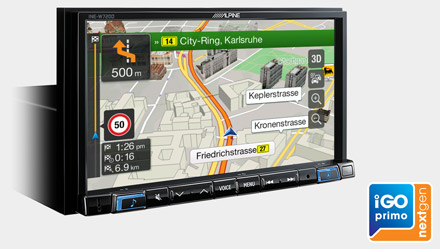 Built-in iGo Primo NextGen Navigation
The iGo Primo NextGen navigation is currently one of the best navigation software on the market. Combined with Alpine's powerful hardware and processing power, you get a highly accurate and super fast navigation system for your car. For example, calculating a route from Munich to Paris takes just a few seconds. The system is packed with tons of useful and unique navigation features, from partial address input with automatic detection, TMC route guidance, 3D landmark icons and much more. It also includes hundreds of thousands of POIs, to make it easy to find restaurants and any kind of public places near you.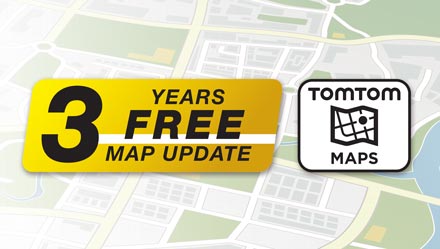 TomTom Maps with 3 Years Free-of-charge updates
A navigation system is only as good as its map database: the INE-W720D includes TomTom maps for an awesome map coverage of 49 European countries. Within 3 years after the first navigation fix, you can go to alpine.naviextras.com to download map updates free of charge for your Alpine unit – you can even do so without any limitation on how often you update. After 3 years have passed, you can download regional map packages or the full European map update based on your needs for very reasonable cost.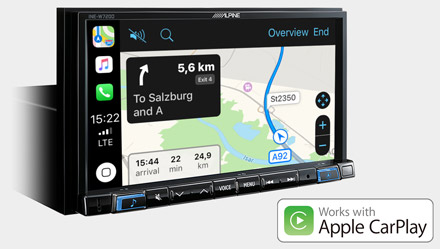 Online Navigation with Apple CarPlay
When you're driving, Maps helps you find the way to your destination with turn-by-turn spoken directions and new, easier-to-read visuals. When a turn is coming up, the view zooms in to show you exactly where to go. Along the way, large signs and arrows guide you in the right direction and let you know how long it's going to take to get there. Looking for a gas station, restaurant, or coffee shop along your route? New buttons on the navigation screen help you quickly find the closest places and estimate how much time the detour will add to your trip. If you push the navigation hard-key on your INE-W720D twice, you active Apple CarPlay navigation without going through many menu points.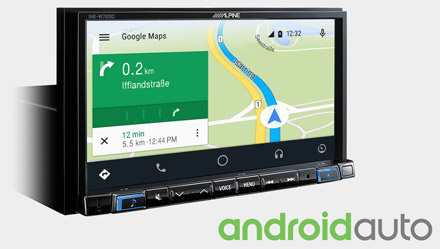 Online Navigation with Android Auto
Let Google Maps lead the way. It's easy to get where you're going with free voice-guided navigation, live traffic information, lane guidance, and more. Whether on your phone screen or on your car display, Android Auto was designed with safety in mind. With larger touch targets, a simplified interface, and easy-to-use voice actions, it's designed to minimize distraction so you can stay focused on the road. The INE-W720D works seamlessly with Android Auto and Google maps. Android Auto can even access the Alpine navigation antenna for highest positioning accuracy.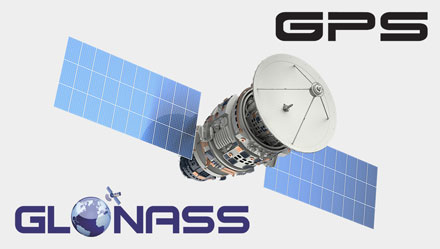 GPS and Glonass Compatible
More satellites equal higher navigation accuracy and a faster positioning fix. This Alpine product is compatible with GPS satellite signals and can also receive positioning data from Glonass satellites. This brings big advantages especially in an urban environment with many tall buildings and when driving next to high mountains. When using navigation with Apple CarPlay and Glonass you can also benefit from this new improved compatibility.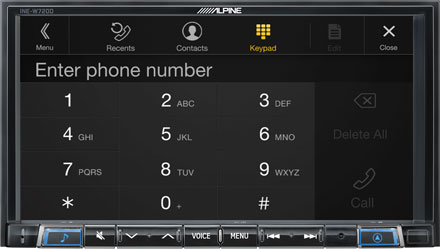 Built-in Bluetooth® Technology
The built-in Bluetooth® module allows wireless connection of a mobile phone for hands-free communication. A very intuitive user interface makes it very easy to set microphone and speaker volume. It also includes a speed dial function for the most frequently called numbers. Bluetooth® also enables audio streaming from the phone: audio content or even internet radio can be wirelessly transferred to your Alpine unit.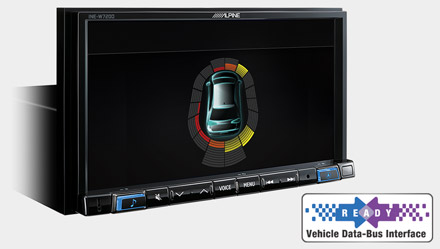 Vehicle Data-Bus Connectivity
If your car is equipped with parking sensors, you can continue to use this convenient function with your INE-W720D. Alpine offers vehicle data-bus interfaces to connect your navigation system to your vehicle. This enables compatibility with your vehicle's steering wheel control buttons, display of air conditioning settings as well parking sensor display. You can even see navigation turn-by-turn arrows in your multi-function display in the instrument cluster (if the vehicle supports it).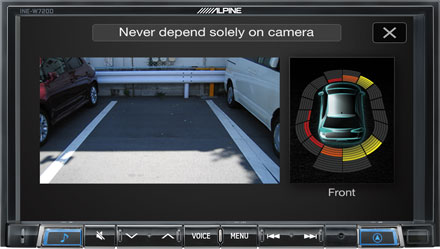 Drive-Assist Cameras
A rear view camera is a great way to make reversing safer. The camera image automatically comes on when you shift into reverse, and distance guides that can be adjusted to match your car size will appear on the screen to help you safely park your car. Alpine offers a wide variety of front and rear facing cameras, including multi-view cameras with selectable viewing angles and touch-control from your screen. You can even view the camera screen and parking sensor screen simultaneously.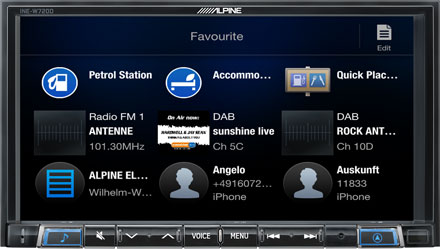 Favourites
Wouldn't it be convenient to have an app that shows you all your favourite phone numbers, radio stations, frequent navigation destinations and more on a single glance?! Favourites is just that. Simply hold the audio button for one second to activate the Favourites view and you are ready to go.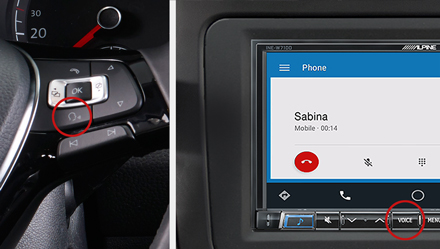 Voice Control
Push the VOICE button on your Alpine unit or your steering wheel buttons (if supported) to activate SIRI or OK Google. You can simply call people, enter navigation destinations, write and send messages or simply say the song or playlist you like to listen to – just to name a few examples. This is a very convenient way to control your Alpine system while keeping your eyes on the road.
FEATURES
Tuner
Memory Presets: Preset Stations (FM: 24 / MW: 6 / LW: 6)
Memory: Auto Memory
Seek Mode: Local / DX Selection
RDS
RDS Functions: PI, PS, AF, TA, TP, PTY, NEWS, RADIO TEXT
DAB Tuner
DAB+ Tuner Built-in
DAB+/DMB Supported
DAB+ Slideshow Service
DLS (Dynamic Label Service)
DAB Service Following
RDS Fallback (where available)
Service Preset: 18 Preset Memory
Auto Ensemble/Service Memory
Service Search Function
PTY Search Function
Alphabet Search Function
Antenna Power Supply Selection
BLUETOOTH®
Built-in BLUETOOTH® Module
Wide Band Speech Technology
HFP (Hands-Free Profile) Compatible
Streaming Music: A2DP (Advanced Audio Distribution Profile) Compatible
Streaming Music Control: AVRCP (Audio / Video Remote Control Profile) Ver.1.5 Compatible
Advanced BLUETOOTH® Technology
Connection: SSP (Simple Secure Pairing) Supported
Individual Profile Connection Hands Free Phone and Music Streaming
Phone Book: Phone Book Synchronization
Speed Dial: 4 Preset Memory (per phone)
Multiple Phone Number Registration: 5 Phone Numbers can be stored for one name
Device Name Display
Auto Answer
Call History Display: Outgoing Calls / Incoming Calls / Missed Calls
Redial Function
Speech Volume Level Adjustment: Possible for Outgoing and Incoming Volume
DTMF (Touch-Tone) Function
Signal Strength Indicator
Battery Level Indicator
Menu Language Selection: 24 Languages
Firmware Updatable
Microphone Included
Made for iPod® / iPhone®
Compatibility for iPod/iPhone: compatible with all models except 1st and 2nd generation iPhone
Connection: KCU-471i Required (Sold separately)
Music Playback
Available Selections: Playlist / Artist / Album /Song / Podcast / Genre / Composer / Audiobook
Alphabet Search
Artwork Display
Direct Up / Down: Playlist / Artist / Album / Genre / Composer
M.I.X. (Shuffle) Play: Song, Albums, All
Repeat
Battery Charging
Connectivity
Works with Apple CarPlay (requires CarPlay enabled iPhone)
Works with Android Auto (Requires Android Auto enabled smartphone)
Navigation Function
Map Coverage: 49 Countries (Western and Eastern Europe)
Menu Language: 29 Languages
Voice Guidance Language: 29 Languages for Voice Guidance, 15 Languages for Text-to-Speech (TTS)
Advanced Address Search
Post Code Search
Free Form Search
Partial Name Search
Advanced POI Functions
Smart Routes: Smart Routes using historic traffic patterns
Advanced Route Planning
Eco Route Search
7 Alternative Route Recommendation
Advanced TMC Mode
Map Display Mode: 2D Heading Up, 2D North Up, 3D
3D City Mode: 3D Building/Icon Display
Elevation Map Display: 3D maps with elevation mode
3D Motorway Junction View: Junction View with Sign Post
Drive Lane Suggestion
Tunnel Mode
Highway Mode
Voice Guidance Mixing
Text-to-Speech
Direct Phone Call from POI data
3 Positioning Sensors: GPS, Gyroscope, Vehicle Speed Pulse
USB Media Connection
USB Connection: USB Extension Cable Included
Music Playback: FLAC/MP3/WMA/AAC compatible
Video Playback: MP4 compatible
File / Folder Name Search
Tag Info Search
Folder Up / Down
M.I.X. Random Play
Repeat
Sound Tuning
Bass Engine SQ
Bass Engine™ Pro
Subwoofer Level Adjustment
Subwoofer Phase Select
4V High Voltage PreOut
Equalizer: Flat, Pops, Rock, News, Jazz, Electrical Dance, Hip Hop, Easy Listening, Country, Classical
Dual HD EQ (9-band Parametric Equalizer front/rear)
6 Channel Digital Time Correction
Digital Crossover Setting
Customized Sound Setting by Car Type
MediaXpander HD
Application Volume Level Setting
Sound Setting Data Download
Easy, Step-by-Step Sound Customization
Alpine TuneIt App ready
General
Power Output: 4 x 50 W High Power Amplifier
Advanced Power IC
Display: 7 inch Capacitive WVGA High Resolution Display
White LED Backlighting System
50/50 Split Screen: Left / Right Position Changeable
Control Type: Touch, Drag, Flick
My Favorites Function
Automatic Setting Change for 2 Users
High Grade Audiophile Design
3 PreOuts (4V, Front / Rear / Subwoofer)
AUX-In: 1 A/V AUX Input (3.5mm micro jack)
Steering Wheel Remote Control Function
Vehicle Display Interface Ready (UART connection)
Remote Control Ready
Navigation Guidance Mix
Camera Connection & Built-in Controls for Multi-View Cameras
Camera Guide Line Adjustment
Rearview Camera Display Automatic Boot-up
Simple Mode & Info Mode Display Selection
Visual EQ
Live Contrast Adjustment
Menu Language: 24 Languages (for AV / Bluetooth), 29 Languages (Navigation Menu and Voice Guidance)
Clock
Auto Dimmer
Anti-theft security code
Firmware Updatable
Power Antenna Lead
Remote Turn-On
HDMI Input (Alpine Special HDMI connector required)
Engine Start-Stop unaffected
Ready for optional DVD Player DVE-5300
Map & Database
Online Map Update via alpine.naviextras.com
Featuring TomTom Maps
3 Years free of charge map update (multiple updates possible)
Installation
Perfect F.I.T. Kit Solutions available
SPECIFICATIONS
Screen
Screen Size: 7 inch Capacitive WVGA
LCD Type: Transparent Type TN LCD
Operation System: TFT Active Matrix
Number of Picture Elements: 1,152,000 pixels (800 x 3 x 480)
Illumination System: White LED Backlighting
Effective Number of Picture Elements: 99.99%
Colour System: NTSC, PAL
Max Power Output Ratings
Max Power Output: 4 x 50 W
FM Tuner
Tuning Range: 87.5 - 108.0 MHz
Mono Usable Sensitivity: 8.1 dBf (0.7 µV / 75 ohms)
50dB Quieting Sensitivity: 12 dBf (1.1 µV / 75 ohms)
Alternate Channel Selectivity: 80 dB
Signal-to-Noise Ratio: 65 dB
Stereo Separation: 35 dB
Capture Ratio: 2 dB
MW Tuner
Tuning Range: 531 - 1,602 kHz
Usable Sensitivity (IEC Standard): 25.1 µV / 28 dBf
LW Tuner
Tuning Range: 153 - 281 kHz
Usable Sensitivity (IEC Standard): 31.6 µV / 30 dBf
USB
USB Requirements: USB 2.0
Max. Power Consumption: 1,500 mA (CDP Support)
USB Class: Mass Storage Class, Play From Device
File System: FAT 16/32
MP3 Decoding: MPEG-1/2 AUDIO Layer-3
WMA Decoding: Windows Media™ Audio
AAC Decoding: ACC-LC format ′′.m4a′′ file
FLAC Decoding
Number of Channels: 2-Channel (Stereo)
Frequency Response: 5 - 20k Hz ±1 dB *Frequency Response may differ depending on the encoder software/bit rate
Total Harmonic Distortion (at 1kHz): 0.008%
DynamicRange(at 1kHz): 95 dB
Signal-to-Noise Ratio: 100 dB
Channel Separation (at 1kHz): 85 dB
GPS / Glonass
GPS / Glonass compatible navigation antenna included
BLUETOOTH®
BLUETOOTH® Version: Bluetooth V2.1+EDR
Output Power: +4 dBm Max. (Power class 2)
HFP: HFP (Hands Free Profile)
OPP (Object Push Profile)
PBAP (Phone Book Access Profile)
HSP (Head Set Profile)
A2DP: A2DP (Advanced Audio Distribution Profile)
AVRCP: AVRCP (Audio/Video Remote Control Profile)
SPP (Serial Port Profile)
Sound Tuning
Subwoofer Level Adjustment: 0 to +15
Subwoofer Phase Setting: 0° or 180°
BASS ENGINE SQ: 5Mode, Level 0 to +6
HighPassFilter: 20 / 25 / 31.5 / 40 / 50 / 63 / 80 / 100 / 125 / 160 / 200 Hz
HighPassFilter (Slope): Off / -6 / -12 / -18 / -24 dB/oct.
HighPassFilter (Gain): -12 to 0 dB
LowPassFilter: 20 / 25 / 31.5 / 40 / 50 / 63 / 80 / 100 / 125 / 160 / 200 Hz
LowPassFilter (Slope): Off / -6 / -12 / -18 / -24 dB/oct.
LowPassFilter (Gain): -12 to 0 dB
Time Correction: 0.0 - 9.9ms (0.1ms step)
Dual HD EQ Front + Rear
Parametric Equalizer (Band 1): 20 - 100 Hz
Parametric Equalizer (Band 2): 63 - 315 Hz
Parametric Equalizer (Band 3): 125 - 500 Hz
Parametric Equalizer (Band 4): 250 - 1k Hz
Parametric Equalizer (Band 5): 500 - 2k Hz
Parametric Equalizer (Band 6): 1k - 4k Hz
Parametric Equalizer (Band 7): 2k - 7.2k Hz
Parametric Equalizer (Band 8): 5.8k - 12k Hz
Parametric Equalizer (Band 9): 9k - 20k Hz
Parametric Equalizer (Gain): -14 to +14
Application Volume Level Setting: -14 to +14
HDMI Section
Input Format 720p/480p/VGA
Output Format 480p
General
Power Requirement: 14.4 V. DC (11-16V allowable)
Pre Output Voltage (Before Clipping): 4 V / 10k ohms
Maximum Mounting Angle: 30°
Dimensions
Din Size: 1DIN chassis and 7" Capacitive Touch Screen
Chassis Size (W x H x D) mm: 178 x 50 x 164 mm
Nose Piece Size (W x H x D) mm: 170 x 96 x 17 mm
Refer to the installation section for fitting instructions.
If you are unsure about the suitability of this product please contact us via the ask a question link at the top of this page or telephone us and we will gladly assist you.
To complete the installation of an aftermarket headunit (eg. Kenwood, Parrot ASTEROID, Alpine, Pioneer, Sony, JVC etc.) you will usually require additional fitting accessories. You may require a facia adapter - single DIN or double DIN, aerial adaptor, ISO stereo adapter or a stalk/steering wheel adaptor if you want to integrate your steering wheel buttons. You can substitute the ISO stereo adapter lead for a steering wheel adapter, if one is available for your vehicle. If you purchase our Connects2 steering wheel adapter you don't need to purchase an ISO stereo adapter lead as well. Refer to our

car stereo fitting accessory

section to purchase your car specific accesories. We stock the full range of stereo fitting parts, just ask if you need help.
| | |
| --- | --- |
| | If you have any questions please contact us via the ask a question link at the top of this page and we will gladly assist you. Below is a quick explanation of different fitting accessories that you may require to install your aftermarket Alpine stereo. |
| | | | | |
| --- | --- | --- | --- | --- |
| | | | | |
| | Stereo ISO adaptor harness allow connection to aftermarket stereo head units. Can ue steering wheel adapter instead. | Steering wheel adapter allows you to retain use of your steering wheel buttons. Avoids having to reach for car stereo controls in the dash. | Facia adaptors convert the aperture to DIN size used by aftermarket stereo head units | Aerial adaptor is often required to connect vehicles exisiting aerial to new aftermarket stereo |

| | |
| --- | --- |
| | Enjoy the peace of mind that comes with a professional, risk-free installation service, by placing your trust in a certified installer. Car Communications are a certified installer. |
Product Class
Product Type
Car Stereo & Navigation
Car Stereo Full Specification
Android Auto
Yes
Apple CarPlay
Yes
Aux In
1 A/V AUX Input (3.5mm micro jack)
Bluetooth
Built In Bluetooth
DAB+
Yes
Display Illumination
White LED Backlighting
FM Radio
Yes (FM: 24 / MW: 6 / LW: 6)
iPod Ready
Yes
Max. Power Output
4 x 50 W High Power Amplifier
Navigation Ready
Yes
Pre Out
3 PreOuts (4V, Front / Rear / Subwoofer)
Radio Data System
Yes
Screen Size
7" High Resolution WVGA Touch Screen
USB Input
Yes
Works with iPhone
Yes