BMW 5-Series G30/G31 Rear View Reversing Retrofit Camera Kit - NBT EVO ID7
Brand: CarComs

Product Code: RVC-5SERIES-ID7

Need any more information?
Ask a question
---
1 Year Warranty

Easy Returns
Recommended Add Ons
Optional Installation Package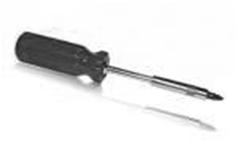 You are being offered an installation at an additional cost. If you select the installation option then this product will be professionally Installed at your home or workplace anywhere in the UK by our own network of accredited engineers. You will be contacted by a member of our installation booking team after you have placed an order.
---
BMW 5-Series G30 / G31 Reversing Camera Kit - NBT EVO ID7
MGU (Media Graphics Interface) Operating System 7.0
A high-quality rear view reversing camera kit solution, designed to integrate with your BMW 5 Series factory fitted infotainment head unit. This retrofit solution is compatible with vehicles manufactured from 2019 onwards and fitted with the NBT EVO ID7 infotainment and communication system. The solution includes a discreet camera. The high quality camera provides a clear & crisp image on the infotainment screen to aid you with reversing and parking. This retrofit reversing camera kit solution provides Dynamic guidelines (Moving lines) to enable more accurate reversing manoeuvres.
Key Features
Auto switching reverse camera input
Front and rear inputs
OEM style moving guidelines
Works with 6.5" 8.8" & 10.2" 12.3" touch screens
Any aftermarket device attached to this interface will work on the move
Fully plug & play
This kit is compatible BMW 5-Series G30 / G31 models fitted with the BMW Live Cockpit NBT EVO ID7 system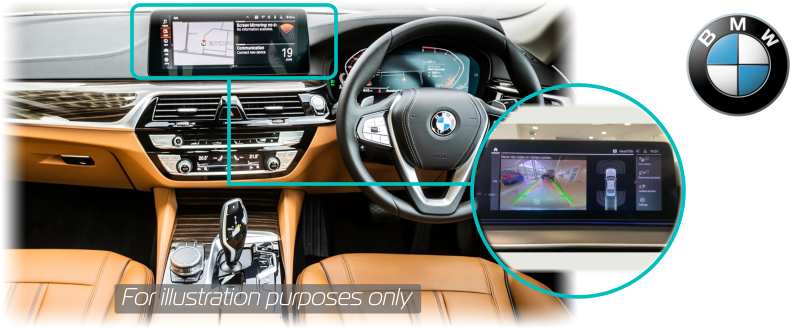 Benefits of having a reverse camera in your BMW 5-Series
Guidelines can be really helpful so the driver can accurately estimate the width of the vehicle parking space whilst reversing.
The driver can see any obstructions behind the vehicle during the reversing manoeuvre
The driver can see any any blindspots which are not visible to the driver
Greater vehicle safety management during reversing manoeuvres
Makes reversing much safer and more convenient
Discreet Reversing Camera
This rear view reversing camera kit, will fully integrate with the factory fitted infotainment system. This retrofit reversing camera kit solution maintains the factory options as standard.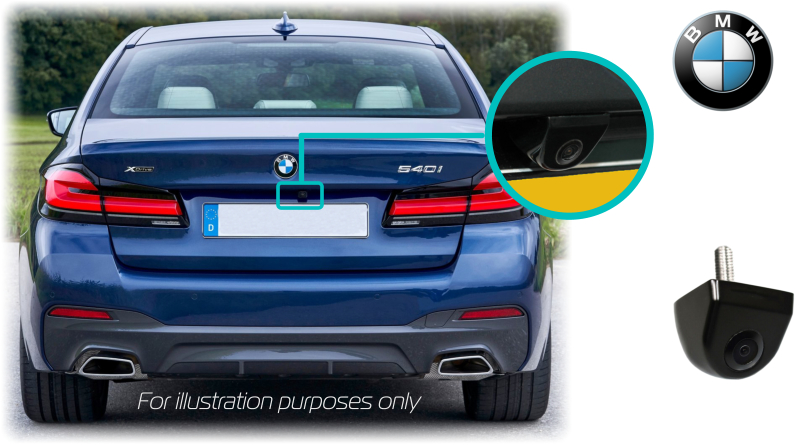 Camera Specifications
Auxiliary lines: switched off at the factory (can be switched on)
black aluminum housing
mirrored image reproduction (adjustable)
image sensor type 1/4 '' Color CMOS (PC7070)
Video signal NTSC
Resolution pixels 648 × 488
DIN protection class IP67
Triggering 420 TV lines
Exposure 1 / 50-60 ~
1/15000 seconds - Signal to noise ratio = 48db
Dynamic> 70db
Light sensitivity <0.2 Lux
Output signal 1.0Vp-p, 75 OHM
Automatic white balance
Automatic video level adjustment
Operating voltage 6-24 volts DC
Power consumption 800mW
Working temperature -40 ° C to + 80 ° C
Diagonal viewing angle 170 °
Horizontal viewing angle 140 °
Construction dimensions camera 32x34mm and 25mm high
7.5mm drill hole
CE certified
*Installation is optional via the dropdown
| | |
| --- | --- |
| | Refer to the compatibility section to check your vehicle variant is supported. |
NOTE: A reversing camera kit is ONLY a Parking Aid and should not be relied on solely. Please check your surroundings at all times before carrying out a Reversing Manoeuvre. Where Guide lines are included, the guide lines are generic to all vehicles and hence fixed width and not adjustable to the width of the vehicle.
Make
Model
Varitions
Radio
Year From
Year To
Notes
BMW
5 Series
G30 (Saloon) G38 (LWB) G31 (Touring) (01-11-2016 - 31-03-2020)
G30 LCI (saloon) G38 LCI (LWB) G31 LCI (Touring) (01-01-2021 > )


2019
Please see notes below
BMW 5-SeriesG30/G31 Reversing Camera Kit - NBT EVO ID7
NOTE: This Kit is Compatible with BMW vehicles fitted with the NBT EVO ID7 Infotainment and communication system
If you are unsure of the compatibility, please contact us with the vehicle VIN number and we will verify suitability.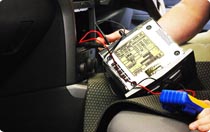 Factory fitted In-car Infotainment systems and their wiring can be complex, so we always recommend that you have your installation carried out by a qualified installer. If you wish, Car Communications can arrange for your RVC Kit to be installed at an address of your choice anywhere in the UK. Please select from addons options above before adding the purchase to your cart. During the checkout process you will be asked for your preferred date(s) and time for the installation.
For added peace of mind, our products can be professionally installed at your home or workplace anywhere in the UK by our qualified and accredited network of engineers.
NOTE: This Kit is Compatible with BMW vehicles fitted with the MGU NBT EVO ID7 Infotainment and communication system
Product Class
Product Type
Reversing Camera Kit Solutions