MINI 6WB OEM Digital Speedometer

Need any more information?
Ask a question
---
1 Year Warranty

Easy Returns
---
6WB OEM Digital Speedometer
The 6WB MINI OEM Digital Speedometer upgrade is exactly what your car needs to reach the next level of comfort and confidence behind the wheel.
The MINI's instrument panel is digitized. It has different setups for three driving modes — a rather usual and calm display for Mid mode, a touch of green and eco style features in Green mode and a more aggressive look in Sport Mode.
The center portion of the 6WB MINI Cooper speedo can show your car in real time — when some of your doors are opened, it is accurately displayed on the panel. When you turn on navigation, the instructions will be also indicated on the digital cluster.
In addition, this multifunctional digital instrument cluster shows the information from the driver assistance systems, such as the nearest gas stations, speed limits, etc.
PLEASE CONTACT US WITH YOUR VEHICLE DETAILS FOR COMPATIBILITY & PRICING INFORMATION
Features
Features a digital setup and several sorts of animations
Offers different looks for three driving modes
Focuses on speedometer and rev counter gauges in Sport Mode
Emphasizes an economical driving style in Green mode
Displays the car in the center portion of the cluster in the real time
Consists entirely of genuine BMW parts
Easy plug & play installation (takes up to 1h) & Lease Freindly
Kit Content
The kit includes all parts necessary for a complete installation:
6WB digital instrument cluster
Fiber optic cable
Wiring harness

Coding Cable Not included. if required, will need to be purchased seperately.
Make
Model
Varitions
Radio
Year From
Year To
Notes
MINI
Cabriolet
F57 (01-03-2014 - 31-03-2018)
F57 LCI (01-04-2019 - 31-03-2021)
F57 LCI II (01-04-2021 > )


2018
2021
Please see notes below
MINI
Clubman
F54 (01-10-2015 - 31-03-2019)
F56 2nd LCI (01-04-2021 > )
F56 LCI (01-04-2019 - 31-03-2021)


2018
2021
Please see notes below
MINI
Countryman
F60 (01-04-2017 - 31-03-2020)
F60 LCI (01-04-2021 > )


2018
2021
Please see notes below
MINI
Hatchback
F56 2nd LCI 3 Door, F55 5 Door (01-04-2021 > )
F56 3 Door, F55 5 Door (01-03-2014 - 31-03-2018)
F56 LCI 3 Door, F55 LCI 5 Door (01-04-2019 - 31-03-2021)


2018
2021
Please see notes below
6WB OEM Digital Speedometer
NOTE: Please email us your VIN number so we can check compatibility and provide the correct pricing for the kit and installation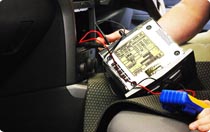 Factory fitted In-car Infotainment systems and their wiring can be complex, so we always recommend that you have your installation carried out by a qualified installer. If you wish, Car Communications can arrange for your RVC Kit to be installed at an address of your choice anywhere in the UK. Please select from addons options above before adding the purchase to your cart. During the checkout process you will be asked for your preferred date(s) and time for the installation.
For added peace of mind, our products can be professionally installed at your home or workplace anywhere in the UK by our qualified and accredited network of engineers. Please contact us for further details.
MINI Cooper speedometer replacement consists of 2 main steps:
Fully plug & play installation (takes up to 1h)
Coding (after the installation is finished, it is necessary to schedule a remote coding session with a BimmerTech technician) and software update if required
For this installation you will need to get to your old cluster, so pulling out the steering wheel as much as you can will be necessary. You will be required to remove the screws and take the cluster out, considering the connections. Then it will be necessary to plug and fit in the new MINI Cooper digital speedometer, putting the screws into place. Please note that it's not recommended to drive with the newly installed 6WB cluster if it hasn't been coded. So, it's better to plan the installation to be followed by the remote coding session right away.
The way this 6WB MINI Cooper digital speedo mounts is completely lease-friendly as there are no permanent modifications needed.
Product Class
Product Type
OEM Upgrade