Tyre Pilot STP1600 Bluetooth Tyre Pressure Monitoring System
Brand: Snooper

Product Code: STP1600

Need any more information?
Ask a question
This product has a minimum quantity of 10
---
---
Bluetooth Tyre Pressue Monitoring System

Tyre defects contribute to over 3% of all motorway accidents and are the most common form of fault directly contributing to an accident. Protect yourself and your passengers with 'Tyre Pilot' from Snooper, a simple to install, accurate, tyre pressure monitoring system (TPMS).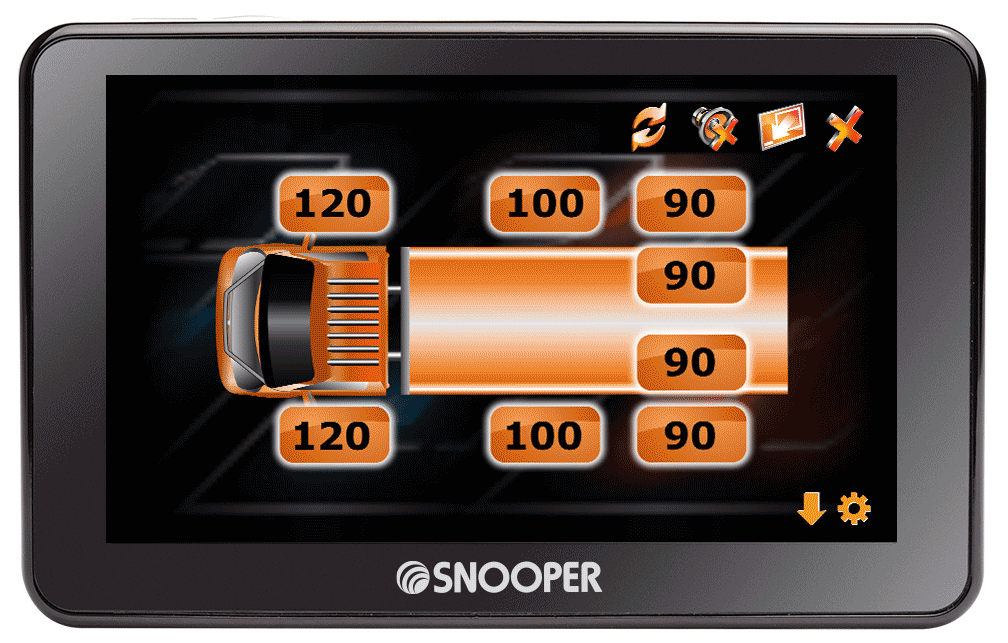 Economic and Safety Benefits.
Tyre pressure monitoring systems (TPMS) are becoming more and more popular due to the economic and safety benefits they provide. Knowing the pressure of your vehicle's tyres will save you money and reduce the chances of a blow-out or puncture. With a choice of two monitoring systems, a standalone unit or Bluetooth device connecting directly to your Snooper Sat Nav, 'Tyre Pilot' from Snooper will allow every driver to benefit from tyre pressure monitoring.

Tyre Pressure Monitoring:- The Benefits.
Reduced fuel consumption.
Improving tyre life and wear.
Increased vehicle safety.
Save Money and the Environment with Tyre Pilot.
Over recent years the cost of fuel has risen dramatically and driving your vehicle, even for short distances has become an expensive chore. By ensuring your tyres are fully inflated, Tyre Pilot can reduce your fuel bill by as much as 10%, saving you money whilst reducing your impact on the environment.

Improving Tyre Life and Wear.
Tyre Pilot will quickly prove invaluable to any driver. Use Tyre Pilot to monitor and check that your vehicles tyres are correctly inflated, naturally extending their lifespan. Correctly inflated tyres can increase the life of your tyre tread by as much as 35%, saving you money and time with less visits to your local tyre centre.

Increased Road Safety.
Tyres are the most common form of vehicle fault directly contributing to an accident. Correctly inflated tyres will provide greater stability, better handling and consistent braking for drivers, significantly improving safety. Tyres that are under-inflated are increasingly prone to skidding under braking and in wet conditions hydroplane more easily. Keep your tyre pressures monitored with Tyre Pilot and reduce the potential for accidents

Tyre Pilot By Snooper - The Options

Choice of Options.
Tyre Pilot from Snooper is available in two options, a standalone device which can be easily displayed using the windscreen bracket provided (STP116 or STP188) or a bluetooth transmitter (STP1600 or STP1800) displaying tyre pressure data directly through your a Snooper S6800 Sat Nav only.

Tyre Pilot STP1600.
This device is a bluetooth transmitter device, measuring pressures up to PSI 116. Tyre pressures are displayed through a an external PND device (not included) or a Snooper Sat Nav (Currently S6800 only) for ease of use and instant alerts. The device comes with 4 tyre pressure sensors as standard, but you can upgrade to extra sensors (6).

PSI 116 or 188 monitoring?
Depending on the type of vehicle driven, Tyre Pilot comes with a maximum monitoring PSI of 116 or 188. PSI 116 is recommended for cars, caravans, light motorhomes and light commercial vehicles, PSI 188 is for larger or heavy duty vehicles including Motorhomes, Coaches, Buses, HGV and All Terrain vehicles. Please check your tyre maximum PSI to ensure the correct purchase. The PSI can be found either on the side wall of your tyre or on the model information panel.
Bluetooth Transmitter.
Tyre Pilot can display pressure and temperature data through compatible Snooper sat navs with the Bluetooth transmitter option STP1600 or STP1800. Once the sensors and Bluetooth transmitter are installed, press the Tyre Pilot icon on your Snooper sat nav and receive instant pressure and temperature data displayed on screen. Tyre Pilot will alert you to pressure and temperature drops or increases in real time.

*Bluetooth linkup to your Snooper Sat Nav will require a signal converter (provided) installing into your vehicle. Snooper Sat Nav not included.

Hard Wearing.
Tyre Pilot sensors are rigorously tested to ensure they work seamlessly in any weather conditions.

Alert Patterns.
Once your vehicle is in motion, Tyre Pilot sensors will send tyre pressure and temperature data to your device every 5 minutes. Keep a check on any pressure drops or increases in temperature for added safety.

Temperature Display.
As well as displaying the pressure of your vehicles tyres, Tyre Pilot can also display the temperature, alerting you quickly to any rises that can indicate potential tyre failure.

Monitor and Sensor Sleep Mode.
If your vehicle does not move for 10 minutes, Tyre Pilot will enter sleep mode to save battery life and power. Once your vehicle moves again, your monitor will automatically switch to standby mode again.

Sensor Configuration.
Tyre Pilot has been designed to monitor the following configurations:-
Single vehicle up to 4 wheels
Single vehicle up to 4 wheels + spare wheel
Single vehicle up to 4 wheels + trailer up to 12 wheels
Single vehicle up to 10 wheels
Single vehicle up to 10 wheels + spare tyre
Single vehicle up to 10 wheels + trailer up to 12 wheels
Spare Tyre x 1 wheel
Trailer up to 12 wheels.
Sensor STP116 (0-116PSI)
Operational Temperature -40°C~+80°C
Storage Temperature -40°C~+85°C
Pressure Range 0-8Bar, 0-116PSI
Pressure Accuracy ±1.5PSI (0.1Bar)
Temperature Accuracy ±3°C
Transmission Power <10dBm
Frequency 433.92MHz
Battery Life 1~2years (CR1632)
Weight 12 grams
Size Diameter 21mm Height 21mm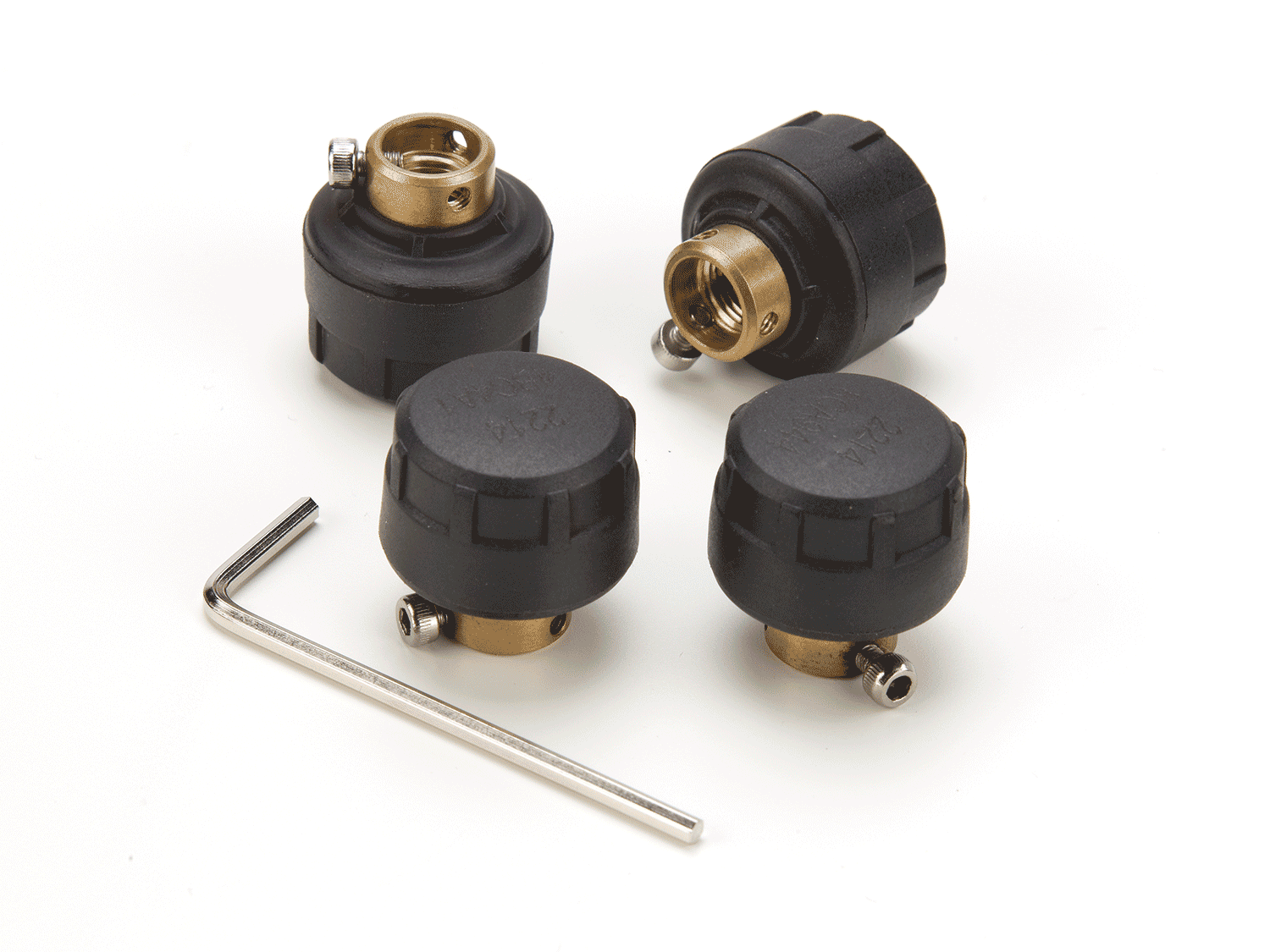 What's Included?
Bluetooth Transmitter
Installation Cables
Minimum 4 Sensors PSI116 (Maximum 8 Sensors)
Hex Wrench x 1
Battery Replacement Tool
Bluetooth Tyre Pressue Monitoring System
STP1600 Compatibility Chart

Car Model
Year
Radio Description
Notes
All vehicles
If you are unsure about the suitability of this product please contact us via the ask us about this item link at the top of this page or telephone us and we will gladly assist you.
Easy to Fit Installation.
Tyre Pilot has been designed to easily fit almost any tyre pressure valve stem. Simply, fix the Tyre Pilot TMPS to your tyre pressure valve stem, install the bluetooth transmitter and pair up to your Snooper Sat Nav.