Alpine HCE-C1100 HDR Reversing Camera
Brand: Alpine

Product Code: HCE-C1100

Need any more information?
Ask a question
---
1 Year Warranty

Easy Returns
---
High Dynamic Range (HDR) Rear View Camera
Alpine Advanced Rear View Camera
Alpine HCE-C1100 rear view HDR camera system provides parking safety with cutting-edge camera technology. Thanks to HDR technology, the picture quality is much better compared to regular reversing camera systems - for easier maneuvering and greater safety. The cameras are very small, so they're easy to install and don't change the appearance of the car.

All New Alpine HDR Cameras
Alpine's all new HDR cameras are simply amazing and offer many new technologies that make manoeuvring your vehicle easier and safer.
High-resolution camera for great picture quality and high details
Amazing night-view capabilities in low-light environments
Fast exposure adjustment when moving from dark to bright environments (for example underground parking, tunes, etc)
New, small connectors for easy installation of camera and cables
Distance Guides
This camera includes convenient distance guides that can be fully adjusted to match the width of your vehicle. This makes parking safer and more convenient compared to a regular rear-view camera. Note: distance guides only work with Alpine navigation and media stations.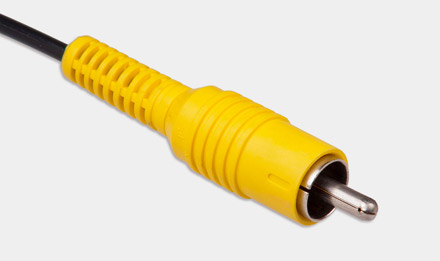 RCA output
Convenient RCA output means this camera can be used with any monitor.
Features & Specifications
Features
General
HDR Rearview Image
RCA Video Signal (NTSC) Output
Vehicle Reverse Signal Synchronization
Camera
Mirror Image Output
Color CMOS Image Sensor
Automatic Exposure Adjustment
Automatic White Balance Adjustment
Internal Synchronization
Specifications
Dimensions
Camera: 23.6 x 23.6 x 24.0mm (excluding projection on the rear))
Box Unit: 38 x 25 x 15mm (excluding projection)
Camera Cable Length: 0.5m
Camera Extension Cable Length: 7m
Reverse/ACC/Video/GND Cable Length: 3m
General
Power Requirement: DC 9V to DC 15.6V
Negative Ground
Power Consumption: 1.2W (12V)
Operating Temperature (Box Unit): -30°C - +70°C
Weight Camera: 27g (camera only)
Weight Box: 83g (including cord)
Camera
Output Image: Mirror Image, Composite Video NTSC, Aspect Ratio 4:3
Output Drive Capacity: 75 Ohms (1Vp-p)
Image Sensor: 1/3.7 inch CMOS image sensor
Effective Number of Pixels: 640 (H) x 480 (V), Approximately 0.3 Mega pixels
Lens Focal Length: f=1.34mm
Lens Brightness: F=1:2.0
Angle of Field: Horizontal = 131°, Vertical = 103°
S/N Ratio: 40.5 dB or more
Resolution (Horizontal. Center Area): 330 TV Lines
Operating Temperature: -30°C - +70°C
Illumination Range: Approximately 1.5 to 100klx
Alpine HCE-C1100 High Dynamic Range (HDR) Rear View Camera
At the time of listing, we try to provide the latest and most upto date information. Please make sure that this is the correct component for your vehicle.
If you are unsure at anytime please contact us via the Ask a question link at the top of this page or telephone us and we will gladly assist you.
Factory fitted In-car Infotainment systems and their wiring can be complex, so we always recommend that you have your installation carried out by a qualified installer. If you wish, Car Communications can arrange for your Kit to be installed at an address of your choice anywhere in the UK. Please select from addons options above before adding the purchase to your cart. During the checkout process you will be asked for your preferred date(s) and time for the installation.

For added peace of mind, our products can be professionally installed at your home or workplace anywhere in the UK by our qualified and accredited network of engineers.
Product Class
Product Type
Reversing Camera Accessories, Front View Camera